Here's A Timeline Of Events Leading Up To The Ongoing Barretto Sisters' Dispute
Gretchen, Claudine, and Marjorie have found themselves entangled in a controversy involving their father's death, relationships, and what they've called the "truth" behind the family feud
In case you haven't been up to speed, sisters Gretchen, Marjorie, and Claudine Barretto have set the Internet on fire, thanks to the venomous back and forth posts they've been sharing on social media, beginning on the afternoon of October 18, Friday.
BARRETTO VS BARRETTO. Muling nagkita ang magkapatid na Marjorie at Gretchen sa burol ng kanilang ama. 'Yon nga lang, nagkagirian pa ang dalawa. pic.twitter.com/PLK2ePeBpI

— ABS-CBN News (@ABSCBNNews) October 17, 2019
If you don't think their online exchange is a big deal, here's a little recall for you: it is known that the three Barretto women have not had pleasure of having the warmest sisterly relationships and have encountered many an issue over the years. Claudine and Gretchen, however, made amends just a few months ago but Marjorie remains to be estranged from them both and has not openly expressed interest in reconciliation.
The prolonged rift between the sisters might be public knowledge, though the exact reason behind the root of their conflicts has been muddled and at most, only vaguely been guessed at by the public.
All of this came to another head this week with the loss of their father, Miguel Alvir Barretto, on October 16. Many had hoped that the patriarch's passing, though sad, might help bring the sisters together and heal their wounds for good.
Unfortunately, the opposite had transpired; it was reported that the sisters had gotten into a verbal argument and physical fight at their father's wake and involved younger members of the Barretto clan in the process.
As a result, Gretchen, Marjorie, and Claudine all took to Instagram to speak their minds about the controversy at the expense of one another.
Their words have caused quite a ruckus and as we wait for a resolution to arrive, hopefully sooner than later, we recount the events that led up to their ongoing feud.
On the last week of September: Miguel Alvir Barretto celebrates his 82nd birthday at Marjorie's home
What was meant to be a simple, family-only gathering turned into a highly-publicized spectacle involving the late Miguel Alvir.
The great-grandfather had been celebrating his 82nd birthday with Marjorie and family members in her home, though shortly after he had blown the candles on his cake, his health had almost instantaneously taken a turn for the worse.
"Right after the blowing of the candles on his cake, he took a nap and fell very ill. My siblings and I rushed him to the nearest hospital, i could say it say it was the scariest time for us all. After that day, its been a series of ambulance transfer, family meetings, non stop praying, and big family gatherings at the ICU waiting area," Marjorie wrote on Instagram on October 6, a week after the incident.
She ended her post by thanking all those who had offered well-wishes for her father and the family and asked for more prayers.
Details about Miguel's reason for confinement were excluded.
End of September to October 14: The days between Miguel's confinement and death
Claudine continued to share photos of her taking on shifts of watching over her father and of her father in his hospital bed for a period of two weeks before his passing. Marjorie and Gretchen were both silent at this time.
October 15: Miguel Alvir passes away
As the most active vocal about her father's status on Instagram, Claudine was the first in the family to confirm the death of her father.
She did so via an Instagram story and followed it up with an Instagram post of a short clip showing her mother, Estrella, addressing members her family in what Miguel's hospital room. In the video, it can be seen that Marjorie was in the room with the rest of the family; it was one of the first times that Claudine had come face to face with her after quite some time.
The evening of October 16: The feud
Claudine made two revelations on the night of the 16th via Instagram: that President Rodrigo Duterte, a close friend of the family's, attended her father's wake, and that her sister Gretchen arrived shortly after.
She dedicated two separate posts for both events, with Gretchen's accompanied by the caption that reads, "And then,We are Complete @gretchenbarretto im so Proud of u.I admire & luv u more today... WELCOME HOME."
What Claudine, Marjorie, and Gretchen left out in their social media accounts, however, is what happened moments after.
Close to midnight, reports surfaced to announce that a scuffle had broken out between Gretchen and Marjorie during the wake but no photos or videos were released to show this. A rumor about one of them involving other relatives in the physical fight also began to circulate soon after. The exact reason for the cause of the fight has not been properly identified, but in an interview with Gretchen, ABS-CBN News reported that she had said that Marjorie had a "nervous breakdown," and that it had potentially set off the chain of events.
Gretchen also mentioned that President Duterte requested for her and Marjorie to shake hands, and that Marjorie was "not happy" about her reuniting with family during the occasion.
October 17: Claudine gets hospitalized
What came next were reports from news outlets that had gotten hold of photos of Claudine being brought to St. Luke's Medical Center at Bonifiacio Global City for dizziness and hand injury. It was said that Claudine's condition had been a result of the incident involving her sisters at their father's wake.
Na-confine si Claudine Barretto sa St Luke's BGC matapos magtamo ng mga galos sa kamay at makaramdam ng pagkahilo kasunod ng alitan sa burol ng kanilang ama. (📸 Gretchen Barretto) | via @dzmmRP45 pic.twitter.com/Ilcui1DE4j

— DZMM TeleRadyo (@DZMMTeleRadyo) October 17, 2019
The afternoon of October 18: The sisters take to Instagram
The day after the alleged fight, all three sisters took to Instagram to express their thoughts about what had happened, making shocking revelations about each other.
Marjorie was the first to post on Instagram and shared an image with the quote, "Narcissists try to destroy your life with lies, because theirs can be destroyed by the truth" and penned a lengthy caption to accompany it. The post concentrated on a warning about believing her sisters' words and included a statement that reads, "Don't be fooled by the statements of my sisters, they are leaving out a very important detail of what really caused pain and tension in the wake."
However, Marjorie went beyond the issue of the fight at the wake by opening the door to a scandalous discussion of one of her sister's relationships, the motivation behind which will only be revealed until after their father has been buried.
Read the full post below:
Claudine was the second to share her thoughts on Instagram. But instead of directly addressing her sisters, she simply alluded to the issue in a short, but cryptic post assumed to be a response to Marjorie.
Gretchen was the last to post on Instagram, but unlike Claudine who veiled her message, she was much more straightforward in hers and made a direct address to Marjorie.
She touched on several issues in her post, but augmented them by talking in length about Marjorie's relationship. Gretchen wrote, "AND AS TO MY BOYFRIEND WHO IS POWERFUL IN A BAD WAY ( like you say ) YES HE IS POWERFUL ( in a good way , Not bad as you claimed. Your boyfriend is also POWERFUL & certainly IN A VERY BAD WAY ,ICountless corruption cases i was told, NOT TO MENTION, NUMEROUS MOLESTATION CASES , AM I CORRECT? I WAS INFORMED THAT @claubarretto WILL FILE A MOLESTATION CASE AGAINST YOUR POWERFUL BOYFRIEND.( ONLY REQUEST OF @claubarretto IS FOR HIM TO NOT BE IN THE WAKE DUE TO TRAUMA."
Additionally, just as Marjorie had written, Gretchen also talked about speaking "the truth" behind the simmering situation. She involved her mother as well, saying that she would soon reveal "who caused" her father's "attack."
"FYI MY MOM SPOKE TO ME & ASSURED EVERYONE THAT SHE WILL TELL ALL REGARDING OUR FAMILY FEUD & THE DAY OF MY DADS BIRTHDAY & Who CAUSED MY FATHERS ATTACK," were Gretchen's exact words.
Below is Gretchen's post in full:
An hour after sharing this, Gretchen continued to post on Instagram stories, sharing text and images meant to antagonize her family.

The evening of October 18: Julia posts a comment, and Gretchen attacks her and makes public plans of suing

To show support for her mother Marjorie, Julia posted comments on her Instagram post. The young actress spoke of how many love, protect, and support her mother who she also called "the most sane," while repeatedly saying that Marjorie had God on her side, too.
Julia's comment immediately grabbed Gretchen's attention who responded to it via Instagram Stories. She also reposted several comments from other Instagram users that criticized Julia and her sister Dani.
In addition to going after Julia, Gretchen also told ABS-CBN News that she had plans of suing an unnamed nephew for allegedly carrying a gun with him on the night of the 16th when the fight between her and Marjorie had taken place.
Gretchen did not specify whether the gun was brought out during the scuffle, or how she had discovered that her nephew was armed.
October 19: Miguel is cremated
Julia took to Instagram to express her grief over her grandpa's cremation and burial for a final time, and related the occasion to the ongoing controversy involving her aunts and her mother.
"Pikey, despite all these false accusations targetted at me, despite all the lies being spread about my family and me, I will remain still and keep my peace. I will exclude myself from a battle that is not mine, but I will still stand by my mom and will be there for her no matter what happens," she wrote in part.
However, some of those who commented on her post suggested that she should have simply honored her lolo's memory without bringing attention to the family feud. See Julia's full post and its comments below:
At the same time, Claudine updated her Instagram feed with two short clips, one showing her mother and Gretchen on their way to lunch together, and another showing gambling business tycoon Atong Ang sharing a few short words with her mother and her nieces.
October 20: Nicole Barretto and Atong Ang's involvement in the controversy is clarified
To backtrack, tension between the female members of the Barretto clan intensified over the weekend when reports about Nicole Barretto—niece to Gretchen, Claudia and Marjorie, and daughter of their brother Jay Jay—blaming her aunt Gretchen for "stealing" her then boyfriend, Atong Ang, surfaced.
The physical confrontation that took place during Miguel's wake was revealed to have involved Nicole as well, aside from Gretchen and Marjorie. According to Nicole who engaged in a private Instagram conversation with user @bashing.shing, she had simply protected her aunt Marjorie who was attacked by Gretchen and her boyfriend on the scene. Nicole was pulled into the altercation, and she claimed that Gretchen had even run after her as she was exiting the funeral venue, kicking her and pulling her hair so hard that she could have fallen on the floor and cracked her skull.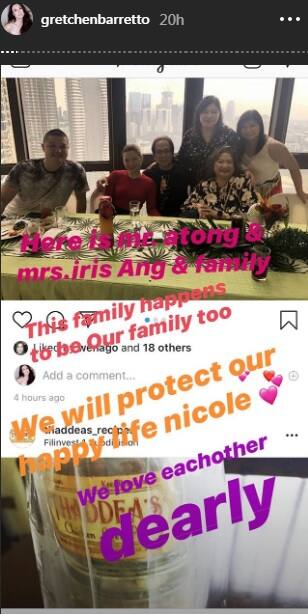 Now, with Claudine's post that showed Atong in good spirits with her family, many interpreted it as a way to let the public know that the Gretchen-Nicole-Atong component of this feud had been misconstrued.
In summary, Nicole had accused Gretchen of breaking her and Atong—a businessman in the gambling industry—up, but Gretchen was quick to fire back via Instagram Stories that originally, it was Nicole who had "stolen" Atong from her aunt Claudine who was then in a relationship with him.
Nicole and Gretchen continued to share their own versions of the story on social media, but on the evening of October 20, Atong himself came forward with a timeline of events, providing his angle to what had happened over the years.
Here is Atong's take on his experiences with the Barretto women:
Nicole and her mother were previously employed by Atong many years ago. In this context, he described Nicole as "taga asikaso ng mga flights ko and schedule ko noon."
Gretchen and Tony Boy Cojuangco were uninvolved in his and Nicole's relationship. Atong claimed that both of them had been his casino business partners, and that Gretchen had been close friends with his wife.
Regarding Claudine, Atong did not acknowledge being in a relationship with her, but rather, explained that he had helped her resolve her issues with a child of

Mayor Martin Castro

. '''Yun lang ang naging relasyon namin," Atong said.
Gretchen's Instagram stories firing back at Nicole's allegations are the latest updates of this writing, however, this is not the first time that the Barrettos have publicized their disagreements, arguments, and misunderstandings, both big and small.
In particular, Gretchen, Claudine, and Marjorie have long histories of fighting and making up.
The most notable headlines they've been the subjects of include 2004's story about Claudine supposedly taking sides with Dennis Padilla (Marjorie's ex-husband) over an issue with Willie Revillame, 2006's issue involving Gretchen not approving of Claudine's marriage to Raymart Santiago, as well as 2010's controversy about Claudine and Gretchen being "pitted against" each other via their shows (Gretchen was cast as a lead in a Maalala Mo Kaya episode, while the first episode of a drama show that Claudine starred in was set to premier around the same time).
Before their current family feud, the Barretto sisters' most controversial issue came in 2013 when Gretchen supposedly outed Claudine's failed marriage and need for mental health treatment. Their mother pushed back and publicly called Gretchen a liar via a news outlet, while their late father likewise publicly expressed anger in his other children for "bullying" Claudine at a press conference. The rest of Gretchen and Claudine's siblings also took sides at this time.
What the current Barretto conflict will become in the next few days, only time will tell.
Photos from @marjbarretto and by Cyrus Panganiban (Gretchen) and Rxandy Capinpin (Claudine)