In Photos: Dani Barretto And Xavi Panlilio Celebrate Their Daughter Millie's First Birthday!
This adorable family celebrated this milestone in their new home
Moms have said it at one point in their lives—how time flies!
It's definitely a thought that's crossed Dani Barretto's mind as she primed and prepped for a really special day last week. Her baby girl, Millie, just turned one, and this proud mommy marked the milestone with a home-based photo shoot and intimate gathering with family!
Clad in pretty pink outfits and surrounded by everything soft and dainty, this mother-daughter duo was the center of beautiful afternoon setups by NicePrint Photo and Teddy Manuel—a little pocket of prettiness amidst a global health crisis. The glowing mom wore a printed dress by Patricia Santos' PS Officiel The Label, while baby Millie donned a dress from Raising Little and a bow from Clara's Bowbox. Dani's husband, Xavi Panlilio, had all eyes on the two most special girls in his life all throughout the day and made sure to cherish every moment of it.
Looking back at their daughter's first year of life, Dani was especially emotional over her daughter's first birthday. While calling Millie her "angel on earth" on Instagram, Dani also lovingly said, "I can still remember the first time I held you in my arms, I never thought that kind of love was possible. My heart was overflowing with joy and gratitude. I couldn't stop thanking the Lord for giving me you. Oh Millie, you changed mama's life in so many beautiful ways."
The words are made even more special by the fact that Dani almost lost Millie—there was a point when Millie's heart had stopped beating minutes before her birth. She's a miracle baby, by all accounts, which makes Millie's first birthday all the more meaningful.
Not to be missed are Millie's birthday greeting from her dad that was just as touching. In part, Xavi wrote, "When your mother told me she was pregnant with you, I was through the roof! The joy I felt was incomparable, and it still is today! I hope you grow up to be the person you want to be, and I hope that you will always be my silly, happy, loving little tiny! I love you and your mother so much!!!!"
The lovely day was accompanied by something just as exciting before it; Dani and Xavi had recently moved into their new home as a young family and welcomed their loved ones for their first lunch together!
Dani has since also welcomed her BFFs Bela Padilla, Moira dela Torre and her husband Jason Marvin, Miko Carreon, and Natasha Gerona for some much-missed quality time together (i.e.: a wine night).
Filling their new home with nothing but joy, it's clear that the Barretto-Panlilio abode will soon become the venue of many more happy occasions. Things have just begun for this family and for one-year-old Millie, too, that we can't wait to see what's in store for them in the years to come!
Check out the scenes from Millie's birthday celebration in the gallery below!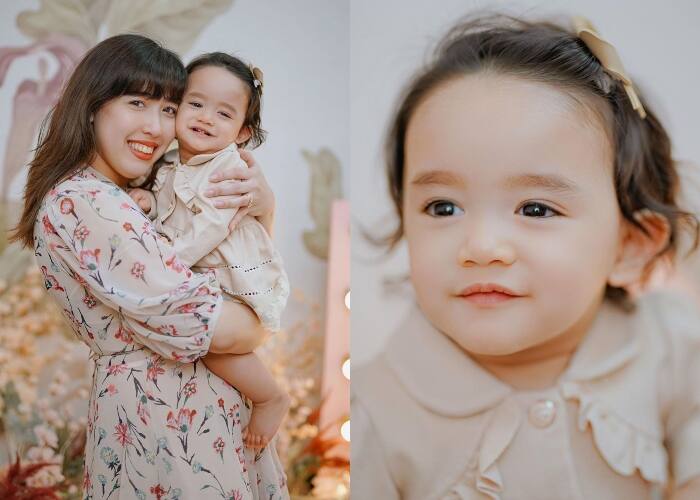 Happy first birthday, Millie!
Happy first birthday, Millie!
Dani and Xavi got married in April 2019. They announced that they were expecting in June 2019. Millie is Dani and Xavi's first child.
Photos from @niceprintphoto @teddymanuel @danibarretto @xavipanlilio
We were with Dani Barretto during her wedding gown fitting at fashion designer Patricia Santos' atelier. Check out the video below: