WATCH: Donny Pangilinan, Jimuel Pacquiao, And Diego Loyzaga Honor Their Moms This Mother's Day
Find out what they love and appreciate most about their moms and where they wish to travel with them, too!
There are different types of mothers, but what they share in common is their selfless love for their children and the whole family. They always put their families' needs first before theirs, but they also make sure to hold onto the concept of self-love. That's why they're called supermoms—they have this amazing power to balance everything.
To a family, a mom is many things—the foundation, a guiding light, a source of strength and inspiration, and a confidante.
Jimuel considers mom Jinkee Pacquiao a guiding light. She's the type of mom who's easy to talk to, someone who's ready to listen and be ready with an enlightening piece of advice. "The thing I appreciate most [about my mom] is that she always guides us, and she's always open about any issue. She talks to us about everything, and it just feels good, you know, as a son that you have a mom that you can talk to if you're having a bad day or you're having troubles," he tells Metro.Style.
For Donny, what his mom Maricel Laxa-Pangilinan means to him may be summarized in one word: "superhero." He has four other siblings, but she never fails to give them equal love, attention, and support. Donny says, "She juggles managing everyone, all our schedules. She's really, like, the foundation of our family, I would say. Everything we do, everything I do, I always talk to my mom... She just has this amazing way of making us all feel that we're loved."
Teresa Loyzaga is not just a mom to son Diego, she's also like a friend—someone "cool and hip"—whom he can always turn to for comfort and encouragement. "I can talk to her about anything. We have a very, very open relationship with each other. We can talk and discuss anything," Diego shares. "It's kinda awkward sometimes when you have to talk to your mom about guy things. But no, you know, she's cool. She's cool about that."
Watch Jimuel, Donny, and Diego talk about their moms more below:
Jimuel Pacquiao
Donny Pangilinan
Diego Loyzaga
See more photos of these mother-son duos in the gallery below: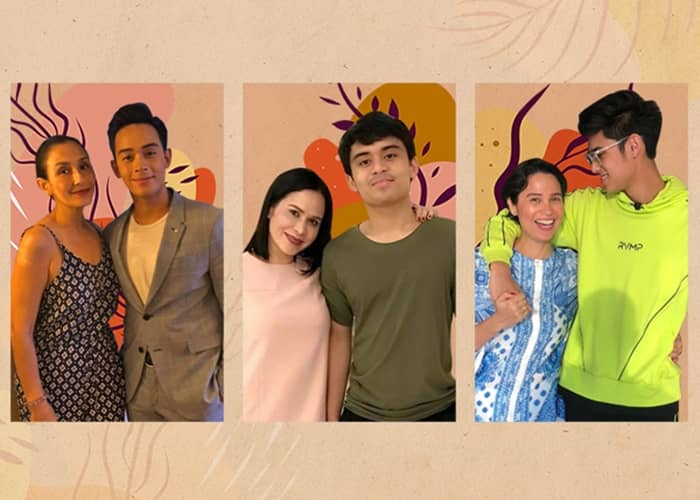 Mom-Son Moments
Mom-Son Moments
Check out the full video, which features other Mother's Day 2020 tributes from Kiana V., Ria Atayde, and Jolina Magdangal-Escueta:
Happy Mother's Day!
Banner artwork by Raff Colmenar | Lead photos from Diego Loyzaga, @pacquiao.emmanuel, and @mommymaricel | Additional gallery images from @jinkeepacquiao