Ellen Adarna and Derek Ramsay Tie the Knot in Bataan
It's official! Say hello to local showbiz's newest Mr. and Mrs.
Ellen Adarna and Derek Ramsay are married! The couple tied the knot today, November 11, with a sunset, rustic-themed wedding at Rancho Bernardo in Bagac, Bataan.
The marvelous eight-hectare luxury villa and mountain resort, which has a modern regal and rustic charm, is witness to this whirlwind romance going the distance (their wedding hashtags: EDetona and #EllenTaongNaghintaySiD). And their wedding date—11.11—is symbolic of new beginnings, oneness, and wishes coming true. It's indeed the perfect day to hear the happy news that Ellen Adarna and Derek Ramsay are married and taking their relationship nowhere else but to forever.
The bride walked down the aisle in a wedding gown by Marc Rancy; Marc also created Ellen's black silk dress for her prenup shoot with Derek.
Ellen's wedding gown is sexy, classy, and perfect for her laid-back personality. Its bustier is made of pure organdy and its bias skirt is crafted from a mix of tulle and silk chiffon; it also features strategically placed lace embroidery, glass beads and swarovski crystals.
"Ellen is very precise when it comes to the fit especially on the décolletage. So, doing the bustier that fits like a glove, with the perfect modern shape, was actually the most challenging part. As long as I achieved that, everything else felt like secondary," the fashion designer tells Metro.Style. "When I met Ellen, I knew that she was far from a typical bride—that part alone made it a little more challenging for me as a designer. I knew that there's only a certain type of lace that she likes, and a lot that she doesn't. During our meetings, she emphasized how she wants something that isn't heavy, she wants it light, so I had to make sure to make her a dress that gives her freedom of movement. After all, Ellen has a bubbly personality and enjoys being around people closest to her, [so] the dress has to have that perfect balance of fun and pomp."
Her bridal attire was accessorized with jewels by Sep Vergara and heels by Nicholas Kirkwood. Fashion stylists rain Dagala and Em Millan of Team Rain x Em helped put together her looks.
Ellen's stunning bridal look was thanks to her go-to glam team: makeup artist Mickey See and hairstylist Raymond Santiago.
The groom, on the other hand, wore a beige coat and trousers with a white button-down by Bianca Cordero.
Marc also created an after-party dress for Ellen, which the designer says has "a tutu-meets-Black Swan aesthetic" with its feminine and romantic details like the intricate pleats.
Ellen's reception dress is by Mak Tumang.
The beautiful, unforgettable moments that mark the day that Ellen Adarna and Derek Ramsay are married are immortalized in photographs by celebrity favorite Pat Dy and his team (Nelwin Uy and Chissai Bautista), as well as go-to wedding videographer Bob Nicolas.
To enhance the look and feel of the venue's vast, scenic landscape, the couple collaborated with event stylists Randy Lazaro for the ceremony and Gary Dacanay for the reception (Gary also took care of the bride's simply elegant bouquet).
Randy dressed up the spacious field at Rancho Bernardo with an aisle defined by white arches wrapped with greens and roses in white, peach, and pink. The most interesting detail here? The aisle features a walkway of stones with written words on each.
In an exclusive interview with Gary Dacanay, he tells us, "The wedding reception of Derek and Ellen is basically rustic. [It's] set in the highest peak in Bagac in Rancho Bernardo. The couple loves nature, thus rustic chic was the chosen theme. The couple made it a point that there will be new things to see in their reception setup, details we don't normally see in a rustic wedding reception.
"The reception venue highlights a robust tree in the center. We assembled the 25ft tree for days. We did not use any artificial leaves and flowers. This wedding boasts of a 100% percent use of all natural flowers and foliage. Seats are first use. We fabricated them specially for the wedding. Solihiya will be everywhere in the reception from lamps to chairs to floor lamps. All specially fabricated for them.
"Derek is keen on details while Ellen, on the other hand, is very specific with colors. She loves pink. Working with them was challenging, given their opposite personalities, but in the end they gave us free hand on what design we would like to inject. Derek and Ellen are a kind and generous couple."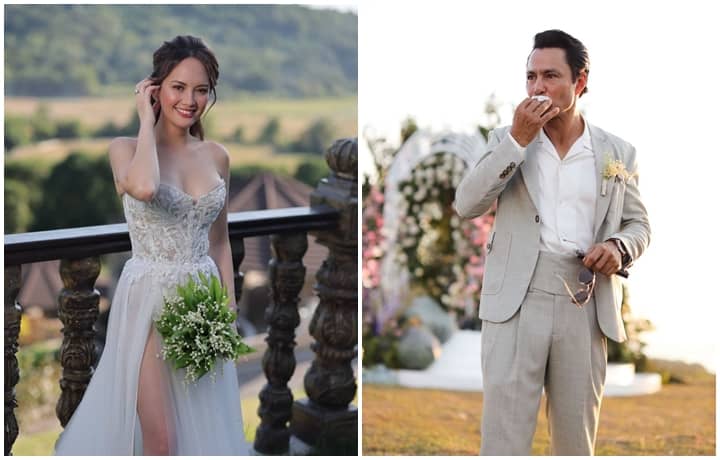 Photo Gallery
SWIPE LEFT OR RIGHT
TO NAVIGATE BETWEEN PAGES
Other suppliers the couple worked with for their big day include: La Belle Fête for coordination; entertainment by Manila Philharmonic Orchestra and KATDJ; lights, sounds, and main tent by LX Events Pro; catering by Bizu and Bondi&Bourke; cake by Caking Giant Cakes & Pastries; mobile bar by The Black Box Mobile Bar; coffee cart by Chapter Coffee Roastery & Cafe; and invitation by Print & Co. Creatives.
Ellen and Derek announced their engagement in March of this year, after revealing their relationship the month before. Last month, the couple shared steamy photos from their pre-nup shoot in Batangas.
In an exclusive interview, Metro cover star Ellen told us she never wanted to get married until she met Derek. "I think you just know," she says of finding "The One." "I can say I'm ready. I'm not scared anymore. I'm ready because I think I met the right person for me, the one I'm compatible with."
With their kids in tow (Ellen's son Elias and Derek's son Austin), the new chapter in their lives as a family begins now. As Ellen said, "Game over"—no more games now, just love!
Congrats to the newlyweds!
Photos from @patdy11 @nelwinuyphoto @chissai @teampatdy @mickeysee @labellefete @mimsqui @smallaude @popsfernandezofficial @emmillan