Fascinating Women: Multi-Talented Young Star AC Bonifacio
Youth is a superpower, not a barrier, for this 18-year-old star who's blazing trails for young Filipino talents with dreams of making it big on the world stage
In many ways, AC Bonifacio is your regular Gen Z-er.
This 18-year-old's interests include TV shows, time with friends, video games, all things music and dance, and staying updated about what her pop culture idols have been up to on- and off-cam. She has a K-Pop bias and a wrecker, too. She's a family person through and through, and she enjoys good food and beautiful things, but there's no arguing that having great company as she experiences all these things is what she loves the most.
But even so, in so many more ways, AC is certainly not your standard teenager.
For one thing, her list of career highlights and milestones surpasses that of most adults five or 10 years older than her. She's an accomplished performer whose portfolio includes high-profile local and international gigs. A guesting on The Ellen DeGeneres Show? Yup! Hosting and judging jobs plus winning dance competitions too? Check! Bagging a role in hit American teen drama series Riverdale? Double check!
Secondly, she's as hardworking as a hardworking teen can be. "Aimless" is not in AC's vocabulary. As she's completing her last year of high school, she contemplates on how to fit the puzzle pieces of a post-high school education and bigger and better work opportunities together. She's definitely out to make something of herself, but on her own terms.
Thirdly, there's how she so gracefully handles the good things and the bad things, too. She is still in the throes of adolescence after all, and as all adults will remember, it's a time that's full of complicated experiences that can make or break a spirit. But AC is alright—she's made sure to be more than okay now and for always.
It's especially fitting that AC's first-ever exclusive interview with Metro.Style is for Women's Month; the globally recognized holiday celebrates all the wonderful things that girls and women are and do, and when it comes to AC, all the things she's is and does are beautiful representations of this.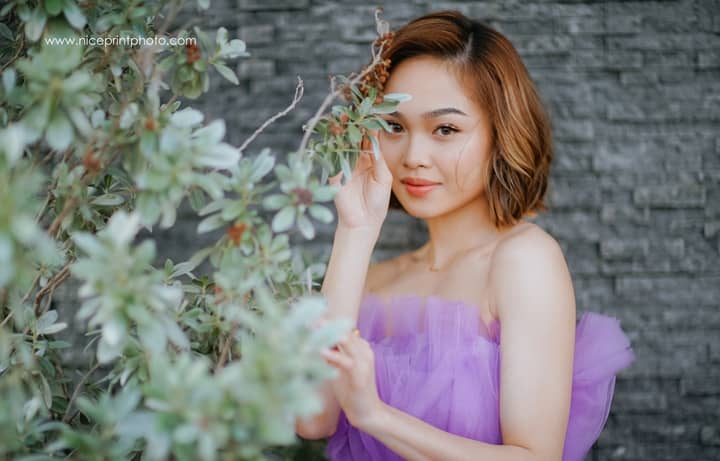 AC Bonifacio 18th Birthday Photo Shoot
AC Bonifacio 18th Birthday Photo Shoot
"Ano na, G na?"
It's what you'll hear AC tell her BFFs (some of whom work just like her) at the end of a long, rewarding day of responsibilities accomplished.
They'll be off competing with each other in their favorite video games sooner than later, laughing their heads off at the dumbest things and silliest moments. And when their eyes get tired of pixel-dense graphics and artificial digital worlds, they turn away from the screen and face each other for some real talk. More laughing ensues.
Eighteen is a great age.
At this point, AC has just been 18 for three months but she's been living life as a young adult for sometime now. It's the inevitable consequence of the career she's chosen for herself; showbiz requires everyone, especially its littlest stars, to ease into maturity sooner than usual. A hundred and one things have crossed AC's mind now that she's a certified grown-up—well, kind of.
"I still feel like I'm 12," she laughs.
"I don't know what's going to happen with my life," she continues, explaining that what's worked for her so far is to be adaptable and flexible. "Go with the flow," as she says, is her mantra for herself. But when she is given work, no matter how big or how small, you can bet that she's going to treat it like the defining performance of her life.
AC was nine when she first tasted the limelight. Before going solo, she's one half of the dancing duo Lucky Aces.
She found herself on The Ellen DeGeneres Show with a studio audience of a couple of hundred but with thousands and thousands more watching from home. AC danced her heart out, and to no one's surprise, it signaled all the awesomeness that was yet to come.
Three years later in 2015, AC was back on the same stage at The Ellen DeGeneres Show, only this time, a massive surprise was coming for her. Ariana Grande was scheduled for a show in Vancouver, Canada—where AC was born and raised—and an AC Bonifacio-shaped spot was reserved, just for her. At 12 years old, AC danced alongside one of the world's biggest record-breaking popstars, matching her talent, beat for beat.
You would be a fool to believe that AC was a one-hit wonder and these shows were it for her. She wasn't just lucky once; she was a brewing talent poised for more.
In 2016, she made her way back to the Philippines where ABS-CBN welcomed her into the fold first as a Dance Kids competitor (Lucky Aces were the contest's pilot season champs!) and again in 2017 when she landed as the First Runner-Up for Your Face Sounds Familiar. The years 2018 to 2020 saw her flex her acting muscles in both Philippine and American TV shows.
On top of that, she's been a Star Magic artist and ASAP regular since 2016, a YouTuber with two million subscribers, and an Instagram personality with over three million followers.
Did we mention that just last year, she also came out the second placer in the international challenge for a BLACKPINK dance cover for the top K-Pop girl group's comeback single How You Like That? She beat thousands upon thousands of contestants to make it to the top.
And guess what—that's not even the best of it.
Still, with AC's momentum propelling her into the stratosphere of stardom, you'd never guess that she was off to a rocky start.
"I have been doing auditions for the longest time, since I was six [to] nine, with my agent in Canada, Maureen [Goodwill]. And I've been doing a bunch and I never got the part," she recounts.
A decade into the industry and with just a handful of breaks and even less follow-throughs, she was starting to reconsider her choice of a career. She thought about it more and more in late 2020 as her 18th birthday in December 13 was fast approaching.
Maybe she could go into law for college instead, she imagined. She had a knack for argument and she was enjoying law 101 as one of her senior high school classes, after all. But how was she going to figure out being a law student (one of the toughest jobs there is) with her showbiz identity? Maybe she could consider something in Liberal Arts instead and graduate with a degree that would be a better match her current work experience. (Was college even a choice? Should she just concentrate on showbiz? Should she be thinking of something else, entirely? So many decisions to make!).
One fork in the road just seemed to lead to more, and it was enough to shake up everything AC was once so sure of.
"I was doing a lot, and I still wasn't getting the part, so I was getting very sad. Obviously, as much as I tried to stay positive, I still get down as a human being. As a teenager, I still get really sad," she reveals.
And then something presented itself to AC—a guest role in the fifth season of hit series Riverdale as a Star Vixen opened up. And, it wasn't purely an acting bit either. The role required her to dance and project absolute fierceness and confidence all throughout the routine—something that comes as effortlessly to AC as breathing in and breathing out does.
Come November last year, she was ready with her audition tape. It took her just about an hour or so to film it; she performed the scenes assigned to her and she freestyled her way through a song of of their choice, and just like that, it was in transit to the show's casting committee. And then there was nothing else to do but wait.
Anyone who has ever dreamed big dreams for themselves knows this: at a time when you believe all has failed and you've hit a dead end, sometimes all the universe wants is for you to remember to who you are and where you came from before it slingshots you into greatness—a lesson on humility and gratefulness. The period of lowness is a necessary rite of passage before the best things come pouring in. Think of it as an initiation.
"I sent [my audition tape] in with no expectations... because I've been sending in, and I never got anything back," AC tells us.
"And then tumawag po 'yung agent ko. She was like 'AC, you got the part.' I was like 'What the heck?'"
"I shot in December, but I was doing rehearsals right after my birthday. So the day after my 18th, we went to rehearsals right away. And that whole week, we were just doing rehearsals and fittings and COVID tests until the day of the shoot. I had so much fun. That was for the initial dance battle, and then we went on a winter break. Everyone spent the holidays together and everything, and then we shot again in January for a few other scenes," she smiles.
Finally, she gets to smile a smile bright enough to banish all uncertainty.
A happy 18th birthday to AC, indeed.
The series' fifth season premiered in January but it would take a few more weeks until AC and her loyal fans, proud ACnatics, could go crazy about seeing her slay it in a show as big as Riverdale.
The scene had her go head to head with the character Cheryl Blossom (portrayed by Madelaine Petsch) in a dance battle at the school gym. With both girls equally talented dancers, the performances were nothing short of electric. AC did what she does best and the experience was everything she anticipated it would be, and then some.
They were right. Good things come to those who wait.
Achieving your career's most major milestone on your 18th should be enough to satisfy any debutante, and it did for AC for the most part. But like we said—the universe was just getting warmed up when it came to how much it had in store for her.
It's not like she ever wanted to be the center of attraction in the midst of a traditional debut's events anyway. There would be no first dances on the big day, no speeches, no giant production designs, none of that over-the-top stuff. Besides, she couldn't even bring herself to wear a dressy outfit like most debutantes do because she's never been that kind of girl. Gathering with family was more than good enough for her.
"I went home, and we were planning [my birthday] with my family. Initially, we had a plan where it would have been 30 people, and those 30 people were literally just my family because my family is so big. We have so many other cousins and everything," she narrates.
"We were thinking of, like, Disney princess, Rapunzel-[themed] type of thing. But, obviously, the rules in Canada changed around November. They said you were pretty much only allowed to hang out with, or be around, the people na nasa household lang. So that changed everything and we cancelled everything, and obviously na-sad po ako nang konti," she says.
Alright, so maybe AC couldn't have everything. The law of averages needed to apply to her winning streak, too.
But just when she thought the party was over and her high from news about Riverdale had ebbed, it was her family's turn to make her feel like the queen she truly is.
"Mommy just told me, 'Mag-ready ka. We're going to go to a hotel and we're going to have dinner," AC begins.
"My tita, tito and my cousins took me out... and we went to all these different places. We got to get ice cream. I could tell that they were trying to consume time, like you're going very slowly," she continues.
"[Then] we went back to the hotel. We went to the room, and then 'yun na po. When I opened the room, the whole setup was there and it was the setup that I wanted, that I dreamed of, that we were planning for the initial debut. It was so nice. I started crying, my mom started crying. Ace [her younger brother] started crying," AC laughs.
Though the guest list was much smaller than she would have wanted, everyone there mattered dearly to AC. And those who couldn't join her still made their presence felt via pre-recorded video greets that, of course, triggered the waterworks anew for this birthday girl.
AC's next stop after her Riverdale stint was Manila, after spending the past months in Canada amidst a pandemic.
It was back to home base for her and her mom but it wouldn't be all work for her just yet.
Her Star Magic colleagues managed to convince her that she was up for a Metro photo shoot to hit the ground running. They "conspired" to plan something in secret for AC—a second birthday party with a 50s diner-inspired theme to celebrate her Riverdale success. On the day of her pretend photo shoot, she was absolutely blown away by the big reveal.
"Ang galing nilang mag-hide," she laughs.
"It was literally what I dreamed of also and more... The Riverdale theme, I loved it. The flowers were beautiful. The food was so good. And then my best friends were there also who surprised me, Nianna [Guerrero], Shawn [Castro], and BJ [Sy]," AC describes.
"It's so funny because Nianna, Shawn, and BJ, ever since I've gotten back, we've been trying to see each other but they would always avoid it. I was like, 'Bakit sila nag-a-avoid?' Pero 'yun nga, they wanted it to be a big surprise for when I see them the first time at the party. Everyone put so much effort in and I'm just so grateful that it happened," she shares.
Besides, a Gen Z-er like her knows that geographical boundaries mean nothing when chasing one's dreams.
The Internet is limitless that way, and it's the best tool for her to have at her disposal as she continues to train, train, train, and then train some more to become the best in the dance scene.
So what does someone like AC do when she's online, you ask?
Nothing exceptionally out of the ordinary—except for seriously zoning in on BTS and BLACKPINK, of course. She'll spend hours studying choreography and members' individual styles', learning a thing or two from these virtual mentors.
She's also big on following the most recognizable names in dance—some of whom she's met and worked with in the past.
Kiel Tutin and Kyle Hanagami are her best dance buddies, Matt Steffanina is an LA-based idol-turned-friend, while Sienna Lalau was just someone she used to watch on the screen and is now someone she's worked with several times.
AC has also stood alongside some of the finest in the Korean dance scene, arguably one of the world's toughest but most sought-after training grounds. She namedrops Koosung [Jung], Mina Myoung, and some of the guys at YGX.
Her plate is full, no doubt about that, and you'll need a really, really deep inhale to be able to recite the complete list of things AC has done, the people she's met, and the things she's set on doing.
It's easy to forget that she is still a young person despite what her resume says, and that with being young comes challenges in figuring out who you are and what you stand for. AC admits she isn't immune to the meanies and haters wishing for her fall from grace.
"I've heard a lot. I've had moments where I literally wanted to give up, na gusto ko na talaga mag-stop because I couldn't do it. I was a kid. I was a little kid, and I was hearing all these things about me, especially from bashers. Until now, I'm just glad my mind is better and my self-love is there na, pero when I was a kid, I didn't know how I was going to handle it," she confides.
As many showbiz personalities know all too well, social media can be cesspool of negativity hiding behind anonymous accounts. They'll comment on everything and anything from your face to your weight, your clothes to your manner of speaking. Leave the door open for insults, and you can be sure they'll rush straight in.
"At one point I hated myself," AC says candidly.
"I hated my body. I hated the way I dance. I hated everything, and I wanted to stop so badly and I was crying every single night. Nobody knows this, because all they see is what's on camera and they're like, 'Okay, she's smiling in this picture, she's happy.' But it's not how it is, right?" AC poses.
"That's not just for me, it's for everyone. So, yeah, I went through all of that, and at one point, I finally was like, 'Okay, what are they gonna do?' Those are just words. They can keep saying these words to me, I can easily just not look at them. Or just remember, like, how I have this whole other side of people who are supporting me—there will be like 5, 10, maybe even 100 bashers but I'm gonna have like a thousand of people, thousands of people who are still supporting me and telling me that I'm good and telling me that I'm enough, and that was really what kept me going and that got me to get up every day to work."

Showbiz—it's not for everybody, she learns as early as now.
It's not only talent that keeps you going, but inner strength, too.
But even inner strength needs to be fueled by something, a source outside of one's self. AC is able to name the source of hers in a snap: her mom and her titas, her mom's three sisters. This all-girl brood helped raise her and it's one hundred percent them who taught her the importance of valuing herself, rather than allowing others to dictate her worth.
Her family's story is a familiar one. As one clan, they immigrated to Canada to give the family's next generation a better shot at a brighter future. Together, they scraped by in the beginning, adjusting to a culture and to lives so far different from what they'd known.
If they could do that—and end up with kids as bright and promising as AC and her cousins—AC felt that she, too, could have the strength to keep pushing forward.
With the first quarter of the year done, AC can satisfactorily say she'd made the most out of it.
Not even a pandemic can get in the way of what was always planned for her from the very beginning—success defined in many ways.
She's a celebrity, sure, but she's also a teen who's growing up with a steady head on her shoulders, a Pinoy icon in the making, a student of life, and a role model for the youth. She lets out a nervous giggle at the sound of that last one, but we're sure she'll get the hang of it before she realizes it.
It's just like dancing—when you're made for it, you're made for it. And over time, you can just get better at it.
Ultimately, balancing herself on the fence that delicately divides adulthood and youth isn't full of danger and unseen threats—it's an adventure full of promise, and it's one this little Miss is out to fulfill, no questions asked.
Watch our full Metro Talks interview with AC Bonifacio below:
Interview by Grace Libero-Cruz
Special thanks to Star Magic, Thess Gubi, and Deejaye Cuadrado
Lead and gallery photos courtesy of NicePrint Photo