Female K-Drama Characters With Supernatural Powers
If you could have one of these superpowers, what would you pick?
The K-Drama scene is big on the fantasy genre. Over the years, there have been countless South Korean TV shows that featured characters with extraordinary abilities. The networks behind these shows are praise-worthy for their excellence in conceptualizing unique plots and executing awe-inspiring scenes.
Time traveling, mind reading, and superhuman strength are supernatural powers typically highlighted in a K-Drama. There are also many of these shows that center on narratives featuring ghosts, putting forth characters with fantastic ghost-busting skills; there are the likes of Kim Shin (Gong Yoo) in Guardian: The Lonely and Great God, Son Oh-gong (Lee Seung-gi) in A Korean Odyssey, and Han Moo-gang (Song Seung-heon) in Black, but for this article, we're focusing on the amazing female characters.
And speaking of ghosts, August is considered "the ghost month." What that basically means in Chinese culture is the period when the gates of hell are believed to open and ghosts are set free to wander around earth. This belief has led people to associate this month with bad luck and unfortunate events. This year, the ghost month began last August 19 and will last until September 16.
Check out the gallery below: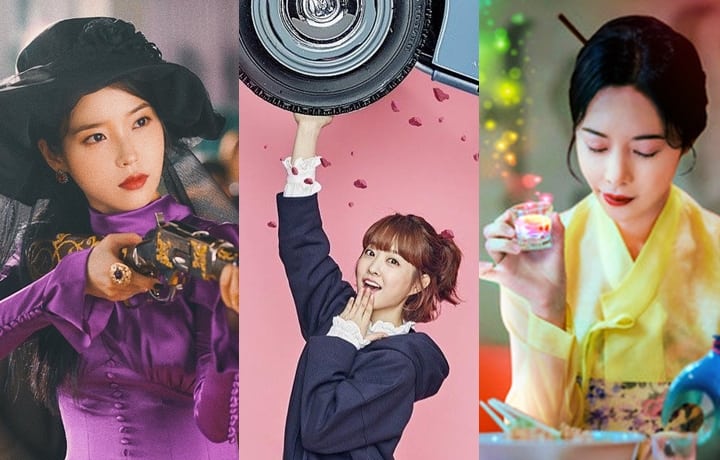 Women With Superpowers in K-Dramas
SWIPE LEFT OR RIGHT
TO NAVIGATE BETWEEN PAGES
Jang Man-Wol in "Hotel del Luna" (2019)
Photo Credit: tvN
Do Bong-Soon in "Strong Woman Do Bong-Soon" (2017)
Photo Credit: JTBC
Wol-Joo in "Mystic Pop-Up Bar" (2020)
Photo Credit: JTBC
Se-Hwa/Shim Cheong in "Legend of the Blue Sea" (2016)
Photo Credit: SBS
Nam Jong-Hoo in "While You Were Sleeping" (2017)
Photo Credit: SBS
Tae Gong-Shil in "Master's Sun" (2013)
Photo Credit: SBS
Oh Cho-Rim in "The Girl Who Sees Smells" (2015)
Photo Credit: Namoo Actors
Jin Seon-Mi in "A Korean Odyssey" (2017)
Photo Credit: tvN
Kang Ha-Ram in "Black" (2017)
Photo Credit: OCN
Na Bong-Sun in "Oh My Ghost" (2015)
Photo Credit: tvN
Do you know other female K-Drama characters with supernatural powers? Let us know!
Lead photos from tvN and JTBC