8 Things About Netflix's "Sex/Life" Star Sarah Shahi
Get to know the Iranian-American actress behind Billie Connelly, the stay-at-home wife and mom of two with a wild, wild, wild past in this chart-topping Netflix show
Netflix's steamy new original Sex/Life has been topping the charts on the platform since it was released last June 25. At the center of this melodramatic, erotic offering is Iranian-American actress Sarah Shahi, who plays the role of Billie Connelly, a stay-at-home wife and mom of two who's married to an investment banker that many would consider the ideal husband (Coopper Connelly, played by Mike Vogel). Sarah describes her character as "the saint and the sinner wrapped up in a messy pink bow."
Despite the obvious challenges that come with being a housewife and a mother to a toddler as well as a newborn, one could say her life out in the suburbs is the kind of peaceful life many hope to have (something her best friend in the show, Sasha Snow played by Margaret Odette, constantly reminds her of). Billie, however, finds herself unhappy with an insatiable desire and longing to get even a part of her old self back (i.e. a party girl, wild child with a very exciting sex life). That part she especially misses is her sexcapades with her hot music producer ex-boyfriend (Brad Simon, played by Adam Demos), who she's been fantasizing about in her journal.
What happens when she sees her ex again, bringing back more of her sizzling memories from her daring sexual past, is no doubt a nightmare that's sure to threaten a marriage.
Sex/Life
is created by Stacy Rukeyser, inspired by BB Easton's novel
44 Chapters About 4 Men
. It was in January of last year when Sarah Shahi was confirmed to star in the series. As with many shows and films, filming for
Sex/Life
had to be postponed due to the COVID-19 pandemic, but was finally able to push through in August to December last year. The eight-episode season 1 immediately gained a following and was even number one in Netflix's Top 20 list in the Philippines, and many viewers are hoping for a second season but that's too early to say for now, as the steamy show is still, well, gaining steam.
In the meantime, scroll through the gallery below to get to know Netflix's Sex/Life female lead Sarah Shahi: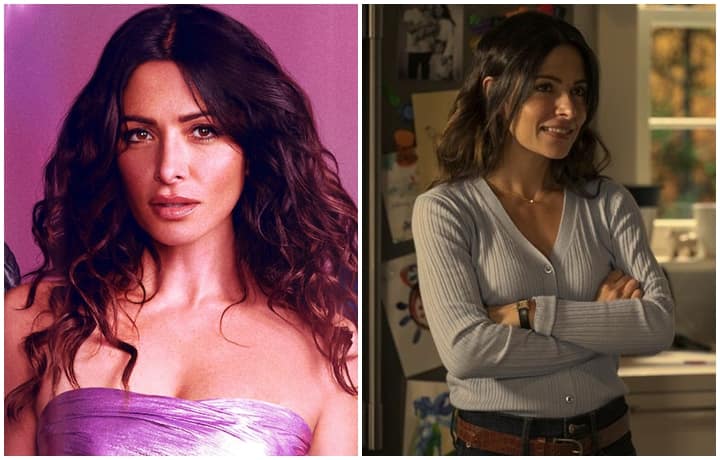 About "Sex/Life" Star Sarah Shahi
About "Sex/Life" Star Sarah Shahi
She considers the Jennifer Garner starrer "Alias" as a significant project.
Photo Credit: Source: Background