15 Handsome & Sexy K-Drama Actors As Lawyers And Prosecutors
They're guilty of stealing our hearts!
Hyena, which was nominated as Best Drama at the recent 56th Baeksang Arts Awards, made us realize how many legal and crime K-Dramas there are. They're two of the most popular genres especially in Korean television shows.
Aside from the intense, infuriating legal battles and the gripping plot twists that come with them, what often make these K-Dramas addictive and binge-worthy are the handsome and sexy actors portraying lawyers and prosecutors. Their impressive acting makes the shows more entertaining; they're so effective they make you root for them, and you feel defeated whenever they lose a case. As for the villains, well, their acting can be so annoying they'll make you cry out of frustration.
With their ensembles of tailored suits and briefcases, the actors exude smartness and confidence as they breathe life into their characters. And the moment they start talking like a pro, make sound arguments, and deliver a well thought out line of questioning, they're guilty of stealing our hearts in just a matter of seconds! Really, don't you just love a righteous and charismatic man? And as they say, too, smart is sexy!
Check out our picks for the most handsome and sexiest lawyers and prosecutors in K-Dramaland: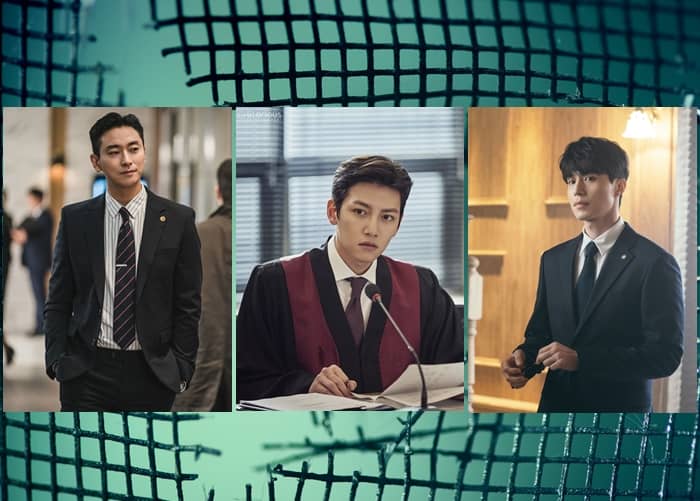 K-Drama Actors As Lawyers & Prosecutors
SWIPE LEFT OR RIGHT
TO NAVIGATE BETWEEN PAGES
Ju Ji-Hoon in "Hyena" (2020)
Photo Credit: SBS
Ju Ji-Hoon in "Hyena" (2020)
Photo Credit: SBS
Ju Ji-Hoon in "Hyena" (2020)
Photo Credit: SBS
Ji Chang-Wook in "Suspicious Partner" (2017)
Photo Credit: Glorious Entertainment
Ji Chang-Wook in "Suspicious Partner" (2017)
Photo Credit: Glorious Entertainment
Ji Chang-Wook in "Suspicious Partner" (2017)
Photo Credit: Glorious Entertainment
Lee Jong-Suk in "While You Were Sleeping" (2017)
Photo Credit: tv.rakuten.co.jp
Lee Jong-Suk in "While You Were Sleeping" (2017)
Photo Credit: SBS
Lee Jong-Suk in "While You Were Sleeping" (2017)
Photo Credit: IBTimes India
Lee Dong-Wook in "Touch Your Heart" (2019)
Photo Credit: tvN
Lee Dong-Wook in "Touch Your Heart" (2019)
Photo Credit: tvN
Lee Dong-Wook in "Touch Your Heart" (2019)
Photo Credit: Malaysian Kpop Fans
Park Hyung-Sik in "Suits" (2018)
Photo Credit: KBS2
Park Hyung-Sik in "Suits" (2018)
Photo Credit: KBS2
Park Hyung-Sik in "Suits" (2018)
Photo Credit: Soompi
Lee Joon-Gi in "Lawless Lawyer" (2018)
Photo Credit: tvN
Lee Joon-Gi in "Lawless Lawyer" (2018)
Photo Credit: Soompi
Lee Joon-Gi in "Lawless Lawyer" (2018)
Photo Credit: tvN
Jin Goo in "Legal High" (2019)
Photo Credit: JTBC
Jin Goo in "Legal High" (2019)
Photo Credit: JTBC
Jin Goo in "Legal High" (2019)
Photo Credit: JTBC
Yoon Park in "Legal High" (2019)
Photo Credit: JTBC
Yoon Park in "Legal High" (2019)
Photo Credit: JTBC
Yoon Park in "Legal High" (2019)
Photo Credit: JTBC
Choi Jun-Hyuk in "Pride and Prejudice" (2014)
Photo Credit: MBC
Choi Jun-Hyuk in "Pride and Prejudice" (2014)
Photo Credit: MBC
Choi Jun-Hyuk in "Pride and Prejudice" (2014)
Photo Credit: MBC
Ji Jin-Hee in "Misty" (2018)
Photo Credit: JTBC
Ji Jin-Hee in "Misty" (2018)
Photo Credit: JTBC
Ji Jin-Hee in "Misty" (2018)
Photo Credit: JTBC
Yoon Hyun-Min in "Witch at Court" (2017)
Photo Credit: KBS
Yoon Hyun-Min in "Witch at Court" (2017)
Photo Credit: KBS
Yoon Hyun-Min in "Witch at Court" (2017)
Photo Credit: KBS
Kim Young-Kwang in "Lookout" (2017)
Photo Credit: MBC
Kim Young-Kwang in "Lookout" (2017)
Photo Credit: MBC
Kim Young-Kwang in "Lookout" (2017)
Photo Credit: MBC
Yoo Seung-Ho in "Remember: War of Son" (2015)
Photo Credit: SBS
Yoo Seung-Ho in "Remember: War of Son" (2015)
Photo Credit: SBS
Yoo Seung-Ho in "Remember: War of Son" (2015)
Photo Credit: SBS
Cho Seung-Woo in "Stranger" (2017)
Photo Credit: tvN
Cho Seung-Woo in "Stranger" (2017)
Photo Credit: tvN
Cho Seung-Woo in "Stranger" (2017)
Photo Credit: tvN
Lee Joon-Hyuk in "Stranger" (2017)
Photo Credit: tvN
Lee Joon-Hyuk in "Stranger" (2017)
Photo Credit: tvN
Lee Joon-Hyuk in "Stranger" (2017)
Photo Credit: tvN
Below, check out our articles on the Korean actors who portrayed military men in K-Dramas and films, as well as those who played doctors in medical dramas:
Lead photos from JTBC, Glorious Entertainment, tvN, and Sharon McCutheon on Unsplash