Here Are The Highlights From The 2021 Golden Globes
Netflix's "The Crown" and "The Queen's Gambit," Korean-American drama "Minari" and drama "Nomadland" were some of the ceremony's shining titles
The 78th Golden Globes became the first-ever edition of the Hollywood awards ceremony to be held virtually, making the streamed event a historic feat on its own. It's the first of 2021's first major film and television awards nights, but even with the absence of traditional red carpet arrivals, star-studded audience, hosts, presenters, and acceptance speeches, the 78th Golden Globes still managed to leave its mark in the industry, what with its most memorable winners and highlights.
The themes of racial and gender diversity ruled the evening, and political self-awareness was as usual part of the fun of things. Though awards ceremonies like the Golden Globes are still essentially designed for entertainment and fanfare, recent years have seen them evolve into more socially, culturally, and politically relevant events and it was no different this year.
Its list of winners and nominees—many of Asian and African descent—was meant to be a testament to a slowly changing Hollywood landscape that's only just begun to value inclusivity. (Note: A few days before the ceremony, the Golden Globes received much criticism over its relationship with and support of the HFPA, a.k.a. the Hollywood Foreign Press Association having zero black members. The HFPA is a non-profit media group in charge of telling stories about the entertainment industry outside the US. The ceremony awarding several black and Asian actors and filmmakers was seen as a response to this).
Regardless of the controversy that marred the countdown to the first-ever online Golden Globes (and the many technical problems that came with streaming a massive event worldwide), the evening was a success overall.
Read on for the 78th Golden Globes' most notable winners in the gallery below, and why these awards stood out among the rest. And for the complete list of winners, check out our story in the link below.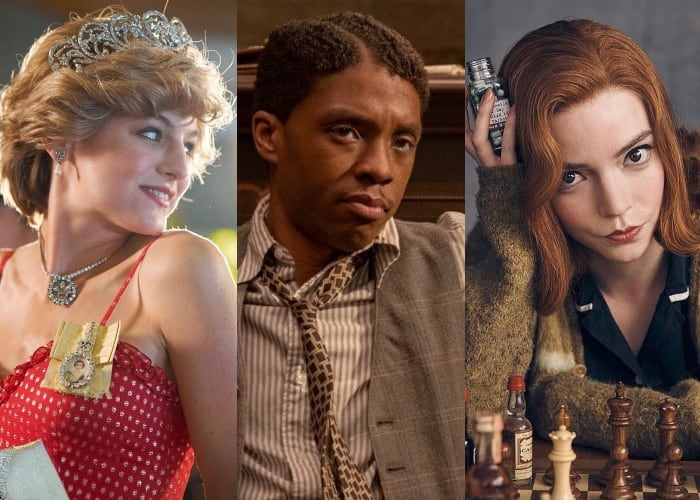 Notable Winners from the 2021 Golden Globes
Notable Winners from the 2021 Golden Globes
Pixar's Soul, a movie about a musician who reexamines existence, life, and death also won two major awards: Best Animated Film and Best Original Score.
The ceremony hosts, Tina Fey and Amy Poehler, also deserve credit for keeping the evening snappy. Though they hosted the event from opposite coasts (Tina in California and Amy in New York) and had to endure streaming delays plus an audience-less show, the comedic duo managed to make things work as they always do when they're together onstage, even virtually.
Lead photos from @vanityfair @mspike @tvnnoticias @anyataylorjoy @aspictures