IN PHOTOS: Behind The Scenes At Hyun Bin's Smart TVC Shoot
After launching their TVC with the Korean superstar, Smart's executives confirm they're bringing him to Manila too!
In a digital press conference held earlier today for their "Simple, Smart Ako" campaign, Smart Communications, Inc. revealed three things that everyone wants to know about the collaboration with their latest brand ambassador, Korean superstar Hyun Bin of the Crash Landing on You (CLOY) phenomenon. First, yes, they'll be bringing him to Manila! Second, there will be another commercial featuring Hyun Bin! Lastly, fans can get a hold of unique Hyun Bin merchandise soon once they avail of certain offerings from Smart. During the online event, Smart also showed behind-the-scenes footage from their photo and TVC shoots with Hyun Bin.
Last May 27, mobile services provider Smart Communications surprised everyone by uploading a video teaser with the caption "The Captain is coming. Watch out for the big RiVeal," inviting everyone to tune in on June 1 for the launch of their TVC. For fans of
CLOY
, this clue was a giveaway. The following day, the brand revealed that their latest endorser is—as we all hoped for—indeed, Hyun Bin (who portrayed the role of North Korean military man, Captain Ri Jeong-hyeok, in the series), who delighted his Filipino fans with a video greeting that he ended with "
Mahal ko kayo
, Smartees!" His fans, and K-Drama fans in general, were eagerly waiting for the scheduled "big RiVeal," but the Captain landed earlier than expected, and the much-awaited TVC, which highlights the brand's new tagline "
Simple
, Smart
Ako
," was finally unveiled last May 29.
The digital press conference gathered Smart's executives, including Alfredo S. Panlilio (Smart President & CEO and PLDT Chief Revenue Officer), Jane J. Basas (Smart SVP and Head for Consumer Wireless Business), Ramon R. Isberto (PLDT-Smart First Vice President and Public Affairs Head), and Lloyd Dennis R. Manaloto (Smart Vice President for Corporate Marketing and Strategy).
When asked why they decided to tap Hyun Bin to be their brand ambassador, Basas shares that it was only fitting to get someone as phenomenal as this actor, who is aligned with the services they're offering as well as the kind of content the Filipino subscribers are consuming. Smart and the people behind it are aware of the incredible popularity of Hyun Bin and the phenomenal success of CLOY. This is the first time a local telecommunications company has tapped a South Korean celebrity to represent their brand. Basas says, "I'm a personal fan. CLOY was actually the first K-Drama that I watched, and I know my boss, Mr. Al Panlilio, was made to watch by his wife Angela and MVP (Chairman Manny V. Pangilinan) is also a fan. Bringing Hyun Bin was something that was natural for us, because it would've been crazy for us not to do it. In fact, closer to Smart, in terms of our service, our biggest service right now is called the Giga Video, and people actually subscribe to the video to watch their K-Drama content, so the feedback that we've gotten the past few days, since we launched the campaign, has been quite phenomenal, and I think it's a very, very good decision to bring Hyun Bin as part of the Smart family."
The fact that Smart was able to collaborate with such a phenomenal actor like Hyun Bin is impressive in itself, but the manner by which they were able to pull it off quickly despite the ongoing COVID-19 health crisis makes their efforts doubly remarkable.
The Smart team couldn't travel to Seoul, South Korea to oversee the TVC shoot because of the travel bans and restrictions, but they were able to oversee it virtually. Basas shares, "We were determined to get this done. 100% this project was actually done online—from the planning stages, clearing the storyboard with Hyun Bin and his VAST Management, the pre-prod, to the actual shoot, to the post. Everything was done completely online. So thanks to the power of technology, and actually the simplicity of technology, because now we have the first TVC of Hyun Bin for Filipinos."
As complex as his TVC may look like, it turns out Hyun Bin's photo and video shoots were both accomplished in just one day. "We shot the whole thing in one day, so we did photography at about 1 o'clock, finished at about 6 o'clock with photography, just in time to catch the sunset scene. And from 6p.m. to 12a.m., we shot the TVC. So imagine doing a complex ad in that time frame," Manaloto shares, adding that Hyun Bin's team was really professional and diligent.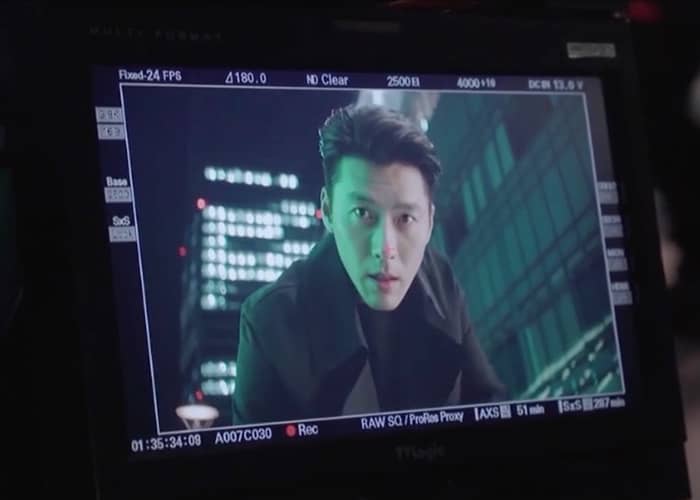 BTS with Hyun Bin
SWIPE LEFT OR RIGHT
TO NAVIGATE BETWEEN PAGES
While the shoots were happening in South Korea, the team of Smart was on standby, monitoring the details online. And in the middle of the shoot, Panlilio got a chance to talk to Hyun Bin via Zoom, and his first impressions of the Hallyu star were that "he was very nice and down-to-earth." Basas also shared that they scheduled the shoot on a Tuesday, and Hyun Bin asked for the script on a Saturday, so he could practice his lines especially the Filipino words. She adds, "It was a very easy conversation… It was a breeze discussing with him what he'd tell in front of the camera." Another fun story she shared is that, when Hyun Bin sent the jacket he used for the commercial shoot to the Smart team, the sweet and thoughtful actor even put his autograph on it!
The Smart executives revealed that their contract with Hyun Bin is good for one year. Without revealing how much it cost them to get Hyun Bin, Basas said that considering the impact their executions with him have had so far, they consider him a "priceless investment." Their contract with him was signed back in April, and despite the challenges that come with the COVID-19 pandemic, they were able to release their TVC with him on their intended schedule.
But things don't end there: as was revealed by Isberto, they'll be bringing Hyun Bin to Manila. He says, "It's not definite yet when he's coming, because, you know, we have to still deal with this COVID situation, but he is definitely coming. When exactly etc., like I said, we'll work it out."
In the meantime, fans will be thrilled to find out that another Smart TVC featuring Hyun Bin is coming up, and that the brand has also prepared unique Hyun Bin merchandise for their customers. Take note: there'll be a 6'1" standee up for grabs!
Just as how all these executions were easily done online, Smart's latest campaign also emphasizes how game-changing technology can be today, especially during a time when people are looking for an escape through various forms of entertainment such as binge-watching K-Dramas. "'Simple. Smart Ako' sums up our company's approach all this time to make amazing technology available, and more importantly, simple for every Filipino," says Panlilio.