Iza Calzado: 5 Things That Make Me Happy And Keep Me Inspired These Days
We caught up with the Metro cover star and chatted about what she's been up to since becoming a COVID-19 survivor
Iza Calzado was legitimately scared of becoming a COVID-19 statistic when she was diagnosed with the deadly disease in March. She didn't think she was going to make it out alive—but she did, and when she was officially declared well and COVID-free, it was like she began living life for the first time all over again.
It's more than half a year since Iza left her hospital bed
to settle into in her own, cozy bed back home. All the time that's passed since then has given her all the room to reflect on her experience, her blessings, her fortunes and misfortunes.
So how is she these days, now that she has recovered in full, physically speaking, but still carries a scar or two from her near-death experience?
"'I'm very, very tired but very grateful. Since our last conversation which was shortly after the hospitalization, parang nobody knew where we were headed... So much has changed. But at the same time, so many things are also kind of the same," she begins.
For this actress, her ordeal was a double whammy considering that her diagnosis was promptly followed by ABS-CBN's shutdown. It was tough. And still is.
But assessing everything from a bird's eye point of view and considering how little pockets of improvement have come her way, Iza Calzado is happy. These are far from rosy times we're living in, but Iza is happy nonetheless as she has re-learned how to count her blessings and find gratefulness in even the littlest, simplest of joys.
We talked to her about what makes her happiest these days and she listed down five things—most, if not all, things her fans will find all too relatable!
1. Dancing or working out via lots and lots of Zumba
Fun fact: the first thing Iza did to celebrate surviving COVID-19 and finally coming home wasn't to eat, take a long nap, or going on Netflix (although all of those things soon followed)—it was to dance! She danced to a couple of songs like no one was watching (except for her husband Ben Wintle, perhaps) and that was how she knew it was going to be the start of her being okay.
"When I was younger, I loved going out. I love to dance. That kind of trickled down to rarely these days, because I also rarely drink na rin. You save your energy for work and workouts... But then, nitong pandemic, na-notice ko, apart from my Zumba, parang gustong-gusto ko lang sumayaw," she explains.
There's just something about dancing, whether she takes it seriously or just wants to play around, that energizes her and makes everything feel better.
"'Yung energy ko kasi di nawawala. I feel alive. Siguro nga kasi, it's a new lease on life, almost like an extension, diba?" she continues.
2. Simply being at home
It's 2020's theme: everyone has reassessed what's important to them and what they prioritize in life. For Iza, nothing tops relationships and getting to spend uninterrupted time at home with family, furry family members included!
"Funnily enough, siguro kasi I'm always away because of the quarantine [for work], so the minute I'm home, I'm really just happy to be home with my husband, my family there, our dogs," she says.
Nothing big needs to be happening for time at home to be special. Iza just needs to settle into the familiarity of the company of the people she loves the most, find the coziest spot at home, and maybe her favorite snack too, and that's it.
"What makes me happy? To spend quality time with family and, you know, should I see my friends as well, even better," she adds.
3. Great Netflix finds
When Iza got home from the hospital and completing mandatory bedrest, her eyes feasted on Itaewon Class. She has since moved on from the K-Drama, but that doesn't mean Netflix and other great watch finds have left the picture! It's one of her favorite things to do to unwind these days, in fact—just to settle in and enjoy a good documentary, film, or series, but ideally one that's meaningful rather than just purely entertaining (David Attenborough: A Life on Our Planet is highly recommended by her).
Oh, and don't forget the chips, possibly popcorn too. The watch experience is never complete for Iza without a good side of snacks. "Food pa rin talaga," Iza jokes.
4. Meditation
To help her heal from her COVID-19 ordeal, Iza didn't just regularly go to hospitals for physical checkups, but found comfort in meditation, too.
It helped with the trauma, and there to guide her in her discovery of what works best for her is Sara Black, a photographer turned yogi and overall wellness guru. Anxiety and insomnia are two of the biggest consequences that Iza is trying to manage from her experience, and finding calmness and stillness have been her greatest protection.
"[Sara and I] don't see each other everyday. There was a time when we began with 10 sessions or five sessions. She'd give me assignments and then I'd work on it on my own. I do it in the morning. Before that, I was already doing gratitude journaling in the morning so now, tina-tie in ko pa s'ya," Iza explains.
To anyone wondering what gratitude journaling is, it's essentially a practice that helps keep you focused and powered by the good things in life. It comes in many forms, and but it's a great tool for healing.
"I've been journaling since 2017, kami ni Ben. It's just like, three things we're grateful for, three things that would make the day great, and three affirmations. Sometimes I go beyond kasi sabi ko, 'Bakit ko i-li-limit ang sarili ko sa tatlo?" Iza shares.
5. Making connections
"People. Connections make me happy," Iza says, emphasizing each word. Iza is big on living a life that is meaningful and for the service of a greater good. COVID or no COVID, she has championed several causes in the past, and come quarantine, she's happy to say that she has forged new connections with more people and even a community.
In partnership with Ford Philippines, Iza found herself learning more about Gawad Kalinga's Kusina ng Kalinga project. She has worked with Gawad Kalinga in the past, but this opportunity paved the way for a much closer look into the lives of the hardworking women who are part of this community in Dasmarinas, Cavite. This experience was memorable from the moment she stepped out of their house, because she herself drove to the location (it's the furthest she's ever driven since she started driving!), aboard the Ford Ranger Wildtrak pickup truck loaded with 200 sanitation kits and disinfection materials. Her day with Kusina ng Kalinga was all about giving back to the empowered women behind the initiative's operations—all unpaid volunteers who prepare thousands of meals weekly. Iza likes to call them "our modern-day unsung superheroes."
Recalling a conversation with one of the volunteers, Iza says, "I asked her, 'Ano'ng oras ka gumigising kada umaga?' Sabi niya 3 a.m... Naisip ko lang, ang selfless naman nito. Hindi naman s'ya binabayaran para dito... For you to wake up at 3 in the morning to cook meals for 250 to 300 people, who are not even your family without being compensated like a chef, it says a lot about you. It says a lot about the love that you have for your community. Purpose 'yun eh," Iza ends.
It was a lovely lesson on compassion and kindness—two things that don't dim, but shine brighter, during times like this.
Check out more from our catch-up conversation with Iza Calzado in the gallery below. Here, she talks about work, her recent experiences, and her other advocacies!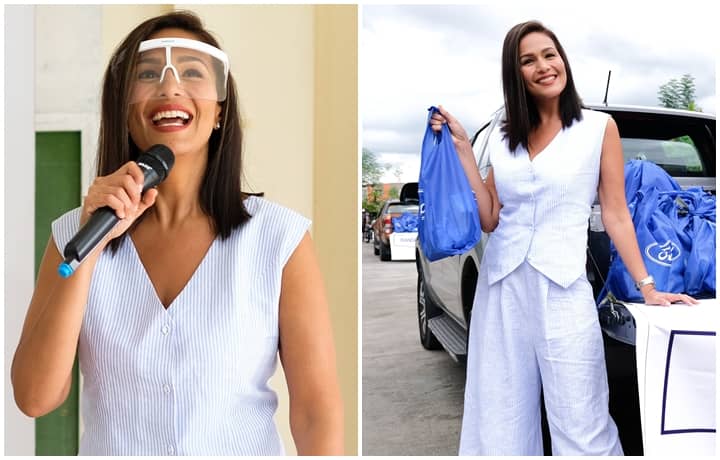 Catching up with Iza Calzado
Catching up with Iza Calzado
Lead photos courtesy of Ford Philippines | Gallery photos from @missizacalzado