Here Are The Details Of Janella Salvador's Baby Shower, Organized By Liza Soberano
It's "Breakfast at Tiffany's"-themed!
Janella Salvador dedicated a social media post for her friend, fellow actress Liza Soberano, for throwing her a surprise baby shower, before she left for the UK to give birth last year.
Janella Salvador's baby shower was held on August 26, 2020. As the story goes, she just finished her maternity photo shoot at the time, when she was ushered to another room in the studio to take some OOTD (Outfit of the Day) snaps. As soon as she entered the room filled with blue and white balloons and dressed up with a Breakfast at Tiffany's theme, Janella was speechless and couldn't believe what was happening. She was then greeted by Liza Soberano and Enrique Gil.
Check out the third post below to see how surprised Janella was:
Janella talks about the surprise baby shower on Instagram, saying, "This is an extra special post. I just wanna thank a good friend for planning and organizing a surprise baby shower for me before I left the country months ago. This was after a secret maternity pictorial I did—my team told me I was gonna do an ootd in another room and BOOM. I'm not very good at reactions when people surprise me in person which explains my face in the video but seeing these people who are dear to me all in one room warmed my heart and reminded me of the good in the world despite the situation. That friend is none other than @lizasoberano. Thank you. You are a gem."
Check out the gallery below for more photos from the baby shower Liza threw for Janella: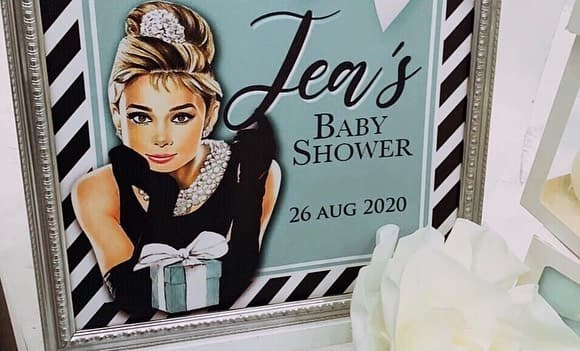 Janella Salvador's Baby Shower
Janella Salvador's Baby Shower
Aside from Liza and Enrique, other guests who were at the baby shower were Maja Salvador, Janella's go-to glam team (makeup artist Mickey See, hairstylist John Valle, fashion stylist Perry Tabora, styling associate Kris de Leon), Markus' manager Allan Altera, and of course, her mom Jenine Desiderio and her brother Russell.
In September last year, just about a couple of weeks after the baby shower, Janella flew to the UK to give birth to her and Markus' son who they named Jude, as inspired by their favorite rock band The Beatles who sang "Hey Jude."
In case you're curious about the theme of the baby shower, the reason behind it is that Breakfast at Tiffany's star Audrey Hepburn is Janella's ultimate style icon. The baby shower's venue was styled by Enah Tabora Quinto.
Check out how Janella channeled Audrey's beauty looks in the past:
Janella and Markus' son Jude was born on October 20, 2020. Last January 5, they revealed that they're now parents through a heartwarming vlog that documented her pregnancy.
Watch our exclusive interview with Janella Salvador below:
Photos from @superjanella