EXCLUSIVE: Jason Marvin Hernandez & Moira dela Torre Bask In Newlywed Bliss
Congratulations to the newly-married young couple!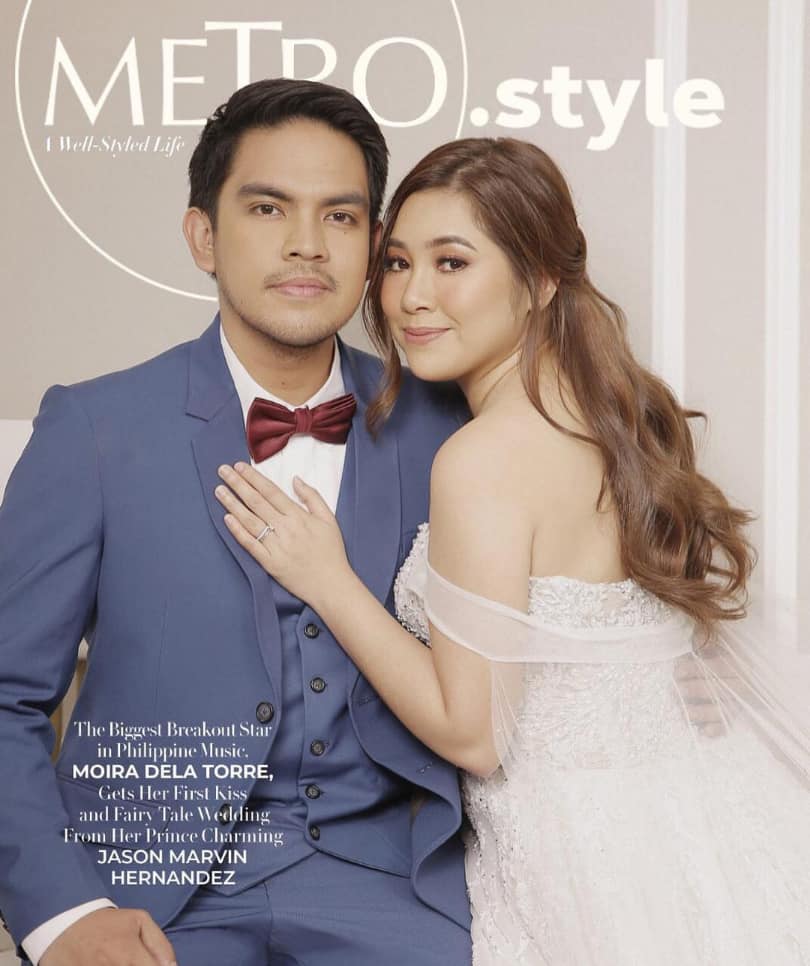 "We've worked together. We've traveled together. We used to do everything together—except 'yung sleep together," newly-married man Jason Marvin Hernandez says in jest with a matter-of-factly tone when asked what has so far changed in his relationship with wife Moira dela Torre. "It's more about the freedom of doing things together. Sa kanya na ako umuuwi."
The love story of singer-songwriter duo Moira and Jason is testament to how the best of friends can successfully transition to being the most romantic lovers, and how waiting to get intimate until after marriage can breathe excitement to life as newlyweds.
"We wanted our wedding to be like our testimony of waiting, of purity, of doing things right," Jason says.
READ: Everything You Want To Know About Moira Dela Torre And Jason Marvin Hernandez's Wedding
The foundation of a relationship
They say the best relationships begin with friendships, and that love without friendship doesn't last forever. If these are to be believed then Moira and Jason are bound to have a crazy-good lifetime ahead, one that comes with an extremely generous serving of love and understanding that can only exist between two people who trust each other with all their hearts.
"The friendship is the foundation and not the romance," admits Moira. "So when the romance comes, it's always new, it's always fresh."
Jason and Moira met about seven years ago in school at the De La Salle–College of Saint Benilde, where they both took up Music Production. With their laid-back personalities perfectly in sync, it was easy for the two to eventually consider each other as best friends. But then, as this friendship got deeper and deeper and as they shared more precious memories together, he started seeing her as someone who could be "The One."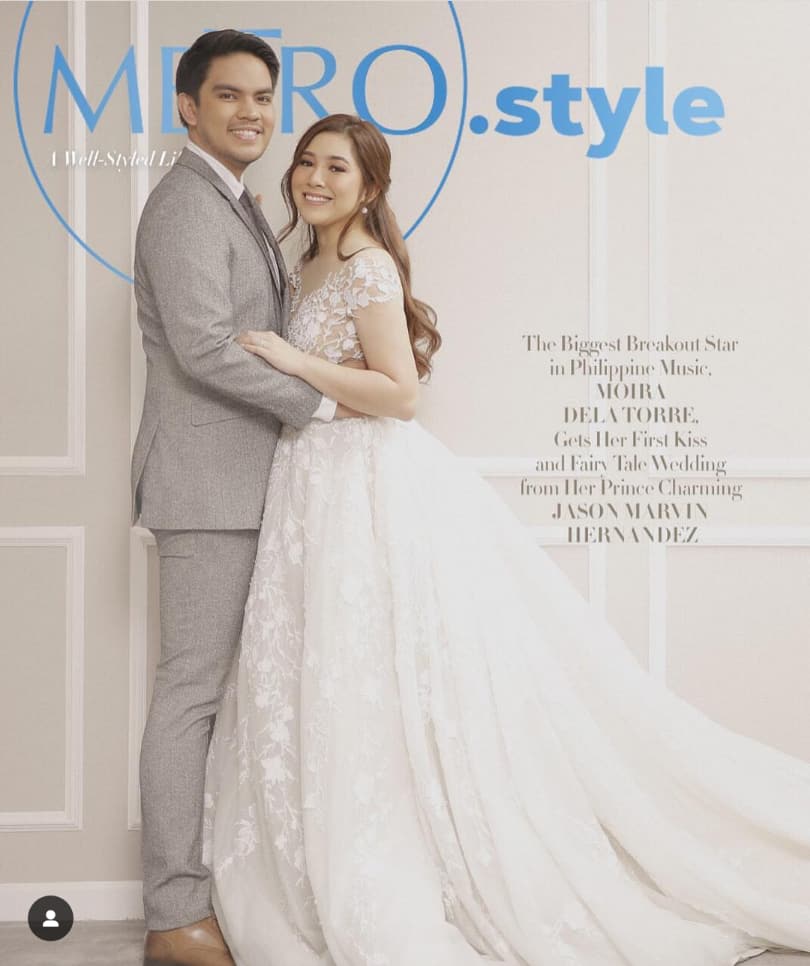 The pivotal moment in their relationship was nothing dramatic, fancy, or fairy tale-like. There was neither a candlelit dinner to set the dreamy mood nor were there spotlights following them as they waltzed around the dance floor. It was, in fact, a casual moment—an unusually and unexpectedly romantic time together in a coffee shop—that changed their lives forever.
"Honestly, I couldn't explain it," says Jason of how he felt on that extraordinary day. All he knew was that he was seeing a side of his friend that he found attractive. He recounts, "Ang tagal ko nang kilala si Moi, pero nu'ng December 4, 2016 talaga, that moment na nasa Starbucks kami, we were with our other friends pero nagkaroon ng moment na na-solo ko s'ya. May sinusulat s'ya sa planner. That time kasi big deal na 'yung planner sa amin kasi pinag-iipunan 'yun. Akala ko sa kanya 'yung planner, 'yun pala ibibigay n'ya sa mom n'ya. That was the first time na nakita ko s'ya in a new light. Naisip ko, ang ganda ng puso ng babaeng 'to. Kasi you can tell a lot about a girl kung paano niya mahalin ang mom n'ya e. Du'n ako first na-attract sa kanya."
When Jason began treating Moira differently, she immediately knew he was onto something, being someone who was like his wingman when he previously got out of a relationship. In an interview with ASAP, Moira shared how events unfolded after that "rendezvous" in the coffee shop, "May mga pumupuslit na tanong na, 'May mga manliligaw ka ba ngayon?' Kilala ko 'to e. Kilalang-kilala ko si Jason. 'Yung mga chine-check ko sa kanya before na messages, sa akin na n'ya sine-send."
From that moment he realized he wanted Moira to be more than his friend, Jason wasted no time in pursuing her. That same month, he told her about his intention of pursuing her and getting to know her more beyond the concept of friendship.
The beginning of forever
More than a month of courtship later, on February 16, 2017, Moira and Jason became a couple. For someone like her who had to deal with too much difficulties and challenges in life (broken family, bullying, depression, and anorexia), it's truly one of the greatest blessings to find a man who would love her unconditionally and treasure her endlessly.
Although their relationship is far from being perfect, it was ultimately beautiful enough to see them through and brighten up even the darkest times in one's life. Life may have been tough for Moira, but it didn't have to stay that way. As she says, "Just because you come from a broken family doesn't mean your future is going to be broken also." A woman with a heart so pure and genuine should be destined to meet a man who would show her her true value and give her the fairy tale-like, happily ever after ending she deserves. Thankfully, it was the case for Moira.
They're not each other's first boyfriend or girlfriend, but the learnings they brought with them from their past relationships helped make them see that what they have is what falling in love for the first time truly means.
"Walang pilit 'tsaka walang tago. Kasi before, 'yung relationships namin laging pilit at tago e, like hindi nagpapaalam sa parents namin kasi nag-aaral pa, tapos 'pag magde-date patago at patakas," Jason tells Metro.Style. "This is the first relationship that everyone was just giving us their blessing—even our pastors, even our parents, even our closest friends. That's one of the many things na naging confirmation for me na si Moira na talaga."
He was sure of her, and so was she. And as Moira cites a quote from When Harry Met Sally, "When you realize you want to spend the rest of your life with somebody, you want the rest of your life to start as soon as possible."
"I felt that we were ready. There was nothing holding us back," Jason says about taking their relationship to the next level despite being a couple for only a little more than a year. "We're not rich, but financially, we were okay na. We were matured na. Our parents were ready and excited as well."
In April 2018, his proposal went viral online; it touched so many people's hearts and had her shedding bucket loads of joyful tears.
For a music-loving couple like them, it was only natural for words and music to play integral parts in this life-defining moment, but no one could have expected it to be as romantic and heartfelt as it turned out to be.
During the shooting of the music video of Moira's phenomenal hit song "Tagpuan," she received one of the most wonderful surprises any woman could ever ask for. As a fitting ending to her tearjerking song, Jason proposed to her, with their friend John Prats directing the whole thing and ensuring their concept and plan were successfully carried out; later, with the help of Sam Milby's editing skills, the music video came to life in the most special way.
On Twitter, Moira says about the proposal, "On a cliff sunset, my best friend asked me the easiest question I have ever had to answer."
As of this writing, the official music video of "Tagpuan" has had 14 million views, and it continues to inspire people to believe that they, too, can find true love.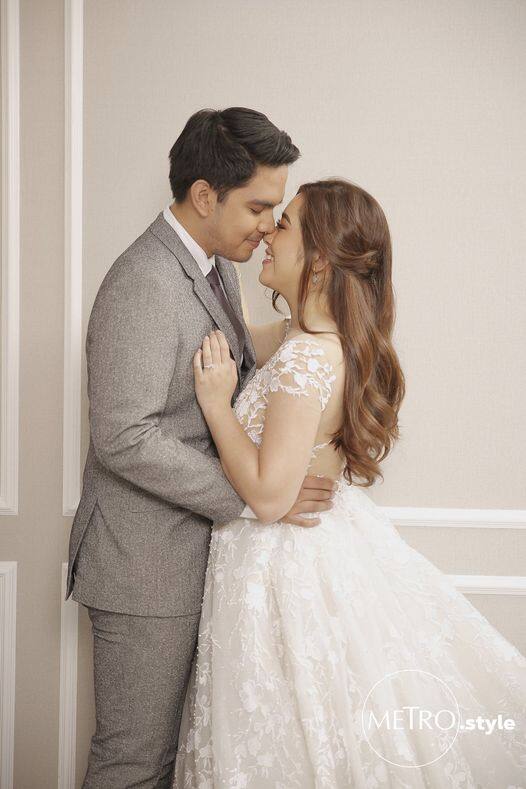 This is how the first time feels like
After about eight months of engagement and wedding preparations, on January 14, all roads and social media posts led to one place: #AngTagpuan2019, where we've witnessed the union of these two individuals.
"At nakita kita sa tagpuan ni Bathala
May kinang sa mata na di maintindihan
Tumingin kung saan
Sinubukan kong lumisan
At tumigil ang mundo
Nung ako'y ituro mo
Siya ang panalangin ko"
As the lyrics to her well-loved hugot anthem state, Jason and Moira had finally found in each other the answers to their prayers.
Their wedding was more than just an event or an exchange of "I dos," it was a celebration of friendship. Even in the midst of lavish blooms done in signature over-the-top Gideon Hermosa fashion or despite her being clad in an extravagant, intricately embellished ball gown by Patricia Santos, there was no outshining the overflowing love and happiness Jason and Moira were feeling upon reaching that point in their relationship. A rendezvous unlike any other. There, in front of God whom they have placed on the center of their relationship, they were no longer just friends; they had become husband and wife. Partners. The dream team. And as their eyes sparkled with joy, they shared their first kiss together and, instantly, the world was filled with more joy and peace. "Thank you for waiting," says Moira.
That they waited for the right time to introduce intimacy to their relationship is an inspiring element to their love story, which the couple hopes will make people realize the value of waiting.
True love, after all, is worth the wait.
Aside from their first kiss together, Moira's vows delivered through a song made their wedding even more special than it already is. An excerpt from her vows reads:
"Oh I promise that I'll always
choose you
I will trust you wherever
you lead
And when there are days
when you feel afraid
I promise I won't walk away
'Cause all at once
My future is here
It's better than all of my dreams…
Through the highs and the lows
You will never be alone
Forever and always
I love you my home"
Their wedding was beautiful in every sense of the word. In the presence of their beloved families and friends, they marked a new chapter in their lives. There were lots of great moments to cherish on their wedding day, but nothing beats the feeling of knowing that once the festivities are over, they are now each other's home.
A few days after their wedding, Moira shares on Instagram, "I'm so grateful for the success of our wedding, for all the time we got to spend with our loved ones but I'm most excited to go home.. to finally be able to wake up to my husband's face, make him breakfast, go to work, go home, write as many songs as we can or just read and enjoy each other in the quiet of our small home, fall asleep in his arms.. & repeat."
"Ikaw at ako"—tayo
It had only been 10 days since Jason and Moira got married when this cover shoot was scheduled. They haven't adjusted to life as newlyweds yet and the reality of them being husband and wife hasn't really sunk in yet. After the wedding, they went on a trip to Bataan with her relatives who flew to Manila just for their wedding; went on a vacation in El Nido, Palawan; and, a day after this shoot, jetted off to Maldives for the first leg of their honeymoon (which, they reveal, will be followed by a longer trip to Florence, Italy sometime this summer).
"We haven't really felt it yet. Hindi pa namin nararamdaman masyado because we've been out," Moira tells Metro.Style. "I think it's going to sink in the moment we start working again and the moment I feel like, 'Hey, we're so busy but you don't have to drive and go home to Parañaque (where his family lives) anymore.'" At the end of the day, they need not go on their separate ways—instead, from work, they can stay at home with each other, sleep together, and wake up next to one another as they greet a new day.
If before there were "you" and "me," now there's "us" for Jason and Moira. And while they prefer to wait for a few years before they start their own family, for now, they bask in the newness of married life—of discovering more about the other, creating new memories together, celebrating milestones as man and wife, and yes, making more beautiful music in the process.
We can't wait to listen to the next verse of their love song.
Produced by Grace Libero-Cruz
Photography by Seven Barretto
Creative direction by Butchie Peña
Sittings editor: Geolette Esguerra
Makeup by Theresa Padin, assisted by Rjay Paulino
Hairstyling by Florenz Torrontegui
Styling by Patty Yap, assisted by Justin Riguer, Lady Cuyos, and Gelo Cruz
Shoot assistants: Cara Tirona and France Teves
Special thanks to Mac Merla of Cornerstone and Patricia Santos
Shot on location at Patricia Santos' atelier