EXCLUSIVE: Jayda Avanzado Shares Her Own Take On Turning 18 And Life As A Young Artist
She joins Metro Chats on KUMU's FYE Channel to talk about all her life's biggest updates, including her 18th birthday and her big solo concert this June 26. Plus, check out never-before-seen photos from her pre-debut shoot
It's been a busy month for singer-songwriter Jayda Avanzado.
She celebrated her 18th birthday on June 1 and her first-ever Metro.Style cover was released on the same day, and she is gearing up for her biggest solo concert to date scheduled on June 26.
Here, we're sharing highlights of her first-ever guesting on Metro Chats via Kumu's FYE Channel.
In the exclusive, singer-songwriter Jayda Avanzado talked about big career developments, the excitement about turning 18, and everything that goes on behind the scenes of her songwriting process and performances.
Her 18th birthday and beyond, under quarantine
It was simple and spent at home. Good food ruled the day, but it was a lot of revving up for her June 26 digital show.
"It was a working birthday, actually. I was working on so many things for the concert, doing meetings and just being so involved," Jayda laughs.
She didn't forget about 18th birthday tradition, though. She made a big wish, but it wasn't for herself. All she wanted for her big day was for the world, but specifically the entertainment industry, to get back to normal as soon as possible. Even though she and other artists have adapted to the times, there's nothing more that she wants than to be able to perform live, meet fans, and express her appreciation for everyone who's supported her in person.
"My goal for myself is to keep growing as a person... I'm always about growing and evolving as a person and as an artist," she says, as she thinks about the rest of 2021 coming her way. She's a newly signed artist with Star Magic and Rise Artists Studio so she looks forward to opening up her professional horizons pretty soon.
Shooting for Metro.Style for the first time
Working in showbiz isn't just about having the talent, but connecting with the right people, too. For Jayda, it's been such a pleasure for her to make her way to Eldz Mejia, a celeb fave and a sought-after stylist.
He was with Jayda on her first cover shoot with Metro.Style as the day's creative director and stylist. Here's what Jayda has to say about him:
"He's always about bringing out the best in me and making me always look my best for all my appearances. Sobrang na-admire ko siya kasi sobrang class ng taste niya. I'm so thankful that he's a part of my team."
Looking back at how the shoot went, Jayda points out how her favorite ensemble had to be the pink Michael Leyva dress accented with sheer pearl gloves, followed by a white pantsuit paired with a bright pink top.
For Jayda, both outfits marked powerful statements; that she wasn't a child anymore, and her audience needed to get to know her as a more mature artist, ready to take on a creative role with more depth.
"The dress really made me feel, in a weird way, womanhood. It was a bit of a statement and I just loved the way it felt, the way it hugged my body. I felt that it flattered my figure, and I guess naramdaman ko that Tita Eldz really took care of me... I really liked the layout with the piano as well... I really identify with my piano. The piano has always been an instrument that has always been a part of me and as an artist as well," Jayda says.
Fangirling over Emily in Paris
Jayda's original plans for her 18th birthday were to tour some of Europe's must-see cities in France, the UK, the Netherlands, and everywhere in-between. Because of COVID, all of that had to be put on the backburner, but Jayda enjoyed a beautiful consolation, nonetheless.
She had a pre-debut shoot with NicePrint photo, done in Emily in Paris style. ("We decided to bring Paris here," Jayda quips).
"It was just a metaphor for me—turning 18 and exploring the world... 18 is a new chapter, exploring new things, trying new things," she says.
"That's exactly what resonated with me, with Emily in Paris—her willingness to see the world, new cultures, and open herself up to new people coming into her life. Not to mention the fashion aspect of it," she adds. Jayda has a ton of admiration for most things Parisian, including the city's residents' style, culture, atittude and overall joie de vivre (shall we say Jayda vivre?).
She's always been in love with pretty clothes, and she gamely shares how in the family, it's actually her dad who has shaped her fashion sense and given her OOTD advice. That hasn't stopped her from borrowing the occasional piece from her mom's closet though (even though she might not always ask for her mom's permission!).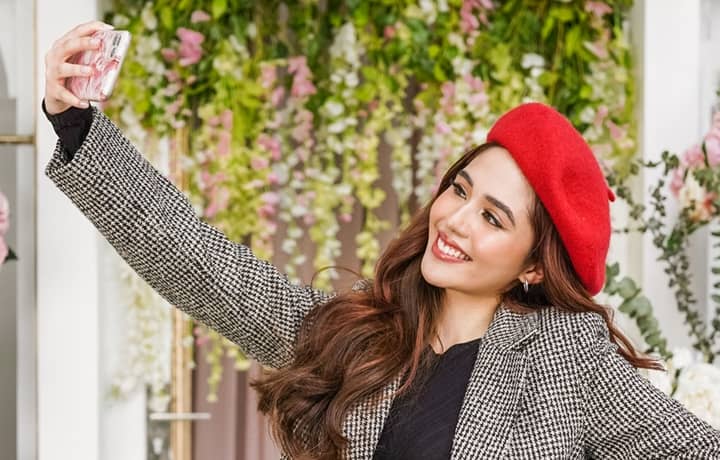 Jayda's Pre-Debut Shoot
Jayda's Pre-Debut Shoot
Her go-to outfits
"I love a good crop top," Jayda jokes.
She's all about calling attention to her midsection (which she worked hard for), plus her belly piercing that adds a little spice to any outfit. A solid pair of jeans is also a must-have for her, skinny jeans and bellbottom jeans, too!
"I would describe my style as [having] a hint of edginess, but also having that classiness to it. Sometimes, I like sporty glam especially when I perform," she says. Plus, the fitness regimen that goes with her clothes.
"People have this common misconception that you just go out there and sing, but that's not the case at all. Honestly, it's a total preparation for mind and body for a big event... I'm really squeezing in workouts!" Jayda teases.
She's definitely targeting her abs, plus getting in some cardio done, ideally on a nightly basis. She's trying to eat better, too, what with experimenting with healthier sources of energy (more brown rice and quinoa, less white rice) and practicing portion control, but of course, a cheat meal makes its way to her every now and then.
More impressively, Jayda sings while she's on the treadmill! It's to help get her voice warmed up for her set, and to do so, she practices a good quarter of her songs every time.
Her first big solo concert
"It's going to be a full-length show. It's not just going to be one set," she reveals, while keeping most of the details under wraps so as to keep her fans on the edge of their seats.
"It's going to be over an hour... and I intend to give you guys the biggest concert experience I can give you at the moment," she continues.
She's hoping to make a more personal connection with everyone watching, given that it'll feel that Jayda will be singing to individual members of the audience at a time. No crowds and just a single camera streaming Jayda onto people's screens as they watch in the comfort of their homes means a brand new way of experiencing a full-blown concert.
Tickets are for sale, and for everyone eyeing VIP tickets, know that they come with an exclusive digital meet and greet with Jayda herself.
Musical history
She started with piano lessons when she was six years old, but it was only five years later when she saw the beauty in taking music seriously.
"I actually started songwriting when I was 12 years old," Jayda tells us.
After that, it was unstoppable process. She found her musical soul on the piano, learned guitar, then started writing lyrics to go with the tunes she worked up. The piano remains to be her favorite instrument of all time.
"I really am in my element when I'm on the piano," she says.
As for her musical inspirations, Taylor Swift is on the top of the list (Jayda loves her honest and authentic songwriting), Lady Gaga (her A Star is Born performance was what really got Jayda), and Alicia Keys (who Jayda feels introduced the soulful piano player/singer to the mainstream).
Songwriting inspiration
Vulnerability is what shines through in Jayda's songwriting.
"Vulnerability has always been a core part of me as a person, and storytelling. I've always been honest and true with my music. Whatever I put out, it comes from a very deep place in my heart," Jayda confides, adding that a little piece of her soul always accompanies her songs. There are always real emotions and real experiences fueling her lyrics.
"I'm sincere and I'm very honest with my work... It's human emotion. I think that's where I can really see that music has no boundaries. It breaks barriers," Jayda continues.
Most of the time, Jayda starts with the melody, and then the words follow. This is the case for her English songs. It's a slightly different process when she writes in Filipino; she begins with a concept, and then she figures out how communicate her message in a personal way.
There's never a go-to theme for Jayda to turn to when she writes songs. Different emotions go into her songwriting, and she's more than just love songs.
"As I'm getting older, I decide to talk about things that may be relevant to my life, and to my generation," she says.
Parental influence
A career in music was never forced on Jayda, and it was definitely something she discovered on her own. She has bits and pieces of influence from mom and dad, but ultimately, she's her own artist who isn't growing a professional image that's just a copy of that of her parents. They allow her to grow into her own at her own pace and find what she's most confident in and most suited for.
From time to time, she collaborates with her dad or she reflects her mom's style, and it's such a treat for this family's fans to catch some of Jessa Zaragoza or Dingdong Avanzado in the young Jayda when she sings.
But between her parents, it has to be her dad who pushes her artistic limits more, in terms of encouraging her to discover more techniques to really bring out her voice's potential and the soul in her songwriting.
Thinking about legacy
"The legacy that I intend to leave or to contribute to the industry would be real, sincere music coming from the heart, connecting with people, connecting with people at their different stages of their lives," Jayda says. She has hopes of her music accompanying her fans no matter where they're at in life, be it a happy place, a low point, or anywhere, really.
She also hopes to encourage other young artists to go shoot for the stars and reach for their dreams, the same way she did.
For fans of Jayda's who want to get in on the music she's into these days, she's all about Olivia Rodrigo and her out- of-the-box thinking for her new record "Sour."
Jayda's first-ever major concert titled Jayda in Concert will take place on June 26 (Saturday) at 8 pm with a re-run the next day, June 27 (Sunday) at 10 am. Tickets are now available on KTX.ph, iWantTFC, and TFC IPTV for only P499. KTX also offers limited VIP tickets for P799, which includes exclusive access to the VIP party with Jayda via Zoom.
Lead photos by NicePrint Photo