Jessy Mendiola And Luis Manzano Are Parents-To-Be
Congratulations to this celebrity couple!
Jessy Mendiola and Luis Manzano are expecting their first child together. The celebrity couple shared the happy news on August 11 through a vlog titled "A New Chapter," uploaded on Jessy's YouTube channel.
In an Instagram post, the mom-to-be shared a photo of her and Luis in black and white, with him wrapping his hands around Jessy's waist and hugging her from behind. On a parallel publish on Jessy's YouTube channel, the couple also popped the announcement, woven with clips from their wedding in February 2021.
In the video, Luis looked at the positive results of the pregnancy test then let out a generous smile. The couple cried. Images of Jessy's ultrasound were included in the video, too. The vlog showed a Benguet scene as a backdrop. It ended with footage of the parents-to-be, framed in an embrace while magnifying Jessy's baby bump.
For this baby reveal, the couple worked with the following suppliers for their photo shoot held at the Alphaland Baguio Mountain Lodges: videographer Bob Nicolas and team; photographers Pat Dy, Pauline Dy, Nelwin Uy, and Chissai Bautista; makeup artist Kusie Ho; hair stylist Julia Fresh; styling by Patty Yap (Jessy) and Rex Atienza (Luis), using gowns made by PS Officiel by Patricia Santos, jewelry by Manila Diamond Studio, and suit by Paulo Lazaro. The shoot was also made possible with the help of manager Joanne Angeles.
Check out the gallery below for Jessy and Luis' photo shoot with Team Pat Dy: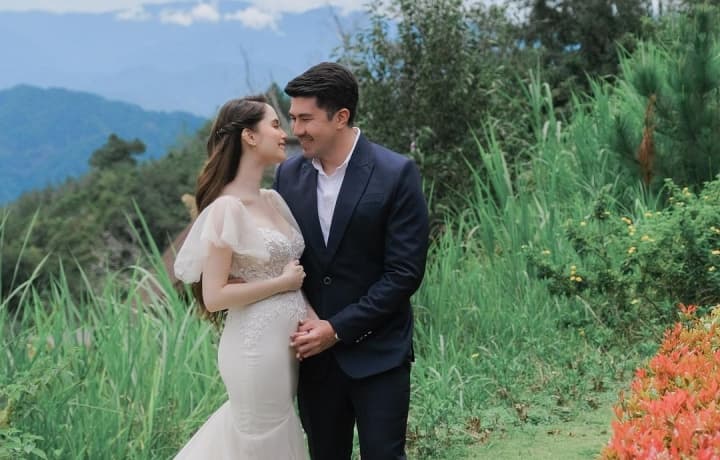 Photo Gallery
Photo Gallery
On her YouTube post, Jessy penned a sweet note for their supporters:
"Jeremiah 29:11
'For I know the plans I have for you,' declares the LORD, 'plans to prosper you and not to harm you, plans to give you hope and a future.'
What a pleasant surprise! We had planned for our church wedding this year but suddenly, God gave us this wonderful blessing, proving time and again that God is the master planner.
No matter what your plans are, HE has a divine plan for you, one that is definitely BETTER than what you have imagined. His plan is always the best.
We decided to share this wonderful news with you through a video shot in one of God's houses - a beautiful chapel in Benguet.
For now, our planned church wedding will have to take a backseat until our bundle of joy arrives. This is, by far, the best surprise we have received in our lives. Indeed, with God, all things are possible.
To our supporters, thank you for being with us since day one. Join us as we enter this new journey in our lives as parents. - Jessy & Lucky"
Luis Manzano, 41, and Jessy Mendiola, 29, secretly married on February 21, 2021 at The Farm at San Benito in Lipa City, Batangas. The ceremony was an intimate celebration, with only a few friends and family onboard.
The two intended to keep it private from the public and announced that they tied the knot after two months of getting married. In 2016, the celebrity couple confirmed that they are in a romantic relationship, and engagement followed in 2020. As they embark on another adventure as parents, their planned church wedding ceremony will have to be shelved in the meantime as they savor their parenthood phase.
Lead and gallery photos by @patdy11 @teampatdy via @senorita_jessy