In Photos: Scenes From Jessy Mendiola And Luis Manzano's Gender Reveal Party
It's a girl for Jessy and Luis! Cheers to the new chapter!
Last August 25, in Jessy Mendiola's latest vlog, the celebrity couple finally revealed their first baby's gender—they are expecting a girl! The video, titled "GENDER REVEAL: Is Baby Peanut Boy or Girl?," starts off with Jessy saying that she is more of a Team Boy. On the other hand, Luis is hoping otherwise. In the announcement, the two are arguing with each other and even made a bet. Jessy teases, "Sino'ng mananalo sa pustahan na 'to? Ako talaga. Mag-concede ka na, talo ka. Boy ako, boy talaga!" Luis, meanwhile, banters, "Girl—girl 'yan!"
The soon-to-be parents shared the special event with select family and friends. Vilma Santos, who is present at the intimate party, delivered a speech for her son Luis and daughter-in-law Jessy. "Anak, I've been waiting for this for so long. You know that. Even the time when you got married, I said, 'Sige na, anak! Kahit hindi kasal! Puwede [bang] isunod na lang natin, to-follow na lang 'yung kasal? You're not getting any younger!'" she says in jest. "This time, it's not husband-and-wife anymore. You're going to be mommy and daddy. Holistic na 'to—family na ito," she stressed, matching it with a touching message: "We are all here. We're rooting for Peanut, and we will always pray for you both!" Peanut is the nickname that Jessy and Luis personalized for their baby. "I love you Lucky, and this time, I love you Jessy, and I love you, Peanut!"
When the balloon was popped and the baby's gender was finally given away, Luis Manzano jokingly added: "So ngayon pa lang, Peanut, alam mo na, ha? Wala munang lalabas." Upon learning that it is a little girl underway, Luis gestured toward Jessy's tummy. He tells Peanut, "Ang puwede ka lang lumabas, 'pag 9 months. After that, no more na. 'Yun na 'yun!"
Held in Manila Private House in Bonifacio Global City, the occasion was helped put up by the following party suppliers and services: Partees by Events Embassy, Always in Motion Animation, Balloonery by Lizz, Cocoon Studio, Events Styling by Dave Sandoval, Honey Glaze Cakes, Hosting by JC Alelis, XStatic All Pro, Love Scents & Co., Lovelots Cakes, MIB Photoman, Party Curators Philippines, The Fragrance Collections, Manila House, and overall Coordination by Joanne Angeles.
Scroll through the gallery for the baby girl surprise!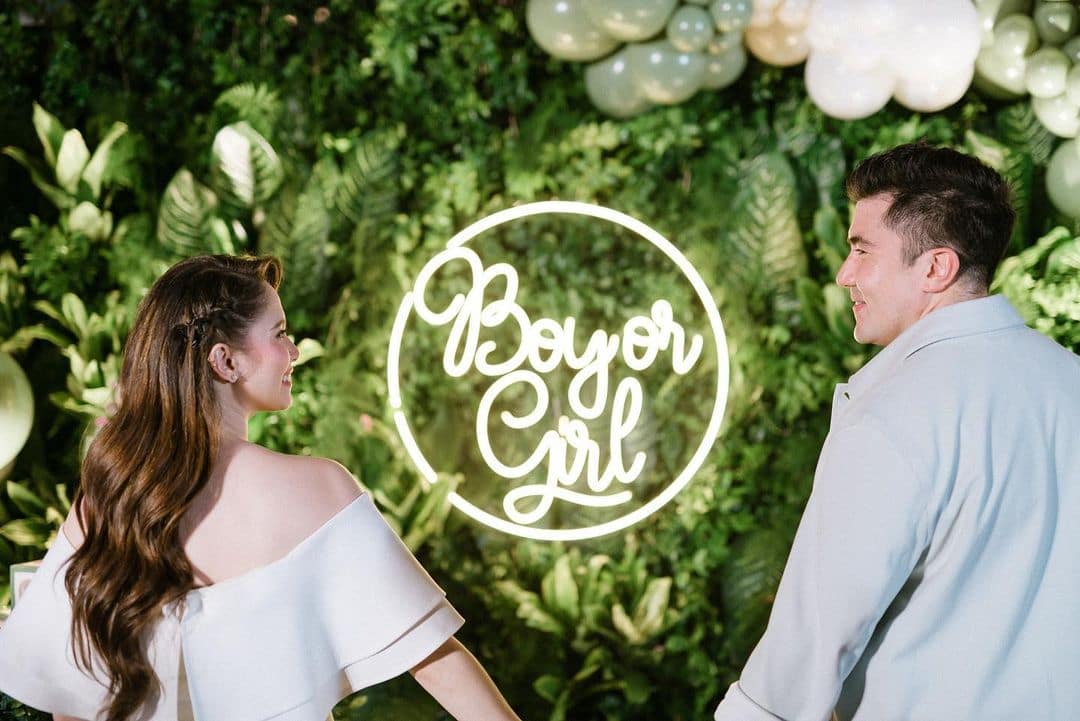 Photo Gallery
Photo Gallery