In Photos: Check Out Jin Ah Reum and Namgoong Min's Elegant Wedding Ceremony
Celebrity couple Jin Ah Reum and Namgoong Min tied the knot in style!
After seven years of being in a relationship, South Korean model-actress Jin Ah Reum and actor-director Namgoong Min finally tied the knot. On October 7, 2022, the two walked down the aisle at Seoul Shilla Hotel and celebrated an intimate wedding ceremony. The occasion is reportedly hosted by one of the groom's close friends and fellow actor Jung Moon Sung.
Last September 28, 935 Entertainment released an official announcement that the two would be settling down. The statement is as follows: "Hello. This is 935 Entertainment. Actor Nam Goong Min will officially be tying the knot with his longtime partner Jin Ah Reum. Their wedding will be held on October 7 in Seoul, and will quietly take place with close friends and families. As the ceremony will be held privately, please be understanding of the fact that we are unable to offer additional details."
While the wedding is kept private, Jin Ah Reum and Namgoong Min and a few guests took to Instagram to share some snippets of the newlyweds' special moments. In Jin Ah Reum's IG post, she puts in the caption: "Hello, this is model Jin Ah Reum. Thank you very much to everyone who congratulated, supported, and helped me. I will live mature, pretty, and happily."
A team of suppliers namely Laciel (event planning and directing), Kim Chung Kyung (hair and makeup), Soul Page (photography), and Soyoo Bridal x Oscar de la Renta (fashion curation and design) helped put together the beautiful and ornate wedding of long-time partners Jin Ah Reum and Namgoong Min.
Now husband and wife, Jin Ah Reum and Namgoong Min first bumped into each other through the South Korean short film Light My Fire (2016), and started dating in the same year. Since then, they have been in a romantic relationship for seven long years before their love has eventually leveled up.
Namgoong Min is known for K-dramas A Girl Who Sees Smells, Remember, Good Manager, Doctor Prisoner, Hot Stove League, Awaken, and The Veil.
Congratulations and best wishes, Jin Ah Reum and Namgoong Min!
Get a glimpse of their private wedding ceremony and view the gallery below: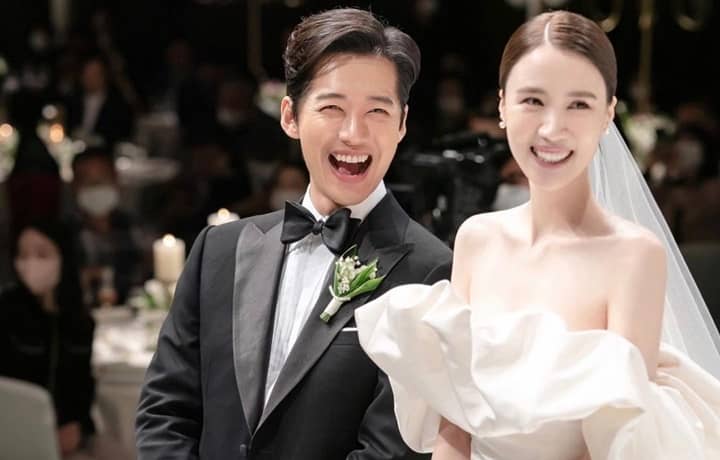 Photo Gallery
Photo Gallery
Lead photos from @jin_areum