All The Beautiful And Luxurious Places On Jinkee Pacquiao's Recent Seoul Itinerary
She not only toured around this beautiful destination, she got to spend time with famous South Korean actor Ji Chang-wook, too!
First Anne Curtis and Gong Yoo, and now Jinkee Pacquiao and Ji Chang-wook?
The jet-setting wife and the kids of Philippine boxing champ Manny Pacquiao were lucky enough to meet one of South Korea's biggest actors during a family trip to Seoul last weekend! Jinkee didn't just share a brief hi-hello with him either (a moment that most of his Filipino fans would be more than happy to experience), but rather, got to spend a bit of time actually sharing a conversation with him and having multiple photo opportunities with him and her family.
Altogether, Jinkee called it a "blessed and happy night indeed." She first met her K-Drama idol in June last year.
Check out the special moment below!
And in case you didn't already know, the Pacquiaos' admiration for the Healer, The K2, Suspicious Partner, and Melting me Softly actor is mutual. Ji Chang-wook is actually a massive fan of Pacman's and posted a photo of him with the boxer from their nightout on his Instagram account for all nine million of his followers to see. The photo showed off a pair of white, signed boxing gloves, too, that Manny gave him as a gift.
Whoever is up next in the Korean idol meetup line, we're hoping it's us!
And while a nightout with Ji Chang-wook himself might be the travel highlight for many Korea-crazed Filipinos, Jinkee chose to set her eyes on more of Seoul's most beautiful destinations and explored each of them with her husband, sister, and children.
Here's a peek at what the Pacquiaos were up to in the South Korean capital:
Strolling leisurely around the Garden of the Morning Calm
The best thing about botanical garden-type destinations is how they can look different, depending on when in the year tourists go and visit. Spring, summer, fall, and winter yield different kinds of blooms, colors, and views, and a visit by Jinkee in October meant seeing lots of fiery reds and deep coppers, signifying the preparation of many a tree and flower for the nearing winter.
Learning about the Hwaseong Fortress and Hahoe Village
It's tempting to just dine and shop when visiting traveling abroad, but getting your culture fix by dropping by heritage sites should be on the agenda, too! Take, for example, Jinkee who visited this UNESCO World Heritage site constructed in the 18th century with an interesting (albeit rather dark) past. It wasn't just educational, but also a lovely opportunity to get dressed in hanbok, the traditional Korean national costumes, and make a day of it.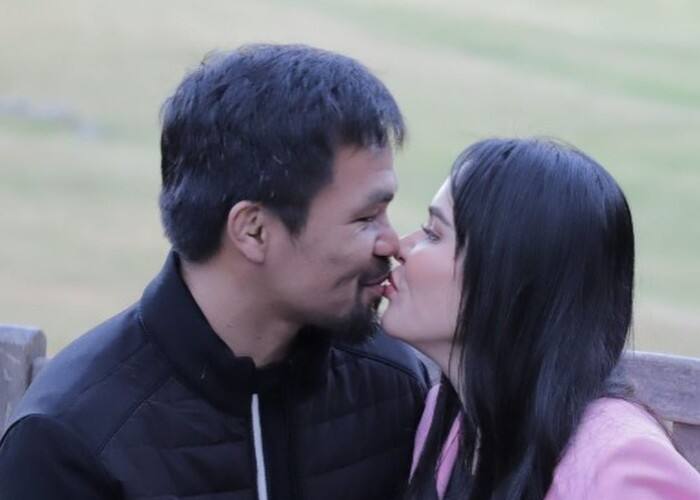 Jinkee pacqiao meets ji chang wook
Jinkee pacqiao meets ji chang wook
Discovering Lotte World Tower Mall
Seoul's tallest tower that stands at a proud 555 meters had everything for Jinkee: countless luxury boutiques, pasalubong spots, tons of restaurants and cafés, a massive floor dedicated to cosmetics, and yes, an indoor amusement park for the kids, too! The place is an urban wonderland for the city explorer, by all means.
Seeing The Starfield Library
They say that libraries are likely the last remaining places on earth where anyone is free to sit, relax, indulge in quiet time, and just be there without spending a single dime. Well, the Starfield Library in Seoul is much more than that, as it's famous for its size, architecture, vast reading selection, and events like concerts, book readings, and author signings that it regularly hosts.
Navigating Myeongdong
Filipino tourists will likely equate a visit to Seoul with a visit to Myeongdong, the city's most hip and happening corner of Korean skincare shops, bargain shopping finds, night markets, and street food stalls. Jinkee, who isn't a Seoul first-timer, knew that it was a must-see even for the nth time as its intertwining streets almost always have something new waiting for the avid shopper every time you visit.
Soaking up their hotel's five-star atmosphere
Of course, aside from what she enjoyed on the streets of Seoul, Jinkee was just as happy to spend time indoors at the sparkling Andaz Seoul in Gangnam, a swanky neighborhood known for its residents' upscale lifestyles. The Hyatt brand hotel that opened less than two months ago was the Pacquiaos' home away from home during this trip, and it was easy to see why!
Photos from @jinkeepacquiao