WATCH: Julia Barretto Shows Us Her Typical Day At Home While Under Quarantine
Her fans know her as an actress, model, and fitness idol, but a budding domestic goddess? Her latest vlog shows that she can be that, too!
It really is like greeting the world on a clear, sunny morning with a long overdue stretch after a deep, deep, deep slumber.
Not only is actress Julia Barretto back to vlogging after six months of being away from her YouTube channel Just Julia, she's going back to work next week, too! She's gearing up for a shoot and joining her fellow Kapamilya stars who have slowly (and safely) gone back in front of the camera to pick up where they left off pre-quarantine due to COVID-19.
Speaking of quarantine, Julia treated her fans to a really special treat this week; after a long break away from the spotlight, she invited them all to spend a few minutes with her to check out what she's been up to under lockdown via a brand new vlog episode. Viewers got a glimpse of her morning's first orders of business up to the time she turns in for the evening to enjoy a night of, well, lounging about, just like the rest of us.
She says, "It's good to be back! I actually have been thinking of what kid of video I wanted to share with you guys. I've had a lot of failed attempts to shoot a new vlog, a new update for my channel. But I think I was overthinking things... It would be also good to really share with you guys some snippets of my life while on quarantine," she starts.
"I think this is really the perfect time to show you guys what I do in a day," Julia continues.
Now if you haven't got the time just yet to watch all 11 minutes and 17 seconds of wholesomeness that is Julia's "A Day in My Life" video, here's a little snippet of what you can expect (and smile about!).
It's all about domesticated life for Julia. She moved out recently, and lives on her own, with the exception of her PA (personal assistant) who helps her out with daily life's to-do list. And just like Julia's Instagram feed shows, she basically has been keeping busy by familiarizing herself with the ins and outs of independent living—watering plants, organizing her own closet, welcoming house guests, receiving food deliveries, and everything in between.
She starts the day off with a quick hi-hello to everyone watching (more than half a million views now since the video was uploaded on June 16!), then takes us through a typical under-quarantine, Julia-esque morning; she's without makeup, in her workout clothes, and enjoys a good old cup of coffee. No giant Pinoy breakfast for her, though! She prefers to keep her stomach light before exercise.
And then the action starts with brief glimpses of what looks like her walk-in closet, her third floor guest entertainment area converted to a mini gym in the meantime, and of course, her kitchen and dining area!
She even tells everyone to stay tuned for her next vlog, which could possibly be a look into her workout and fitness routine (hopefully we won't have to wait as long to see it, too!).
Now we don't want to spoil everything for you since all of this is a lot more enjoyable to see for yourselves rather than read about, but we will advise you to watch until the very end because two very special guests make an appearance towards the end of the video and together with Julia, they work together to make this on-screen treat even sweeter.
"That's it for today guys. My day was pretty simple... What I'm going to do now is get into my pajamas, lay in bed, watch a movie, watch a show, or just get on my phone and check social media, catch up on my messages," Julia says.
"Not quite a lot today, but I hope you guys enjoyed," she ends.
The only thing we'd like to say at the end of the video is more, please!
Watch the full video below!
Check out the gallery below for a peek into her home and the recipes she has learned during the lockdown: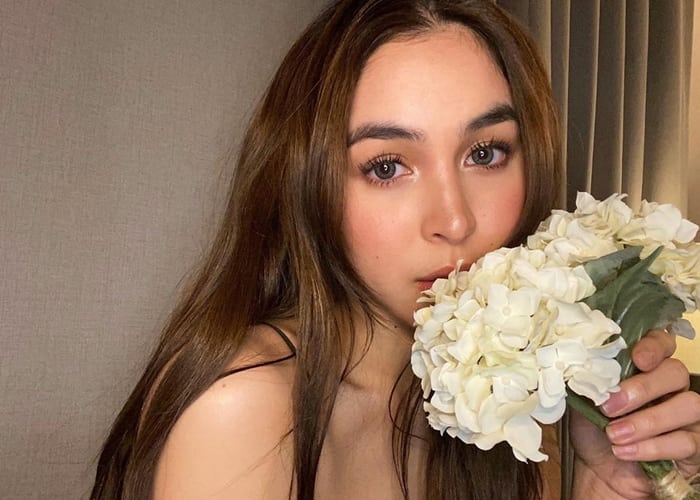 Julia at Home
Photos from @juliabarretto