Julia Barretto Marks Her 24th Birthday With A Sexy Photo Shoot With BJ Pascual
The photo shoot came with a special episode on BJ's YouTube channel, where she shared her take on bashers/haters and talked about wanting to start a family
Julia Barretto turned 24 yesterday, and she marked her birthday with a sexy and classy photo shoot with photographer/YouTuber BJ Pascual.
Julia Barretto's photo shoot with BJ Pascual is special to her, but it also marked a first for his YouTube channel and his "Musings" series. It's the first time BJ did a location shoot for his vlog, and it did come with challenges logistics-wise, but the result was all worth it in the end.
BJ revealed that the shoot was supposed to take place in Batangas, but they had a problem with the venue. They had to change their location last-minute, and ended up in Grande Island Resort in Subic.
Julia Barretto's photo shoot with BJ Pascual showed off her sexy summer body. The concept, BJ shares, started from the clothes that fashion stylist Cath Sobrevega had already prepared—clothes that range from one-piece high-cut swimwear to dressier resortwear options. They are perfect for Julia's aesthetic, but are elevated versions of her style. The goal was to simply "highlight her skin and her summer body." There to help Julia achieve that gorgeous sunkissed glow and sexy, beach-perfect hairstyles were makeup artist Robbie Piñera and hairstylist Antonio Papa.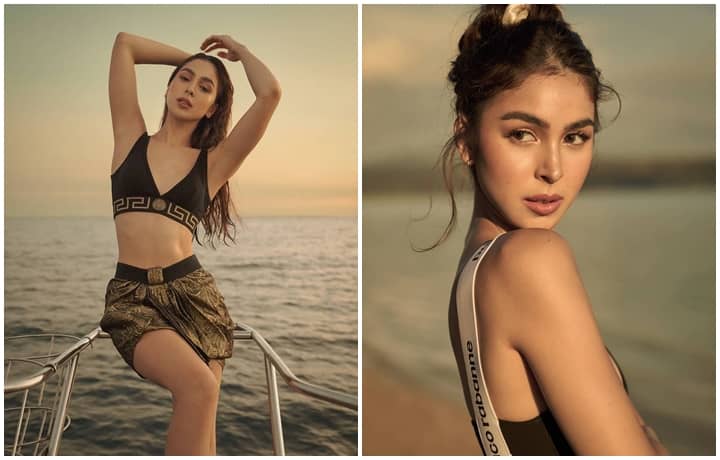 Julia Barretto's Sexy 24th Birthday Shoot
Julia Barretto's Sexy 24th Birthday Shoot
Julia Barretto's photo shoot with BJ Pascual came with a special "Musings" episode on his YouTube channel. There, they looked back on the photo shoots they did together in the past, turning 24 and what that means for Julia, their takes on bashers/haters, and even YouTube life as they are both pursuing vlogging now.
Julia told BJ, "The older I'm getting, I'm slowly starting to realize how important it is to compartmentalize: what matters and what doesn't matter. So, sometimes, when it's the opinion of people who don't have a significant role in your life and really don't matter to you, who you don't even know—I mean, I'm never gonna be affected by it because you don't know me, I don't know you, we can't judge each other."
She later adds, "Whether you do something good or bad, people always have something to say. So, keep going. Keep doing you."
Julia also revealed that, while she still has so many dreams as an actress, her ultimate goal in life is to simply have her own family. She hopes that by the time she reaches 26, she's already preparing for that. She shares, "'Yun ang dream ko talaga for myself ever since I was young... Now that I am 24, I think I just wanna really hustle now, hustle next year, and then figure out from there how to start a family."
When BJ asked who she wants to start a family with, Julia simply laughed and said "with my partner," and evaded the question by jokingly cueing "cut!"
Just last March 7, Julia and her boyfriend Gerald Anderson became Instagram-official, as she posted a birthday greeting for him. This post follows Gerald's confirmation of their relationship on his interview for The Boy Abunda Talk Show Channel last March 5.
Happy birthday, Julia!
Photos from @bjpascual