In Photos: A Recap Of The Best Moments At The Kapamilya #AllStarGames2019
On cam or on court, these celebs always know how to make the crowd go wild!
Is there anything they can't do?
In this year's edition of ABS-CBN's annual #AllStarGames, some of the biggest and brightest Kapamilya stars proved that their talents aren't just in showbiz but in sports, too!
The likes of Daniel Padilla, Gerald Anderson, Billy Crawford, Gretchen Ho, Loisa Andalio, Julia Barretto, Vice Ganda, Ryan Bang, Zanjoe Marudo, Elmo Magalona, Kim Chiu, Chie Filomeno, Ronnie Alonte, Jerome Ponce, and more got together over the weekend for a friendly—but nonetheless heated!—competition on the court in heart-stopping volleyball matches and basketball games.
Thousands of fans filled row after row at the Smart Araneta Coliseum, ready to cheer for their favorite celebs and marvel at an event that gathers the network's creme de la creme anticipated every year—and it didn't disappoint!
Rounding up awesome displays of athletic prowess, adorable friendship moments, and a surplus of kilig shots of famous couples, we give you the best of the best that went down during this beloved Kapamilya sports special.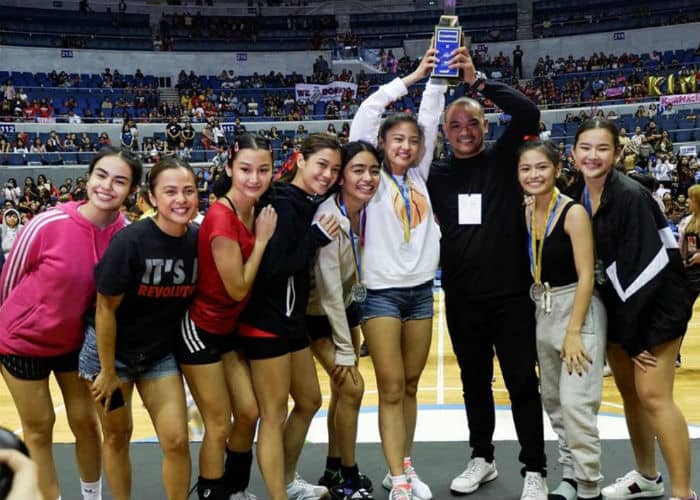 Scenes from the #AllStarGames 2019
Scenes from the #AllStarGames 2019
The winners
Fans were treated to three rounds of games at the event: volleyball matches between Team Julia vs. Team Kim, as well as basketball games between Team Daniel and Team Gerald vs. Team It's Showtime, and between Team Elmo vs. Team Jerome.
Eventually, Team Gerald and Daniel, Team Kim, and Team Jerome brought home the gold, much to the delight of their supporters in the stands.
It was a first for Gerald and Daniel to team up (they've been rivals at the event before, but not teammates), making their gold medals extra special.
The PDA
If there's one thing Filipino fans can't have enough of, it's the rare moments that their fave love teams share hugs and kisses, making everyone's tummies fill up with butterflies.
It was hard to tell whether screams were for points made and shots scored, or hugs and kisses given. Check out these blush-inducing moments captured on cam of Kim and Xian, Ronnie and Loisa, and Kathryn and Daniel, and you'll know what we mean.
Those Vice Ganda moments
Look closely because there might just be a new love team brewing in the periphery if information trickling down the grapevine proves to be accurate.
Vice Ganda and her rumored partner Ion Perez, a male model and male pageant contestant-turned-It's Showtime regular, weren't afraid to show their physical closeness on court when they held hands and shared a tight embrace.
Though the new pair-up aptly called "ViceIon" hasn't officially materialized and still lives in the hopeful imaginations of their fans, their time at the All-Star Games definitely fueled the fantasy.
The tension
One can't talk about this event without mentioning that it was one of the first times that Julia and Gerald were seen participating in the same project in public since the controversy that shook their lives earlier this month. However, no reports were made about untoward incidents involving the two stars, except for fans' observations that they both had three as their jersey numbers.
Julia's mom Marjorie Barretto quickly came to the defense of her daughter and explained that Julia has always used the same jersey number since her days as a teenage athlete in high school.
The commendable behavior
But of course, more than the occasion being a chance for celebrities to be themselves in front of friends and fans, it was first and foremost a sporting event, which means stars who displayed acts of sportsmanship behavior need to be credited.
Team captains Julia and Kim gamely posed for a post-match photo, co-team captains Daniel and Gerald proved to be better at working together rather than against each other, and Zanjoe stayed calm despite sustaining a minor facial injury from being (accidentally) elbowed by the opposing team's Eric Tai.
The dedication
Did you know that the girls on the volleyball teams actually trained before their competition? According to Gretchen, a former student athlete herself, it was incredible to see her celeb teammates improve over time under the guidance of different coaches and of course, with their genuine interest to learn more about the sport.
The camaraderie
Last but not the least, watching established stars mix and mingle with newcomers in the industry was definitely a sight to behold. All who participated set aside their star status for the sake of good games and the result was nothing short of commendable.
Photos from @teamviceph @iamandalioloisa @iamr2alonte @starmagicphils @chinitaprincess @nikkivaldez_ @praybeytbenjamin @andersongeraldjr @hidalgo_portraits @onlyzanjoemarudo @gretchenho @thearanetacoliseum @xianlimm @chiefilomeno