Look! Kathryn Bernardo Gave Her YouTube Subscribers A Tour Of Her Elegant Studio
She considers her studio as her "second home," an "extended tambayan" for her family and friends and, of course, a space that allows her to create
Kathryn Bernardo let her 3.4M+ YouTube subscribers into her very own studio via a virtual tour of the property she calls her "second home."
The studio is her Mommy Min's gift for her. In the past year, most of Kathryn's work and brand collaborations had to be done from the comforts of her own home. So, her mom thought it was best to give her a separate space that's solely dedicated for her shoots; that way, she gets more freedom in executing different pegs, concepts, or visions required for her photo shoots, commercials, vlogs, and other digital content.
In her latest "Everyday Kath" vlog, Kathryn treated her subscribers and fans to a full tour of her studio. She talked about each space and every thoughtful detail that was considered in its overall design. She worked with interior design firm Empire Designs, to give this property an elegant, fun, and creative spin.
The property has a color scheme that is predominantly black, white, and gray, but it's made more luxurious with gold and velvet accents. Also breathing so much life into Kathryn's homey studio are the plants that fill both outdoor and indoor areas; even her wallpapers beautifully follow this plant theme. But the most notable of all is that the studio features a high-ceiling, sun-drenched shoot area that's anchored by French doors and picture windows. Kathryn said she loves making the most of natural light whenever she's shooting.
The rooms and areas in the studio include the gazebo, reception area, conference room, main studio, storage room, and mezzanine (where the makeup/wardrobe area and bathroom are located). A lavatory area, two more restrooms for the staff/crew and other guests, and a parking space are located at the back of the studio.
Check out the gallery below to see more of Kathryn Bernardo's studio: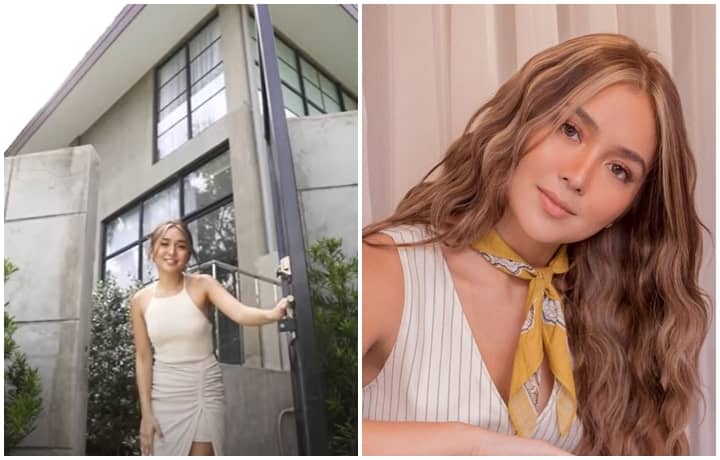 Photo Gallery
Kathryn said that she'll be offering this place for rent, so "other artists can experience it too kung kailangan lang nila ng studio, it's open!"
Before she ended the studio tour, Kathryn shared, "Actually, itong studio na ito, it's not just a studio for me, parang ito na 'yung nagiging tambayan place namin. And kunwari may mga small family gatherings na very intimate, nagse-setup din kami dito, so naging very useful siya sa'min talaga. So thank you talaga to my Mama for this idea. Ang saya, kasi sometimes sa bahay s'yempre you wanna go out but you want the place to be safe and something na anytime p'wede, so this one, parang ito na 'yung extended tambayan place namin."
Lead photos from @bernardokath and Kathryn Bernardo on YouTube