In Photos: Kathryn Bernardo's Surprise Lunar-Themed Post-Concert Dinner For Daniel Padilla
After wrapping up "Apollo," his online concert that became an Internet sensation, she figured he could use a good meal with even better company—and she was right!
Daniel Padilla had a great weekend. First, he successfully staged "Apollo: A Daniel Padilla Digital Experience," his first-ever online concert, and it was such a hit that the show's hashtags made it to the top of Philippine social media trends over the weekend and his fans adored him for his performances.
Featuring special guests Ian Veneracion, his band Jose Carlito, and his half-brother JC Padilla, "Apollo: A Daniel Padilla Digital Experience" lasted for two hours with one romantic highlight in the setlist: Daniel dedicated his "Moon River" cover to Kathryn Bernardo, who was one of the few people watching him perform then in person. Little did he know that she had her own surprise for him up her sleeve.
To congratulate Daniel on the success of "Apollo: A Daniel Padilla Digital Experience," Kathryn actually prepped a surprise dinner for him!
Styled by Gideon Hermosa, organized La Belle Fête, and catered by Creamy Catering with a cake by Chef Castillo Fuentes, the private event was done in theme with the concert and had a handful of pretty lunar-themed details. Starry plates, projected galaxy walls, and glowing table lanterns set the mood for the evening, much to Daniel's surprise. There to enjoy it with him were his family and closest friends—Daniel's "biggest fandom" as Kathryn described them.
Check out scenes from the intimate gathering in the gallery below!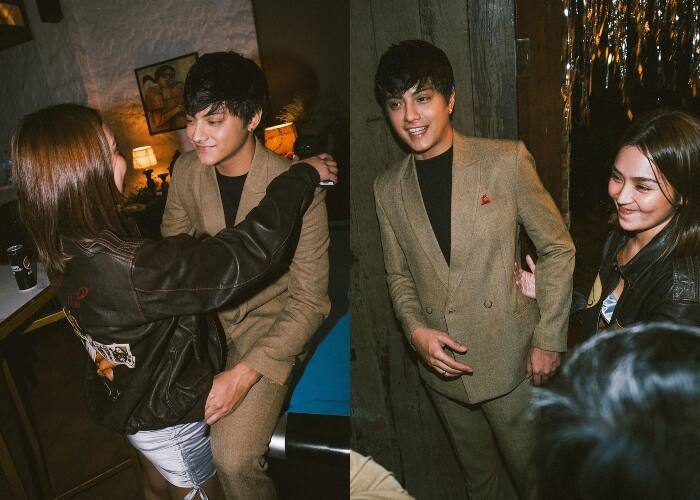 Kathryn Throws DJ A Surprise Dinner
Kathryn Throws DJ A Surprise Dinner
Lead photos from @bernardokath