In Photos: The K-Drama Stars At The Fact Music Awards 2021
The event had a star-studded lineup of presenters
Some of Hallyu's biggest names in the music and the K-drama scenes gathered for The Fact Music Awards 2021 held through an "online untact" awards ceremony on October 2. The event was hosted by Shin Dong-yup, Girls' Generation's Seohyun, and Boom.
The Fact Music Awards was established in April 2019 with the goal of recognizing the artists' contributions to the growth, development, and progress of the Hallyu scene (or Korean wave). It's hosted by The Fact and organized by Fan N Star.
Aside from the K-pop and Korean superstars in the music scene who graced the ceremony, The Fact Music Awards 2021 also saw a star-studded lineup of presenters, some of whom are lead stars of recent and ongoing buzzworthy dramas. The list includes Kim So-yeon (The Penthouse: War in Life); Kim Seon-ho (Start-Up and Hometown Cha-Cha-Cha); Shin Hyun-been (Hospital Playlist); Lee Do-hyun and Go Min-si (Sweet Home and Youth of May); Ahn Hyo-seop and Gong Myung (Lovers of the Red Sky); Nam Ji-hyun (The Witch's Diner); Chae Jong-hyeop (Nevertheless and The Witch's Diner); Na In-woo (River Where the Moon Rises); Esom (Taxi Driver); Kim Bum (Law School); Jeon Hye-bin and Kim Kyung-nam (Revolutionary Sisters); Lee Jae-wook (Do Do Sol Sol La La Sol); Park Hae-jin (Kkondae Intern); Son Na-eun (Dinner Mate); Park Hyung-sik (of upcoming series Happiness); Kim Joon-ho; Yoon Il-sang; Tak Jae-hoon; Kim Jung-hwan; and Celeb Five.
Check out the gallery below to see some of these presenters behind the scenes at the 2021 The Fact Music Awards: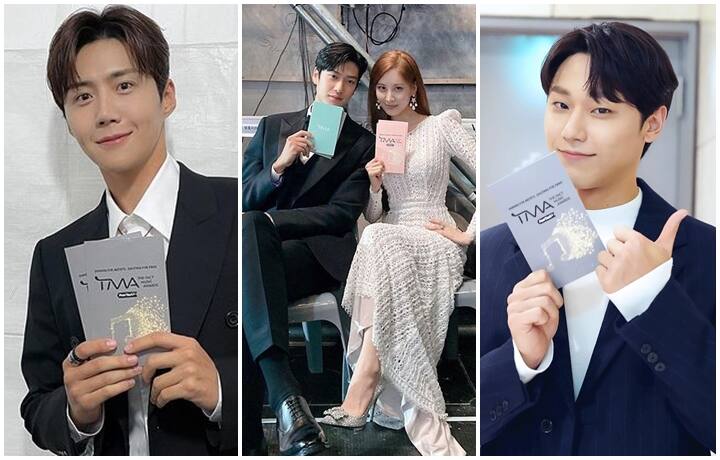 Photo Gallery
Photo Gallery
Here's the complete list of winners:
Daesang (Grand Prize): BTS (It's their fourth time to win in a row!)
Artist of the Year (Bonsang): ATEEZ, Brave Girls, Stray Kids, THE BOYZ, Kang Daniel, Super Junior, ENHYPEN, TXT, ASTRO, Oh My Girl, SEVENTEEN, ITZY, BTS
Global Hottest: Weeekly, CRAVITY
Next Leader: STAYC
Worldwide Icon: Super Junior
World Best Performer: SEVENTEEN
Listener's Choice: BTS
Fan N Star Choice Award (Individual) and Fan N Star Most Voted (Individual): Hwang Chi-yeol
Fan N Star Choice Award (Singer): Super Junior
Fan N Star Most Voted (Singer): BTS
Fan N Star Most Voted (Male Trot), Fan N Star Trot Popularity Award, and Fan N Star Best ADs Award: Lim Young-woong
Fan N Star Most Voted (Female Trot): Jeon Yu-jin
U+ Idol Live Popularity Award: BTS
Lead photos from @salt_ent, @seojuhyun_s, @management_soop, and Yue Hua Entertainment