Kelsey Merritt Talks About Quarantine Life In Los Angeles
We caught up with the newly-launched Viva artist, and she talked to us about life under quarantine, her newfound hobbies, her family, and how she's been keeping up with work these days
Kelsey Merritt has news.
And it's not only that she has discovered her cooking and baking superpowers while under quarantine, or that she's an introvert who misses human interaction these days.
She's Viva Artists Agency's newest talent, the latest credit to add to her glowing resume! Viva will be in charge of her modeling projects here in the Philippines.
Kelsey made the big announcement on June 14, and held her very first virtual press conference as a Viva talent earlier today.
We caught up with the global Filipina fashion model and Metro.Style cover girl in the online event, finding out everything and anything from her newest hobbies, everything she misses, and how she stays in touch with those she loves the most during these trying times.
"It's been really quiet. I haven't really seen a lot of people since quarantine started. I haven't been traveling at all," she begins.
It's a massive change from where she was at just a few months ago; ever since she walked the Victoria's Secret runway a year and a half ago, projects have poured in from left and right, opening doors for her that aspiring international models would die for. Sports Illustrated and Vogue have also featured her with more partnerships on the horizon, and then, just like that, COVID-19 decided to step in and steal the scene for Kelsey and the rest of the world.
In place of runways and dressing rooms and sets, Kelsey now has her apartment and her kitchen to wake up to every day.
"I'm an introvert and a homebody so I usually love staying at home. And during the first part of the quarantine, I just thrived because I was like, 'This is what I love to do—just being at home and cocooning.' But after, like, the second month, [I said], 'Okay, I need human interaction. I cannot take this for granted,'" she continues.
To help ease the burden of going through weeks at a time with little to no opportunity to be out and about, Kelsey has been so into two things: cooking and baking!
And she means cook and bake a lot.
"I would wake up everyday and my purpose for that day was to cook and bake. I never had the time to cook for myself, because I was always traveling, and I couldn't do groceries... I was cooking so much and I love it so much. I wish I had more time to do that on my normal schedule," she shares.
Her specialties? She loves cooking Filipino dishes, like sinigang and adobo, and some recipes that are distinctly Kapampangan (she hails from the province of Pampanga). She also learned how to make her own pandesal!
She goes on to tell Metro.Style, "You wouldn't believe this... So, toilet paper was selling out in the States, hand sanitizers were selling out, but one other thing was all-purpose flour. I couldn't get flour anywhere so as soon as I was able to buy one, [I said], 'Okay, I'm making pandesal.' I'm craving it so much. When I would go home, I literally tell my mama, 'Please, go to the store in the morning and buy pandesal...' And the thing is, every time my mom goes out, they don't have it anymore kasi parang they go at around at 7a.m., and you have to go at 6 a.m. You have to go so early to get pandesal. So I made it. It was so good, fresh out of the oven, so crispy on the outside and so soft on the inside. It's so hard to do, you have to, like, let it rest then form into a bun and let it rest again. It takes so long."
Her boyfriend, Olympic swimmer Conor Dwyer, has definitely been enjoying the feasts and little treats that Kelsey has been whipping up, seeing as they've been quarantined together along with their doggo, Pablo.
But despite the close company she's had over the past months, Kelsey's thoughts still go out to her family back in the Philippines. She has kept in touch with her sisters and her mom, paying no attention to the time differences every time they catch each other online.
"Luckily, two of my sisters stay up till, like, 5 a.m., so I get to talk to them at ungodly hours. It's afternoon here, and I get to talk to them, whereas my mom, I usually talk to her at night or in the afternoon. She wakes up really early. So it depends on who's up. It's usually at night," she says.
As the US continues its lockdown and is opening up only a few industries at a time, Kelsey admits that there are a million and one things to miss about pre-COVID-19 life.
Nights out, meals with friends, work, traveling, the simple act of going to the grocery and finding exactly what you need without product shortages—all of these things feel like they're from a different world altogether, but Kelsey chooses to stay hopeful about what the future holds.
"Work in the States was really put on stop and I have been able to do some jobs recently. Things have been open at Santa Barbara, so I was able to go there. Things are slowly going back to normal and hopefully, we'll be able to, [and] the economy will be able to go back to normal not just here but also in Manila," she ends.
In the meantime, she's more than happy perfecting her pandesal game.
"It's my favorite to have with coffee," she smiles.
Check out the gallery below to see what else she's been up to while under quarantine in Los Angeles, California: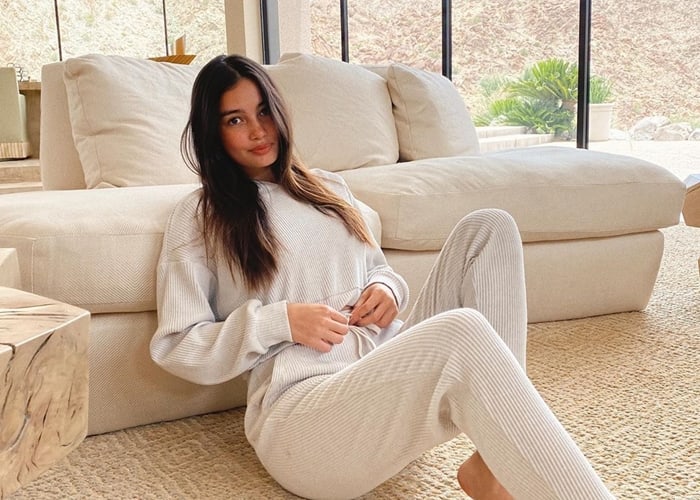 At Home With Kelsey
At Home With Kelsey
Photos from @kelseymerritt