WATCH: Kiana V., Ria Atayde, And Jolina Magdangal-Escueta Open Up About Their Moms
These selfless moms get the spotlight for Mother's Day this year through their daughters' touching anecdotes and messages
Loving, caring, and supportive are traits inherent to a mother. That maternal instinct kicks in the moment a woman brings a child into this world, or the first time she laid eyes on her baby. Suddenly, she finds herself promising to give a major part of herself for her child, prioritizing her needs over anything and guiding her every step of the way while still giving her enough room to grow.
Indeed, there's no other love like a mother's love. A mother's role in her child's life is irreplaceable. Time may pass, and yet the heart of a mom will always beat for the welfare of her child. And for many of these kids, who may have grown up to become successful or happy and content with where they stand today, they credit their mothers for motivating them and pushing them to the top. Wings to soar and reach their dreams are these mothers' greatest gifts.
The relationship between a mother and a daughter is special. It's the kind of bond, connection, and even friendship only mothers and daughters would truly understand.
Kiana V. admires her mom for many things, but her being supportive and caring, and having a big heart top her list. "I'm so blessed to have had a mom like that raise me," she says, adding that her mom always finds ways to do more for other people. "She cares so much about the people that she loves. And I think that's really admirable, and I can only wish that some of that rubs off on me, because she really always has good intentions and I really respect her for that."
For Ria Atayde, Mother's Day this year is extra special and definitely worth celebrating. It's because her mom, Sylvia Sanchez, has recently overcome a life and death situation after contracting the coronavirus disease (COVID-19). Now that Sylvia has recovered, Ria is overflowing with happiness, thankful for the chance to make each day count with her mom. When it's safe to visit a foreign country again, Ria says, "I wish to travel with my mom to South Africa, so she can see the giraffes because they have a significant meaning for her and her childhood. "
Behind every successful woman is a mother whose support for her child's endeavors goes beyond 100 percent. She helps her child discover her passion and inspires her to follow her heart, assuring her that wherever she may end up in, she'll never get lost; her mother would be in front, by her side, and at her back to serve as her moral compass. Jolina says of those times her mother accompanied her to all her showbiz schedules when she was just starting out in the industry: "Talagang sobrang ma-a-appreciate ko habang buhay 'yung ginawa niyang pag-give way para sa akin. She gave up her work to take care of me."
Watch Kiana, Ria, and Jolina honor their moms, as part of Metro.Style's Mother's Day 2020 celebrations: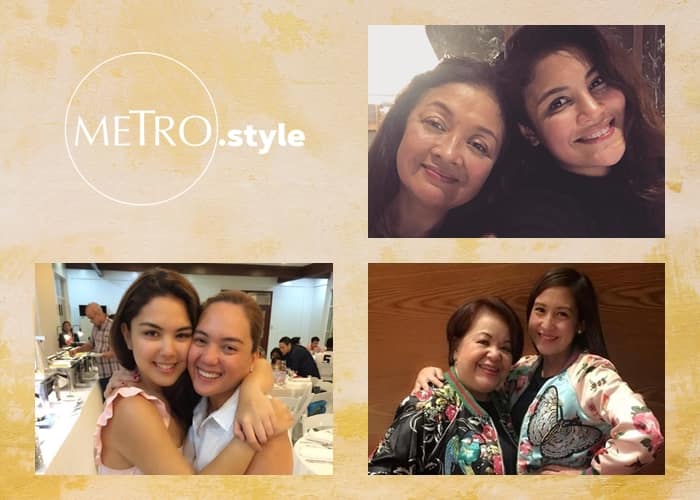 Mom-Daughter Tandems
Mom-Daughter Tandems
Check out the full video, which features other Mother's Day 2020 tributes from Donny Pangilinan, Jimuel Pacquiao, and Diego Loyzaga:
Happy Mother's Day!
Produced by Grace Libero-Cruz
Video editing by Giancarlo Escamillas
Photos from Ria Atayde, @mariajolina_ig, and @angelipv