"Yumi's Cells" Stars Kim Go-Eun and Ahn Bo-Hyun on Their First Impressions of Each Other
Their webtoon-based series is set to premiere on September 17
K-drama Yumi's Cells is almost here! The tvN/TVING series, which is based on a webtoon by Lee Dong-gun with over 3.2 billion views, is set to premiere on September 17.
It's directed by Lee Sang-yeob and stars Kim Go-eun and Ahn Bo-hyun. In the story, Go-eun plays an ordinary office worker named Yumi, and Bo-hyun plays a game developer known as Woong. Yumi is too shy to express herself, until she tries to learn more about herself and eventually finds the love of her life. Why the series is titled as such is because Yu-Mi has cells in her brain that represent different emotions and work actively for her.
On September 14, a press conference was held to promote the series, and the event was graced by the director and the lead stars. When Go-eun recalled the first time she met Bo-hyun, she said she found him handsome and burst into laughter. "He was indeed handsome, tall, and strong, so I was a bit intimidated," she shared.
During the filming process, as Bo-hyun really resembled the character, "everyone in the crew now calls him by his role's name," she added.
When he read the script initially, he admitted he didn't feel Go-eun fit into the character. But then, he recalled, "When I met her on set, though, it felt like Yumi walked out of [the] webtoon!"
As the story was adapted from a popular webtoon, Bo-hyun knows that many readers already had an established impression of Woong. Therefore, he made a lot of effort to immerse himself into the character, including changing up his look with suntan, longer hair, and a beard to stay true to the depiction of Woong.
"When I saw him on the fitting day," said Go-eun, "he really looked like Woong to me. It must be really difficult to maintain that hairstyle."
When asked about who ensured an enjoyable atmosphere on the set, Go-eun couldn't wait to answer. "It must be me," she said, "as I was on set 99% of the time. After seven months of filming, I couldn't stop laughing when I saw the director."
Bo-hyun didn't agree, though, showcasing an entertaining and funny banter between the two stars. "It should be me," he said. "I really worked hard to resemble the character, and I liberated myself to be funny. It was a pleasure to work with the team, and the director had the loudest laugh."
Check out the gallery below for photos from Yumi's Cells' press conference: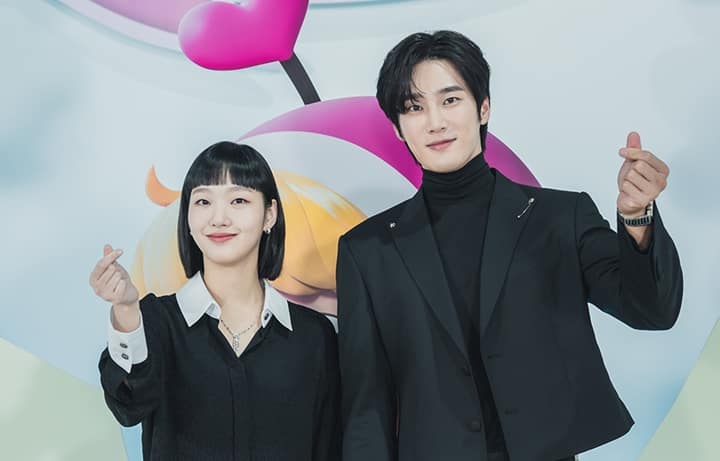 Photo Gallery
Photo Gallery
Also part of Yumi's Cells' cast are Lee Yoo-bi and Minho, who are reuniting in this project after starring in the web drama Somehow 18.
Kim Go-eun last starred in a K-drama via The King: Eternal Monarch, while Ahn Bo-hyun was in 2020 dramas Itaewon Class and Kairos.
The series will premiere on September 17 and will be exclusively available at 22:50 (SGT) every Friday and Saturday on iQiyi International app or iQ.com.
Photos courtesy of iQiyi