In Photos: Kim Seon-Ho And His On-Screen Partners in K-Dramas
Here are the actresses this buzzworthy actor has worked with since he made his TV debut in 2017
Kim Seon-ho is one of the most buzzworthy Korean actors today一one smile and you'll understand why right away. Sure, he's handsome and charming, but what will turn one into even more of a fan is his undeniable talent in acting.
When he made his TV debut in 2017 via the series Good Manager, he was noticeably comfortable on-cam already. And this is because he has a theater background that traces back to his college days. Kim Seon-ho has been acting onstage since 2009, nurturing his potential as an actor and giving him a deeper understanding of the craft. Despite his popularity now as a top actor and the host of reality show 2 Days & 1 Night, he's still involved in theater work, sharpening his acting chops to no end.
On his own, Kim Seon-ho is more than capable of delivering impressive, compelling performances. But as evident throughout his filmography, whenever his character has a love interest in a project, his irresistible appeal levels up and his charisma overflows.
His latest K-drama, Hometown Cha-Cha-Cha, wouldn't be as successful as it is now if not for Kim Seon-ho and his amazing chemistry with seasoned actress Shin Min-a. The rom-com is currently one of the top 10 most popular Netflix shows in about 20 countries, including Australia, Japan and Indonesia, The Korea Herald reports. With three episodes left, its nationwide viewership peaked at 11.4% for its 10th episode.
Kim Seon-ho and Shin Min-a are comfortable with each other even off-cam, so they're able to translate this adorable closeness into a palpable on-screen dynamic that just looks so natural and effortless.
In an interview with Elle Korea, Shin Min-a compliments Kim Seon-ho, saying, "I was surprised that he did everything well, just like his character Hong Doo Shik who is good at everything. I know that Hong Doo Shik will be loved by many people. I'm grateful to [Kim Seon Ho] for always making me feel comfortable on the drama set."
She also shared in Hometown Cha-Cha-Cha's press conference, "We have such great acting chemistry … Kim Seon Ho has such a great personality and is a type of a person who makes others comfortable. I wanted to have flexibility in acting with this series and Kim was so considerate. I think we clicked very well."
Check out the gallery below for a look back on Kim Seon-ho's filmography through his on-screen love interests, female co-stars, or leading ladies: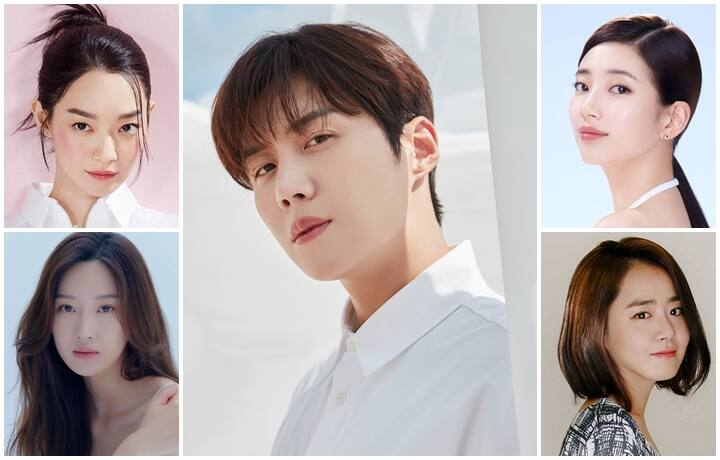 Photo Gallery
Photo Gallery
Check out this dimple challenge with Hometown Cha-Cha-Cha's "SikHye couple" or "dimple couple" Kim Seon-ho and Shin Min-a:
Lead photos by Shin Sun-hye courtesy of Netflix (Kim Seon-ho) and from @givenchybeauty via @illusomina (Shin Min-a), @lancomeofficial via @skuukzky (Bae Suzy), AsianWiki (Moon Geun-young), and @keyeastofficial (Moon Ga-young)