K-Drama Stars Who Have Done Daring, Sexy Roles In Movies
They dared to bare it all on the big screen in the name of art
Expect the totally unexpected.
Hallyu fans are usually introduced to a Korean actor or actress through hit K-dramas where they either make your heart flutter or make you shed buckets of tears. At the movies, Korean stars have opportunities to showcase their acting skills and rarely-seen sultry sides that are not found in typical K-dramas.
Hence, while most fans are acquainted with their favorite oppas and eonnies as the sweet-looking and innocent love interests or romantic heroes and heroines on K-dramas, they can also be completely stunned to see their favorites do a 180-degree turn in their eccentric and sometimes steamy, sexy, and daring roles on some notable movie projects. After all, actors are professionals and they have to be multifaceted, multi-dimensional, and versatile to maximize their potential and acting range.
Check out the gallery below to see these Korean actors and actresses who have done sexy, daring roles in movies: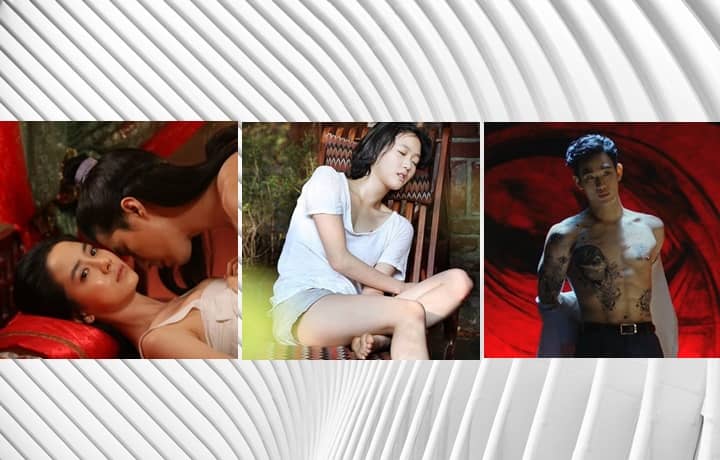 Photo Gallery
SWIPE LEFT OR RIGHT
TO NAVIGATE BETWEEN PAGES
Song Ji-Hyo in "A Frozen Flower" (2008)
Photo Credit: IMDb
Song Ji-Hyo in "A Frozen Flower" (2008)
Photo Credit: IMDb
Jo In-Sung in "A Frozen Flower" (2008)
Photo Credit: IMDb
Jo In-Sung in "A Frozen Flower" (2008)
Photo Credit: IMDb
Kim Tae-Ri in "The Handmaiden" (2016)
Photo Credit: CJ Entertainment
Kim Tae-Ri in "The Handmaiden" (2016)
Photo Credit: CJ Entertainment
Jeon Do-Yeon in "The Housemaid" (2010)
Photo Credit: Sidus FNH
Jeon Do-Yeon in "The Housemaid" (2010)
Photo Credit: Sidus FNH
Gong Yoo in "A Man and a Woman" (2016)
Photo Credit: Showbox / Bom Film Productions
Gong Yoo in "A Man and a Woman" (2016)
Photo Credit: IMDb
Kim Go-Eun in "A Muse" (2012)
Photo Credit: HanCinema
Kim Go-Eun in "A Muse" (2012)
Photo Credit: Koreandrama.org
Song Seung-Heon in "Obsessed" (2014)
Photo Credit: Next Entertainment World
Song Seung-Heon in "Obsessed" (2014)
Photo Credit: MyDramaList
Kang Ha-Neul in "Empire of Lust" (2015)
Photo Credit: HanCinema
Kang Ha-Neul in "Empire of Lust" (2015)
Photo Credit: HanCinema
Kang Han-Na in "Empire of Lust" (2015)
Photo Credit: CJ Entertainment
Kang Han-Na in "Empire of Lust" (2015)
Photo Credit: iQiyi
Jo Yeo-Jeong in "The Concubine" (2012)
Photo Credit: Lotte Entertainment
Jo Yeo-Jeong in "The Concubine" (2012)
Photo Credit: Lotte Entertainment
Kim Soo-Hyun in "Real" (2017)
Photo Credit: Viu Philippines
Kim Soo-Hyun in "Real" (2017)
Photo Credit: Viu Philippines
Lead photos from IMDb, AsianWiki, and Viu Philippines | Background photo by gdtography via Pexels