K-Drama Stars Who Have Done Daring, Sexy Roles In Movies
They dared to bare it all on the big screen in the name of art
Expect the totally unexpected.
Hallyu fans are usually introduced to a Korean actor or actress through hit K-dramas where they either make your heart flutter or make you shed buckets of tears. At the movies, Korean stars have opportunities to showcase their acting skills and rarely-seen sultry sides that are not found in typical K-dramas.
But recently, actor Kim Soo-hyun (who also had a daring role in the 2017 movie Real) surprised viewers with a bed scene with actress Hwang Se-on and was even shown naked in an episode of series One Ordinary Day. The crime thriller K-drama is based on the British television series Criminal Justice written by Peter Moffat. Kim Soo-hyun portrays the role of Kim Hyun-soo, a college student who is accused of murdering a woman whom he just met the night of the incident and had drinks with.
While most fans are acquainted with their favorite oppas and eonnies as the sweet-looking and innocent love interests or romantic heroes and heroines on K-dramas, they can also be completely stunned to see their favorites do a 180-degree turn in their eccentric and sometimes steamy, sexy, and daring roles on some notable movie projects. After all, actors are professionals and they have to be multifaceted, multi-dimensional, and versatile to maximize their potential and acting range.
Check out the gallery below to see these Korean actors and actresses who have done sexy, daring roles in movies: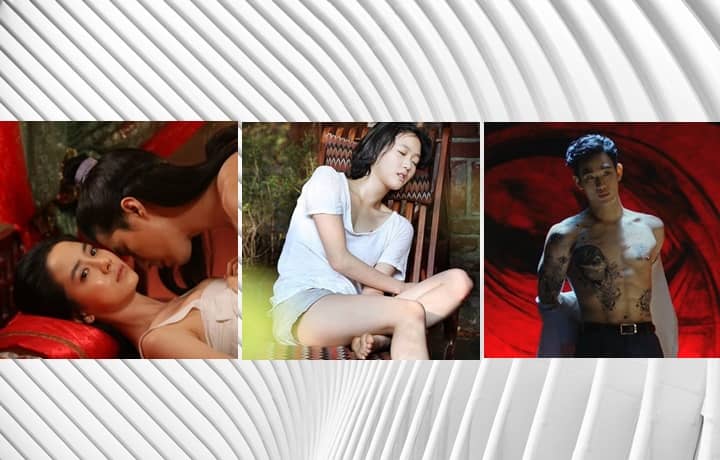 Photo Gallery
Photo Gallery
Lead photos from IMDb, AsianWiki, and Viu Philippines | Background photo by gdtography via Pexels