These Handsome Korean Actors Played Athletes And MMA Fighters In K-Dramas
If you're looking for K-dramas that are related to sports, check out this list. Ready, sweat, go!
One of the K-dramas we were recently hooked on was Run On, a sports oriented series that's mixed with romance and drama genres. It stars Im Si-wan as Ki Seon-gyeom, a former track and field athlete who became famous as a sprinter for the national team. As he prepares for a career shift as a sports agent, he meets Oh Mi-joo (Shin Se-kyung), a subtitle translator, who eventually makes him realize what it means to enjoy life and live with purpose.
Run On ran from December 16 to February 4, 2020. Although it had low ratings, Im Si-wan—who's known for K-dramas like Misaeng: Incomplete Life, The King in Love, and Hell is Other People—enjoyed breathing life into this character that has "so many sides to him."
Sports oriented K-dramas are arguably less popular, but they've given us some of the most memorable characters. Baseball is perhaps the most commonly explored sport in K-dramas. It was incorporated in the plots of famous K-dramas like Hot Stove League (2019), Prison Playbook (2017), and Reply 1994 (2013). Of course, basketball is common, too, especially for school dramas like the recent hits True Beauty and 18 Again.
In the gallery below, we list down the hot and handsome Korean actors who played athletes in K-dramas: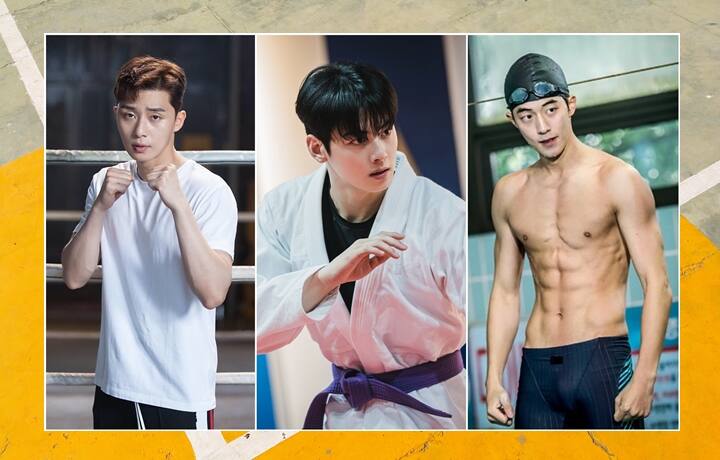 Korean Actors as Athletes in K-dramas
Korean Actors as Athletes in K-dramas
Lead photos from Naver (Park Seo-joon), tvN (Cha Eun-woo), and MBC (Nam Joo-hyuk)