Korean Stars as Grim Reapers in K-Dramas
There's a new K-drama about a company of grim reapers in the underworld, who are carrying out special missions. Watch "Tomorrow" today!
There's no shortage of fantasy series in K-dramaland. Every year, we meet new characters in Korean series that impress and entertain with their supernatural abilities. Most of these K-drama characters are not entirely new, though, but rather fresh interpretations of classics, like gumihos, immortals with superpowers, and mortals who can see ghosts.
Grim reapers have also been incorporated into several K-drama narratives. They've been associated with death, and has an eerie imagery of a skeletal figure in a black robe, holding a scythe used for "reaping" the souls of sinners. Also called the angels of death, they're known to guide souls to the afterlife. Grim reapers are believed to have committed grave sins in their past lives, that's why they've been given that role to pay for their sins.
In K-dramas, this frightening image is reinterpreted into men and women who look feisty, cool, and stylish at the same time. The newly-released webtoon-based K-drama Tomorrow puts a heart-tugging spin to the core plot that explores the underworld and the job of a grim reaper.
The series stars Rowoon as Choi Joon-woong, a young man who's struggling to find a job. Circumstances lead him to meet two employees at the crisis management team of the underworld/afterlife monopoly called Jumadeung: Kim Hee-sun as Goo Ryeon, a grim reaper and the team leader, and Yoon Ji-on as Lim Rung-gu, a deputy director. Choi Joon-woong ends up working with them in the underworld, to save people from committing suicide. Also starring in this K-drama is Lee Soo-hyuk, the leader of the Grim Reaper management team who guides the dead in Jumadeung.
As a grim reaper who saves lives, Kim Hee-sun transformed and imbibed a cool-girl vibe with her edgy clothes and bold, short pink hair. In an interview with MBC, director Kim Tae-yoon said of the actress' "huge visual transformation: "I want to applaud that courage. It was to the extent where the writer of the original webtoon was shocked and satisfied after seeing [her look]."
Tomorrow is film director Kim Tae-yoon's first drama, and it's been a welcome challenge for him to show a narrative beyond the typical two hour-length of films. On what drew him into this series, he said, "I was particularly drawn to the universe of the original webtoon. I thought the premise of 'grim reapers who save the lives of those who want to die' was really new and refreshing, and the emotions of the original webtoon were also masterfully depicted."
Check out the gallery below to see the Korean actors and actresses as grim reapers in K-dramas: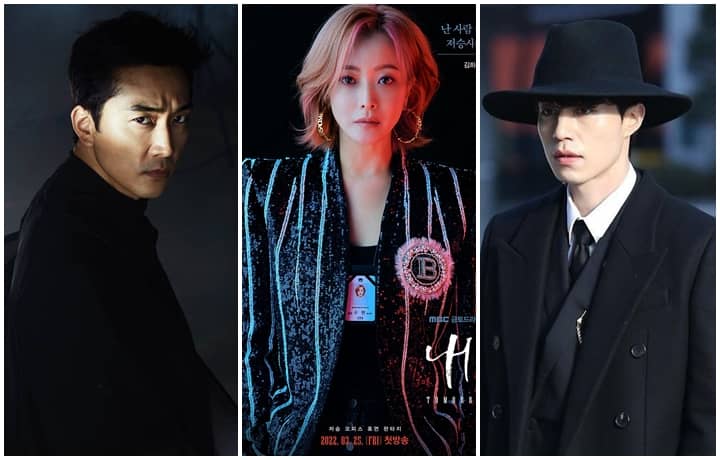 Photo Gallery
Photo Gallery
Tomorrow is available on Netflix.
Lead photos from OCN, MBC, and tvN