10+ Top Korean Actors And Their Comeback Projects After Finishing Military Service
These are the projects that marked the comeback of top Korean actors like Hyun Bin, Lee Min-ho, Song Joong-ki, and Kim Soo-hyun
Military service is mandatory for men in South Korea. They must enlist between ages 18 and 28. Avoiding military service has, on several occasions, tainted the reputation and destroyed the careers of certain Korean celebrities, because it truly is an important matter that the media and the Korean public watch out for; it can make or break a showbiz career.
Some Korean actors and idols finished military service prior to debuting in the entertainment scene, while some have had to go on a hiatus to enlist. Some of those celebrities who have successfully finished military service experience a boost in popularity.
Military service doesn't only pertain to active duty; some who are deemed unfit for it—whether due to previous injuries or diseases—may only be qualified for social work or public service. The length of military service depends on the branch of military and whether it's active or non-active duty. It used to be 21 months for the Army and Military, 23 months for the Navy, and 24 months for the Air Force and non-active duty social work. The current period of service for active-duty soldiers is one year and six months.
Last year, world-renowned and Grammy-nominated boy group BTS made headlines when its members were allowed to postpone military service until the age of 30. South Korea has passed a law that allows certain pop stars to defer their service if recommended by the culture minister, considering "they have greatly enhanced the image of Korea both within the nation and throughout the world."
In the K-drama/K-pop scene, those who just got discharged this year and whose comeback projects we're excited about are Lee Jong-suk (Pinocchio, W, While You Were Sleeping), Park Hyung-sik (Hwarang: The Poet Warrior Youth, Strong Woman Do Bong-Soon, Suits), EXO's D.O (It's Okay, That's Love, 100 Days My Prince, Room No. 7), and 2PM's Junho (Good Manager, Rain or Shine, Wok of Love).
Military life has a transformative effect to some of these actors, as this time away from the limelight allows them to reflect and think about their next steps in their careers and lives in general. In the press con of his small screen comeback project, It's Okay to Not be Okay, Kim Soo-hyun said, "This is my first piece of work after finishing the military service and because of that, I have been extremely nervous, I think I still am. While serving in the military, I really had this thirst to be on screen again and to act."
Check out the gallery below to read through the comeback projects of these top Korean actors after they finished military service: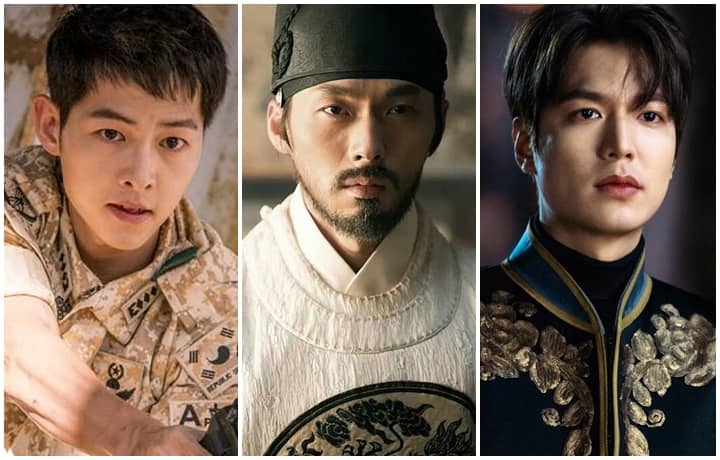 Korean Actors' Projects After Military Service
SWIPE LEFT OR RIGHT
TO NAVIGATE BETWEEN PAGES
Song Seung-Heon
Photo Credit: King Kong by Starship
Song Seung-Heon in "East of Eden"
Photo Credit: MBC
Gong Yoo
Photo Credit: Management SOOP
Gong Yoo in "Finding Mr. Destiny"
Photo Credit: CJ Entertainment
Lee Dong-Wook
Photo Credit: GQ Korea
Lee Dong-Wook in "Scent of a Woman"
Photo Credit: SBS
Lee Joon-Gi
Photo Credit: Namoo Actors
Lee Joon-Gi in "Arang and the Magistrate"
Photo Credit: MBC
Hyun Bin
Photo Credit: Esquire Korea via @vast_ent
Hyun Bin in "The Fatal Encounter"
Photo Credit: Lotte Entertainment
Song Joong-Ki
Photo Credit: @historydnc
Song Joong-Ki in "Descendants of the Sun"
Photo Credit: Blossom Entertainment
Yoo Seung-Ho
Photo Credit: Story J Company
Yoo Seung-Ho in "Imaginary Cat"
Photo Credit: MBC Every 1
Lee Seung-Gi
Photo Credit: Naver x Dispatch
Lee Seung-Gi in "A Korean Odyssey"
Photo Credit: tvN
Ji Chang-Wook
Photo Credit: Calvin Klein
Ji Chang-Wook in "Melting Me Softly"
Photo Credit: tvN
Taecyeon
Photo Credit: Elle Korea
Taecyeon in "The Game: Towards Zero"
Photo Credit: MBC
Kang Ha-Neul
Photo Credit: Vonin
Kang Ha-Neul in "When the Camellia Blooms"
Photo Credit: KBS2
Kim Soo-Hyun
Photo Credit: Vogue Korea
Kim Soo-Hyun in "It's Okay to Not be Okay"
Photo Credit: tvN, courtesy of Netflix
Lee Min-Ho
Photo Credit: @actorleeminho
Lee Min-Ho in "The King: Eternal Monarch"
Photo Credit: SBS
Kim Bum
Photo Credit: Elle Korea via @k.kbeom
Kim Bum in "Tale of the Nine-Tailed"
Photo Credit: tvN
Lead photos from Asia One (Song Joong-ki), Lotte Entertainment (Hyun Bin), and SBS (Lee Min-ho)