In Photos: The Korean Stars Who Graced The 2022 Buil Film Awards
These Hallyu artists shone at Buil Film Awards' red carpet event and awards ceremony
Hosted by the Busan Ilbo newspaper, the 31st Buil Film Awards was held in the coastal city of Busan, South Korea on October 6, 2022. The annual film awards happened alongside the highly-acclaimed Busan International Film Festival (BIFF), which made its post-pandemic comeback to the red carpet this month.
As one of the highlights of the ongoing BIFF, Buil Film Awards honors films of high caliber and cinematic achievements in the entertainment arena. For this year's titleholders, the Korean film Decision To Leave prevailed in five paramount awards including Best Film, Best Actor, and Best Actress. Squid Game actor Lee Jung Jae, on the other hand, is hailed as Best New Director for his directorial debut in the action film Hunt.
At the official opening ceremony and red carpet of the 2022 Buil Film Awards, a bunch of Hallyu's brightest stars flaunted their stylish ensembles. With MCs Kim Nam Gil and Sooyoung of Girls' Generation to 2PM's Taecyeon, Joo Hyun Young, and Yoo Ah In, it was an absolute fashion fest at the Busan-based event.

Check the gallery below to see who attended this event: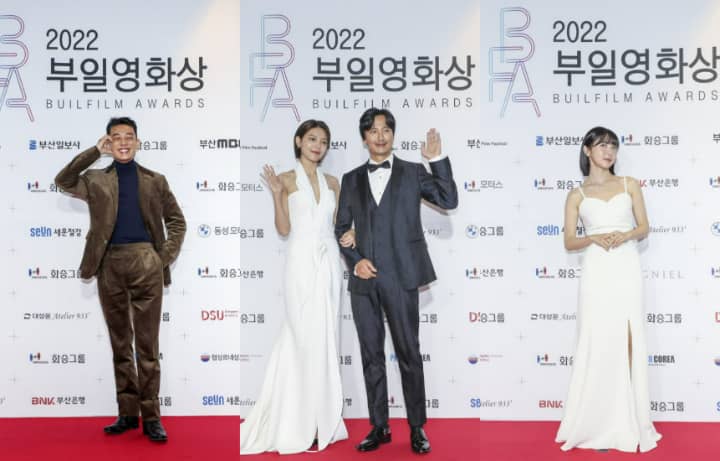 Photo Gallery
Photo Gallery
Here are the awardees of the highly-anticipated annual film awards:
Best Film: Decision to Leave (Directed by Park Chan Wook)
Best Director: Kim Han Min (Hansan: Rising Dragon)
Best Actor: Park Hae Il (Decision to Leave)
Best Actress: Tang Wei (Decision to Leave)
Best Supporting Actor: Im Siwan (Emergency Declaration)
Best Supporting Actress: Lee Soo Kyung (Miracle: Letters to the President)
Best New Director: Lee Jung Jae (Hunt)
Best New Actor: Lee Hyo Je (Good Person)
Best New Actress: Choi Sung Eun (Ten Months)
Best Screenplay: Jung Wook (Good Person)
Best Cinematography: Kim Ji Yong (Decision to Leave)
Best Music: Jo Young Wook (Decision to Leave)
Best Art Direction: Jung Sung Jin, Jung Chul Min (Hansan: Rising Dragon)
Yu Hyun Mok Film Arts Award: Director Lee Ran Hee (A Leave)
Popular Star Award (Male): Byun Yo Han (Hansan: Rising Dragon)
Popular Star Award (Female): Lee Ji Eun a.k.a. IU (Broker)
Lead photos from HanCinema