Korean Stars Thank COVID-19 Frontliners Via A Social Media Challenge
Ji Chang-wook, Kim Go-eun, Jung Hae-in, and more celebrities join this online campaign that pays tribute to the heroic efforts of healthcare workers in South Korea and all over the world
As of this writing, there are 3.5 million confirmed coronavirus (COVID-19) cases all over the world. There are 1.13 million who have recovered from the disease, but the death toll has escalated to 247,000. In the Philippines, there are now more than 9,223 confirmed cases—pretty close to South Korea's statistics of 10,801 confirmed cases.
South Korea has been gaining attention for how well they seem to be handling the pandemic without having to resort to a major lockdown. Early preparations and an efficient healthcare system are among those that can be credited for their impressive approach to fighting the deadly virus. United Nations' secretary-general Antonio Guterres pointed out the "extremely successful" methods of the Republic of Korea in addressing the crisis. After an outbreak in mid-February, the number of their confirmed cases has now dropped significantly. In a news conference, he said, "We hope that this example of the Republic of Korea will be followed by many other countries in the world."
At the core of this pandemic are the COVID-19 frontliners, especially the healthcare workers, who are risking their own lives to save others'. To recognize their heroic deeds, Korean celebrities have started a social media challenge, dedicating a "thank you" post to these modern-day heroes on their respective Instagram accounts.
How it works is one celebrity posts a standard campaign message (some add their own messages of hope and inspiration) and nominates another person to continue the meaningful relay. The photos that accompany these posts are of them holding out the palm of their hand and placing above it a thumbs up hand gesture.
In his version of the post, Ji Chang-wook captions, "Even with the hard days leading up to Corona 19, we are able to spend our daily lives with peace of mind thanks to the medical staff who help us overcome the crisis more than anyone else. Sincere thanks and respect. I wish you all the best medical staff every day with the joy of being safe, healthy and laughing for a moment."
Kang Ha-neul, despite not having his own social media account, sent a message and a photo through his manager, saying, "I cannot imagine how hard and difficult it is, but thanks for your hard work that we are able to live like this. You're the Avengers of our country! I know that this short message and photo are not enough to help and support. Nevertheless, I sincerely thank you from the bottom of my heart."
Scroll through the gallery below to see who have joined this online challenge so far: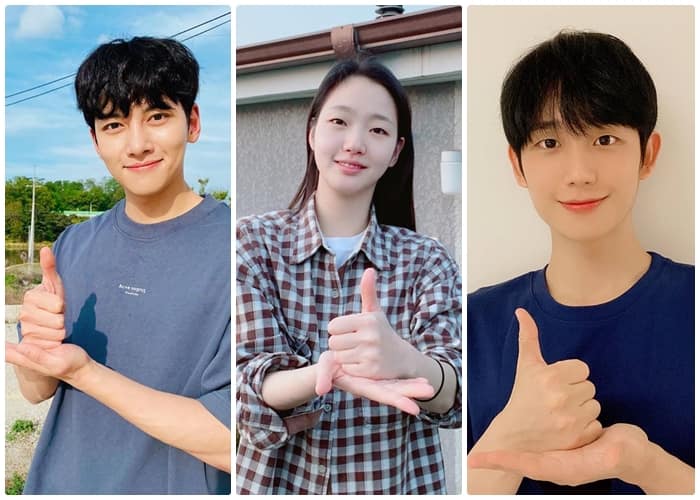 Korean Stars Thank COVID-19 Frontliners
Korean Stars Thank COVID-19 Frontliners
Lead photos from @jichangwook, @ggonekim, and @holyhaein