BLACKPINK 101: How This All-Girl K-Pop Group Started Dominating The World
They are almost in every area you could ever think of! Here's a compressed backgrounder on BLACKPINK's road to success
In a blink of 40 minutes, BLACKPINK has sold out three concert days in Bangkok, Thailand on July 12-14, 2019. The queue in online purchasing took three hours for me to get in only to see that there no more empty seats. All great things take time, I repeated to myself.
Fast forward to December 4, 2019. The winter cold pierces through the heart of Tokyo, Japan. But despite the iciness of the city, Tokyo Dome is all fired up with an ecstatic crowd. The Blinks have their pyong bongs (light sticks) ready, teary-eyed, shouting and chanting their idols' names: Lisa, Rosé, Jisoo, and Jennie. It's seven in the evening, the screen illuminates a pink rubik's cube with "BLACKPINK: In Your Area." A few seconds later, the fiercest quartet rise to their stage decked with their Chanel tweed outfits. They start strong with their first debut and world-record breaking song, "Ddu-Du Ddu-Du," in Japanese version. The crowd makes Rosé's much requested "Mexican wave," wherein she runs from left to right of the stage to see the crowd of pink lights. Lisa dances a breathtaking solo of "Señorita" and "Good Thing," Jisoo sings a ballad song that takes you to a K-Drama ride, Rosé's angelic voice cover of "Someone You Loved" amazes the audience with her vocal range, and lastly, Jennie makes her stage presence felt with her pop-rap "Solo." Four different people complementing each other's voices and dance moves. Once again, the Pinks have made a standing ovation sold-out show.
BLACKPINK debuted with a mini album called Square One in 2016. With overnight back-to-back smash hits, "Boombayah" and "Whistle," the group made their way to the top of the charts. BLACKPINK is represented by YG Entertainment, the house where Hallyu icons like 2NE1, Big Bang, and PSY were born. Others dismissed them as just another K-Pop group and even compared them to their seniors, but they have shown that they are masters of their fate and that their foundation is strong both as a group and individually.
Getting to know the girls:
Jennie Kim
Jennie was born on January 16, 1996. She was born and raised in South Korea, but she studied in New Zealand during her formative years. She told the brief story during their Zach Sang show interview that after her schooling in New Zealand, they went to Miami to check the school, dorm, and what it's like living alone in the States, but she decided to go back to Seoul. She auditioned at YG Entertainment with Rihanna's "Take A Bow," and the YG team asked her to rap since she can speak in English. Later on, she succeeded to becoming the first trainee for BLACKPINK.
Lalisa Manoban
Lisa was born on March 27, 1997 in Thailand. Also known as Pranpriya Manoban, she's the first non-Korean artist of YG. Lisa has always been into dancing ever since she was a kid. She would join contests and even mentioned she wanted to be a member of a K-pop group. She joined the 11-member dance crew We Zaa Cool with Bambam from GOT7, also a Thai based in South Korea and won the "Special Team Award" in LG Entertainment Million Dream Sanan World. YG held auditions in Thailand in 2010, and she tried it out even if she only knew "Annyeonghaseyo." She was selected among the 4,000 applicants in 2011. Little did she know that in jus a few years, her life would change as she's now a member of one of the most iconic girl groups of all time.
Jisoo Kim
Born on January 3, 1995, this South Korean artist is the eldest in the group. In 2011, she joined YG Entertainment as a trainee and had a cameo role in a K-drama called "The Producers", along with 2NE1's Sandara Park, Winner's Kang Seung-Yoon, IU, and Kim Soo-hyun. She has also been featured in advertisements such as Samsonite with Lee Min-ho, LG, Nikon, and many more. She is confirmed to be a part of an upcoming K-Drama called Snowdrop alongside Jung Hae-in, Kim Hye-yoon, and Jang Seung-jo.
Roseanne Park
Better known as Rosé, Rosie, or Chaeng, her Korean name is Park Chae-young. She was born on February 11, 1997 in New Zealand, but she was raised in Australia by her South Korea immigrant parents. Growing up, she sang, played the piano and guitar in their church choirs. In 2012, YG also had another audition in Australia. Her father was the one who persuaded her to join and just try it out since she has always loved music. Within just two months, she got the offer, prompting her to move to Seoul.
Road to stardom
It took them four years as trainees to officially become members of BLACKPINK. Their Square One debut single album in August 2016, produced by Teddy Park and Bekuh Boom, has reached over a billion records sold. "Boombayah" and "Whistle" ranked one and two on the Billboard World Digital Song Sales chart the fastest and simultaneously with two songs after label seniors Big Bang and PSY. They won first place on Inkigayo just thirteen days after their debut.
They also released their mini album,
Square Two
, consisting of "Playing With Fire" and "Stay" in November 2016. "Playing With Fire" reached the Billboard World Digital Songs Sales chart again and they were the first K-pop girl group to have a song included in the chart on Canadian Hot 100. Billboard named them one of the best K-pop groups in 2016. They also earned several rookie awards at Asia Artist Awards, Melon Music Awards, Golden Disc Awards, Seoul Music Awards, and Gaon Chart Music Awards.
In 2017, they have released a stand alone song, "As If It's Your Last," and also debuted in the Japanese music scene with the Japanese versions of their songs.
In 2018, they released another mini album, Square Up, with "Ddu-Du Ddu-Du" and "Forever Young." "Ddu-Du Ddu-Du" was another overnight smash hit yet, making them the first K-pop girl group to reach the Official Trending Chart in UK, Billboard Hot 100, with over 12 million US streams and 7,000 downloads. The EP also topped the Billboard World Albums chart. It also peaked on all digital platforms, followed by "Forever Young."
Overall, at the time, "Ddu-Du Ddu-Du" had a total of 36.2 million views within 24 hours after its release, making it the most-viewed online video in the first 24 hours by a Korean act and the second most-watched music video of all time in first 24 hours of release at that time. Now, they have over 1.3 billion views on YouTube.
Sought-after brand endorsers
Since they debut, the reception to BLACKPINK has been massive. Their influence goes beyond music. The four girls are global ambassadors of some of the most prestigious brands.
Jennie is dubbed as the Human Gucci and Human Chanel, and she endorses Gentle Monster, too. Jisoo represents Dior and Cartier. Rosé is an ambassadress for YSL and Tiffany and Co. Lisa is the face of BVLGARI and Celine. They have also attended these luxury brands' fashion shows.
They were also brand ambassadors for Kia, which served as one of their major sponsors during their "In Your Area World Tour." They have been ambassadors of technology brand Samsung, e-commerce platform Shopee, beauty brand Moonshot, fashion brands Adidas and Puma, contact lens brand Olens, Zepeto, luxury hotel and resort Paradise City, Japan department store Shibuya 109, KBank, and Pepsi.
In the first episode of "
24/365 With BLACKPINK
," Jennie went to a department store to simply check some new style trends for 2020, but she ended up buying a few clothes and socks. The socks have been instantly sold-out after the episode premiere and the
shop's site even crashed
.
Their huge impact and following can be credited to their impeccable characteristics and distinct style. International media also recognized them as the most powerful Korean celebrities in 2019 by
Forbes
, third in 2020, included in
Forbes
' 30 Under 30 list, and
TIME
's 100 Next List of Rising Stars.
Hearing them in every area
In 2018, they signed with Interscope Records, owned by Universal Group. Jennie also released her "Solo" debut. They have also collaborated with Dua Lipa and released "Kiss and Make Up." The song hit the Billboard 100 yet again, marking BLACKPINK's second entry in the chart and making them the only Korean girl group to score at least two entries on the chart. They embarked on their first world tour in November 2018 to February 2020.
They finally made their American debut in 2019 when they were invited to The Late Show with Stephen Colbert, The Late Show with James Corden, and Good Morning America. They became the first-ever K-pop girl group to be on the cover of Billboard as well.
In April 2019, the notable quartet became the first K-pop group to perform in Coachella. They showed one of their most electrifying performances with their new hit "Kill This Love."
In their Zach Sang interview, Rosé shared that, "No one knew our music, but everyone started shouting 'BLACKPINK IN YOUR AREA.' It was a really exciting moment." She also shared in that stage after performing, "We've learned that music brings us together as one."
Finally in 2020, the comeback is real. With only a few songs since they started, they can already sing and dance their debut songs like "Boombayah" even with their eyes closed. "How You Like That," their pre-release single broke five Guinness World Records, as it became the most viewed YouTube video in the first 24 hours of release (with 86.3 million views) and it had the most viewers for a video premiere on YouTube (reaching 1.66 million peak concurrent viewers for the live premiere). They have several collaborations, with Lady Gaga's "Sour Candy "and one of their singles in their full album, "Ice Cream" with Selena Gomez. They also collaborated with Cardi B for "Bet You Wanna."
Their debut Korean-language studio album, The Album, was released last October 2, with an MV of their main single, "Lovesick Girls," which Jennie co-produced and wrote with Jisoo.
BLACKPINK has become one of the K-pop girl groups who paved the way for the Korean wave in the western world. The best is still yet to come for them. Overall, they have three People's Choice Awards, a Teen Choice Award, four Golden Disc Awards, three Melon Music Awards, four Mnet Asian Music Awards, two Seoul Music Awards, five Guinness World Records, five Gaon Chart Music Awards, and an MTV Video Music Award.
They made sure to share their blessings to other people as well. They've donated to low-income and single-parent households and Hope Bridge Association of the National Disaster Relief for the victims of the Goseong wildfire in South Korea. In April 2020, they released face masks through Bravado, all proceeds went to the Recording Academy's MusiCares initiative, a relief fund in response to the COVID-19 pandemic and its impact on the music industry.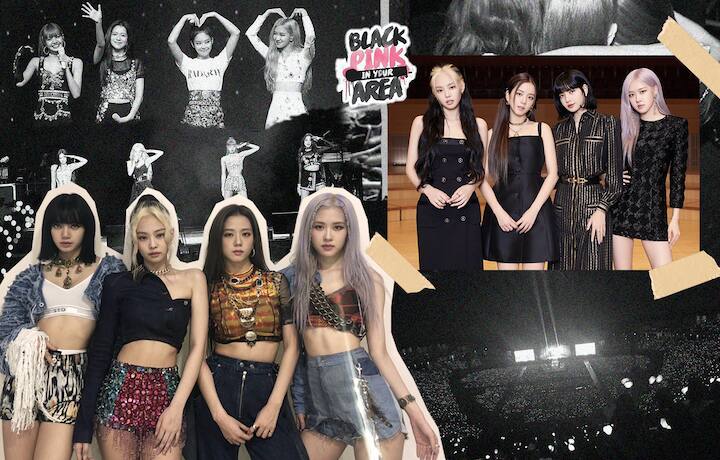 BLACKPINK
BLACKPINK
As for their most recent achievement, last October 14, Netflix released their documentary, "Light Up the Sky," which zooms in on their humble beginnings, never-before-seen video clips, behind-the-scenes, and their world record-breaking performances.
We list five reasons why this documentary is a must-watch here.
So, are you a Blink yet?
Photos from @jennierubyjane @sooyaaa__ @roses_are_rosie @lalalalisa_m @blackpinkofficial