In Photos: Kylie Jenner's Vacay Pics Will Make You Miss Traveling So Much More
This sure is #TravelGolas, but we can only hope that the reality TV star/makeup mogul and her friends have followed all the health and hygiene protocols put in place for their safety and that of others
While many people are either still stuck at home due to quarantine restrictions for what feels like the billionth week, or just plain choosing to limit their non-essential movements (i.e.: the supermarket and the bank are the farthest they've gone in months), Kylie Jenner is out and about enjoying a grand old family vacation.
The makeup mogul is apparently on holiday in a place called Amangiri, an ultra exclusive, super private, and extra luxe, 600-acre billionaire-friendly location in Canyon Point, Southwest Utah. If the otherwise low-key state was never on your American travel agenda, it will be now, after you see Kylie's breathtaking snaps with the destination's beautiful vistas as the background.
As she shows off figure-hugging OOTDs captured in, well, all the beautiful photos from a luxurious vacation that money can buy, she gives us a glimpse of all the things she was surrounded by: Utah's unreal desert and canyon landscapes, geometric architecture, stylish indoor-outdoor living, and lap pools (yes, plural) filled with water as sparkly as diamonds. (Everything you might want to know about the resort, you'll find here. It offers a fully furnished house for those who can afford top level accommodation!).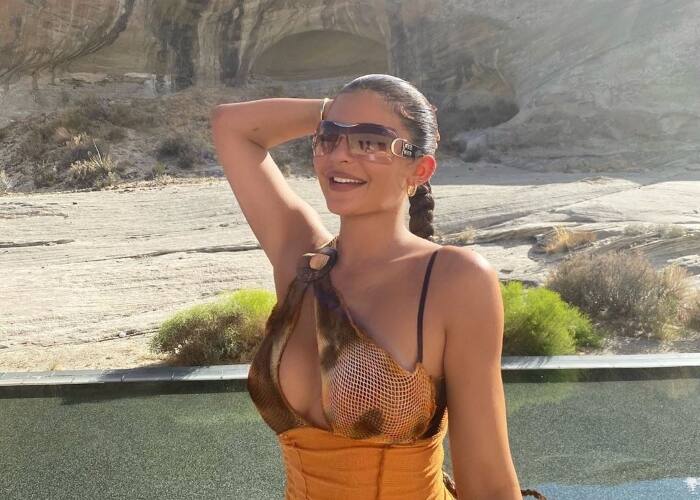 Kylie Jenner's Utah Vacay
Kylie Jenner's Utah Vacay
Now we're not sure who she traveled to the resort with, but one of her Instagram posts shows that her daughter Stormi Weber was right there with her, as well as friends Harry Hudson, Fai Khadra and Zach Bia. Whether or not her on and off partner and Stormi's dad, Travis Scott, was with her, isn't certain. Kylie's sister, Kendall, might've been with her, too! On the same day that Kylie posted photos from her getaway, so did Kendall, though she didn't give away details of where she was.
Kylie and co. haven't only been lounging around, but have also enjoyed activities like trekking in a few dessert trails, crossing a suspension bridge, and rock climbing (and leisurely sipping on cocktails as they take sunset dips in their private pool).
The bunch follows the footsteps of Justin and Hailey Bieber, as well as Kourtney Kardashian and her kids, who traveled to the resort some weeks ago for their own vacations.
Kylie's generous documentation of her stay at the resort definitely brings back memories of a time when traveling for fun with friends and family was as easy as one, two, three, but while we want to tag Kylie's summer trip as #TravelGoals, we'll have to agree with people who saw her photos and asked, "Why?"
That's because Kylie, like the entire Kardashian-Jenner brood, is based in California, a state that's explicitly set in place shelter-at-home rules for all its residents. That essentially translates to no traveling, especially for leisure, to help control the spread of COVID-19-positive cases (California is one of the US' most COVID-affected states).
It didn't help that Kylie explained her reason for traveling as a need for a "change of scenery."
We can only hope that Kylie and her friends have followed all the health and hygiene protocols put in place for their safety and that of others, and won't become part of America's growing COVID-19 problem when they return home.
As of this writing, the United States has more than three million positive COVID-19 cases, 289,000 of which are in California, or 55% of the world's total cases of 5.5 million.
Photos from @kyliejenner