Scenes From TJ Monterde And KZ Tandingan's Dreamy Wedding In Batangas
They've actually been Mr. and Mrs. since August 28! Their wedding reveal came with the premiere of the official music video of their song "Can't Wait to Say I Do"
KZ Tandingan and TJ Monterde are married! Although they just announced it, their intimate wedding was actually held last August 28, 2020 in The Farm at San Benito, Batangas. It's so dreamy and ethereal we can't stop looking at the photos and videos (you'll know what we mean when you check out the gallery below)!
Few guests were invited to the TJ Monterde - KZ Tandingan wedding because of quarantine restrictions, but their loved ones witnessed their union via Zoom. "Thankful for friends who went out of their way to do multiple testings, isolation, and travel to be with us on our special day," KZ wrote on Instagram. This is the "new normal" way of holding weddings these days. But just because it's different from the traditional, pre-pandemic wedding gatherings doesn't mean it's less meaningful and memorable—in fact, this has its own unforgettable charm.
"With only a handful of people and our families attending through Zoom, we held our symbolic wedding under a 300 hundred-year-old Mango tree," the glowing bride said. "We didn't think we could get married this year because our families are in Mindanao and couldn't fly in. But our folks being the selfless, understanding, an amazing parents they are, encouraged us to get wed."
The TJ Monterde - KZ Tandingan wedding wouldn't have been this breathtakingly beautiful and romantic if not for the couple's choice of suppliers, who helped them achieve their dream wedding despite the obvious limitations. "Thankful for all these hardworking people who made sure our intimate dream wedding went smooth and, most importantly, safe," KZ said.
La Belle Fête was in charge of the concept, planning, and coordination. Those who were picked to immortalize all the special moments and details of KZ and TJ's big day were Mayad Studios for the photos and Jason Magbanua for the videos. Event stylist Gideon Hermosa of House of Hermosa enhanced the natural beauty of The Farm at San Benito and transformed it into a rustic-romantic masterpiece, which gave KZ and TJ a magical "walk in the woods" kind of experience. The ambiance was made more perfect with light elements and sound system provided by LX Events Pro.
Light Shine White created the ensembles of both the bride and the groom: a chic white pantsuit for KZ and a dapper brown suit for TJ. KZ has always been experimental as an artist, not just with her music but also with her fashion and beauty looks; when it came to her wedding look, her styling team led by Myrrh Lao To did an amazing job picking a non-traditional yet chic and sophisticated outfit that lent a different side to KZ's unconventional aesthetic. The glam duo that made sure she'd be the most glowing and stunning she can ever be on her special day was made up of makeup artist Mac Igarta and hairstylist Mark Familara.
These outfits are actually reminiscent of their looks for their pre-nup photo shoot in Japan back in February. Many people actually thought they already got married then. Check that out here.
Check out the gallery below for photos from the TJ Monterde - KZ Tandingan wedding in The Farm at San Benito, Batangas: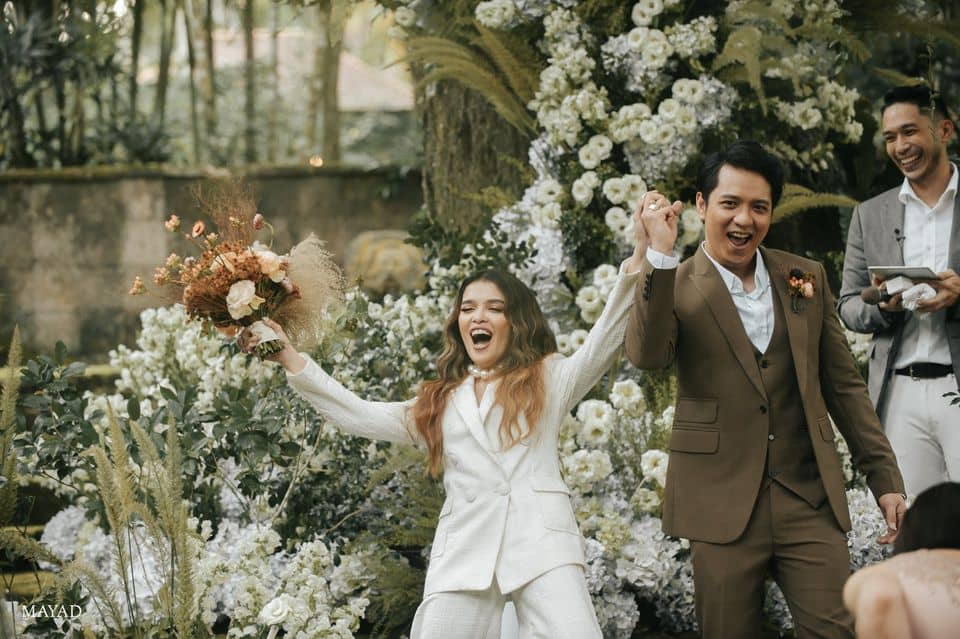 TJ Monterde and KZ Tandingan's Wedding
SWIPE LEFT OR RIGHT
TO NAVIGATE BETWEEN PAGES
Other suppliers that helped make the TJ Monterde - KZ Tandingan wedding perfectly memorable down to the littlest details were J's Diamond for the wedding rings, Papillon by La Belle Fête for the invitation and printables, 18th.ph and Bella Banquets for the furniture pieces that adorned the venue, Naked Patisserie for the wedding cake, Chapter Coffee Roastery & Cafe for the coffee cart at the reception, Las Arca for the care kits/souvenirs, and Nice Print Photo for the Zoom broadcast.
The venue, as mentioned, was The Farm at San Benito, a five-star holistic wellness resort in Batangas that has recently become the go-to of many celebrities and society personalities raring for some meaningful escape after months under quarantine.
Describing the event, La Belle Fête wrote on Instagram: "TJ and KZ's timeless event encapsulates an emotional journey with nature as a significant part of their ceremony. As the two stood amidst the picture-perfect scenery of earth and its lovely shades, the romantic bubble they were in glowed with a promise of a lifetime."
As photos from their wedding started surfacing on social media this evening, KZ also premiered a special vlog in the form of an official music video on her YouTube Channel titled "Can't Wait to Say I Do." The three-minute-and-fifty-eight-second-long video featured scenes from their wedding peps to the event itself, accompanied by heartfelt lyrics flawlessly sang by KZ and TJ. All proceeds of the said video will be donated to Inspire Church Manila.
Celebrities who were spotted at the event were Martin Nievera (who walked her down the aisle) and Ebe Dancel (who performed for the couple).
This music artist duo got engaged in December 2019. They dated for a year until they became a couple in January 2015.
Congrats and best wishes, TJ and KZ!
Check out the official music video of "Can't Wait to Say I Do" below:
Photos from @labellefette @mayadstudios @myrrhlaoto @gideonhermosa @chaptercoffeeph