See The Details Of Lala Vinzon's Debut, A Concert And Birthday Rolled Into One!
This debutante knew exactly how to make an entrance—and made sure everyone would remember it!
Singing a repertoire of her own choosing, Lala opened the night with her own rendition of Aretha Franklin's "A Natural Woman" while floating down the steps of her venue at Blue Gardens in Quezon City on October 3. The hitmaker-to-be bid farewell to childhood and waved a big hello to young adulthood that night and did so in the most stylish of ways, sending the message that she was more than ready to take on the next chapter of her vibrant life.
Lala, the daughter of actor Roi Vinzon and a musically inclined mom who went from band front woman to talent manager, performed more than once on the special occasion to show her friends and family her potential star power; one of her biggest dreams is to become one of the country's top singers, after all, and her debut proved to be the perfect stage to showcase her undeniable talent.
Lala first broke onto the singing scene in 2017 when she competed on The Voice Teens' first season in 2017. She was drafted onto Sarah Geronimo's team and finished as the season's first runner-up.
Treating her debut like a mini concert, Lala enjoyed multiple outfit changes throughout the night to match the program (or set list, if you really think of the evening as a show!). She went from singing along with live music to playing the piano herself and even taking center stage to go all out in an upbeat song and dance number, complete with back up dancers to get hearts thumping.
She donned an embellished, red, high-neck gown for the first segments, followed it up with a layered number in electric pink by LARA Atelier, and showcased a third ensemble in show-ready metallic and black, complete with a high ponytail done in Ariana Grande style, to top it off!
There to celebrate with Lala were of course her family, industry friends, and other loved ones.
And just like a classic debut, the night had also Lala dancing onstage with select friends and family who shared their well-wishes for her, many of whom gave her the warmest hugs and flowers, to boot. Let's not forget about the cake, either; Lala gamely posed next to her colorful three-tier cake that almost looked too good to slice into!
On the other hand, some of Lala's friends who couldn't make it to the party posted their greetings on Instagram. Some of those who reached out to her included Jeremy Glinoga, Francine Diaz, Ylona Garcia, Darren Espanto, Kyle Echarri, and Kira Balinger.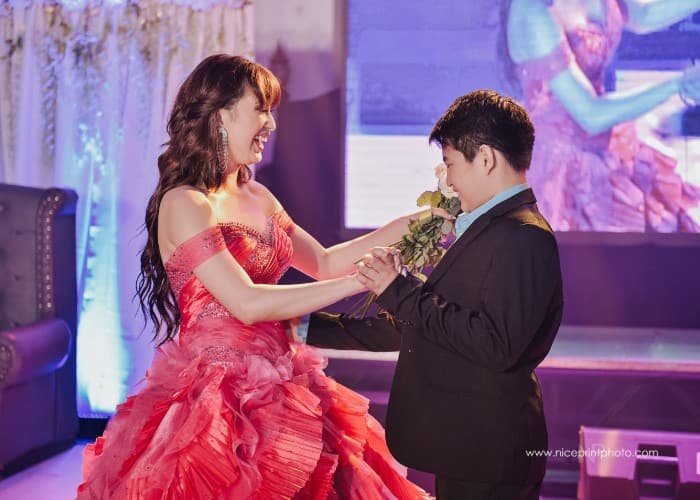 Lala Vinzon 18th birthday party
Lala Vinzon 18th birthday party
With her stage presence, ability to place multiple instruments, and recognizable voice, we're sure that this won't be the last time Lala will be performing for a big group, all glammed up just like the singing sensation she dreams of becoming.
18 is definitely looking like the start of bigger and brighter things for this young woman, both in her personal life, and her showbiz career, too! We're definitely keeping our eyes peeled for more of Lala.
Happy birthday to you, Lala!
Photos courtesy of NicePrint Photo