In Photos: Mariel And Robin Padilla's Dino-Themed Baby Name Reveal Party!
Soon-to-be mommy of two Mariel Padilla transported her guests to a pastel-themed world inhabited by friendly dinosaurs, to share her biggest baby news to date
Mariel Padilla is officially the queen of baby parties! Or at least, parties that have to do with preparing for the arrival of a new baby in one's life.
The expectant mom proved her penchant at entertaining guests, adults and children alike, as well as picking out original themes in her
second
baby shower (yup, she's had two!) held at the Raffles Makati earlier this week.
Elements of an adorable dinosaur theme painted the grand venue with cute little details like moss-covered light fixtures, kids' chairs accessorized with plush dino tails, lilac balloons and accents, a dino-filled sandbox for little guests, and specially made pastel "foliage" that mirrored real dinosaurs' natural habitats!
Executed with the help of Mariel's sister Kaye Garcia, a professional party planner and event stylist, the party wowed everyone who attended and was a feast for the eyes and the heart.
Mariel's pleated pastel purple dress with crystal-encrusted cap sleeves made the perfect complement to her surroundings, too!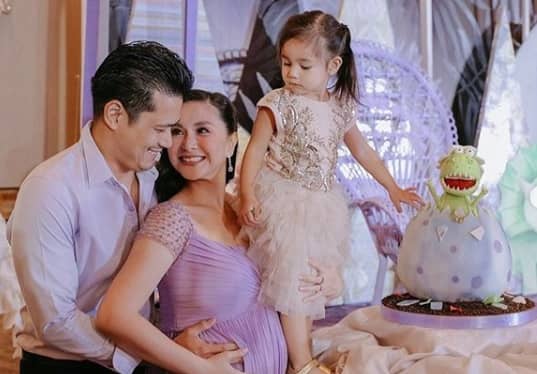 SWIPE LEFT OR RIGHT
TO NAVIGATE BETWEEN PAGES
There to celebrate the special day with Mariel were friends and family, many of whom were their Kapamilya co-stars. Ryan Bang, Amy Perez, and Jhong Hilario, as well as Sarah Lahbati, Vina Morales, Shalani Soledad-Romulo, and Valerie Concepcion were just some of the famous faces spotted at the party.
Of course, Mariel's husband and first daughter, Robin and Isabella, were in the limelight with her all throughout the event and were incredibly happy from start to finish.
According to Mariel, Isabella had a lot to do with picking out the unique party theme, too; the little girl apparently loves pastels herself, and her mom teasingly told her that the party was actually for her given its theme.
But, other than the impressive décor, the day's real highlight was Mariel's big reveal.
After combining her first baby shower with her second child's gender reveal, this time, she took the opportunity to share the name she and Robin chose for their littlest one: Maria Gabriela.
In case you didn't realize, Mariel's real name is actually Maria, and since her first daughter's full name is Maria Isabella, she thought to match her second daughter's name with theirs. As for Gabriela, that was Robin's choice (the action star thought it would be a meaningful tribute to his familial roots that trace back to the Ilocos heroine, Gabriela Silang).
And as if that in itself wasn't special enough, the actual, physical name reveal took place when dino egg-shaped décor hung on stage "cracked" in half (imagine sliding doors slowly opening), slid sideways, and revealed the pretty name done in metallic calligraphy.
Mariel's first baby shower was held on July 1 and incorporated much of the feminine touches her second party had.
She is due to give birth sometime in November.
To help make her memories of the lovely day last, Mariel posted a 12-minute video on her YouTube channel that shows her getting ready for the party, a tour of the venue, guests' on-cam well-wishes, and all the best moments of the day.
Watch it below and relive the party!
Photos from @marieltpadilla @niceprintphoto