EXCLUSIVE: Martha Stewart Reveals Her Thoughts On Visiting Pampanga And What She Enjoyed Best
Indulging in the best of gastronomic, artistic, and historic experiences that the province has to offer, she recalls her most unforgettable experiences
It's not every day that Martha Stewart visits your country and participates in a cultural immersion that has one wade through rice paddies, shake the hands of the men and women who work the land, and enjoy the agricultural bounties that this labor yields.
It might even seem like a complete impossibility, given this American omnimedia personality and businesswoman's status; Forbes estimates her net worth to be around $650 million and her asset portfolio large enough for her to be proclaimed America's first self-made female billionaire.
Well, the seemingly impossible became possible as Martha arrived on Philippine shores this month for the ABS-CBN News Channel (ANC) Leadership Series, much to the amazement of everyone who worked on making it happen.
For the lucky few, they didn't only witness Martha's first-ever Philippine visit unfold, but were also blessed with opportunities to engage in meaningful conversation with her and walk alongside her in every step of the way, experiencing the same things she did.
As one of the highlights of her trip to the Philippines, Martha visited the province of Pampanga where familiarized herself with its unique culinary landscape and customs.
In order, there were three items on her agenda: touring the famed Alviz Farm which serves as a cultural center of the province and provides opportunities to experience traditional Kapampangan cuisine, dropping by the iconic Lazatin house that was proclaimed a historical landmark and heritage home, and seeing the Betis Crafts compound filled to the brim with local crafts both big and small.
Upon arriving at the Alviz Farm, Martha was immediately immersed in a totally different world; farm owner and musician Andy Alviz was there to welcome the lifestyle tycoon and cue a small choir of locals to perform a song for her in the local dialect.
Wasting no time, Martha hopped from one food stall to the next within minutes of her arrival and gamely sampled a little of everything that was offered to her, including bites of sweets made from cashew nuts, biko, suman, and a savory seafood dish. (Crickets were the only thing Martha seemed to pass on!).
After settling down and gearing up for the second half of the day, Martha got to enjoy speeches of appreciation from Doris Magsaysay-Ho and Andy, as well as a second, livelier performance.
However, the highlight of Marha's Alviz Farm was arguably the few minutes she spent in its rice paddies where she and her party experienced the actual act of planting rice; everyone had zero qualms about getting leg-deep into mud, and in fact, Martha had admitted to wanting to experience this for longer than she could remember.
What followed next was a brief but educational trip to the Lazatin family home, a house built in the mid-1920s and whose architecture reflects traditional bahay na bato design.
The Lazatin clan was there to graciously meet Martha and explain the significance of the home in Kapampangan history while the Pampanga first-timer attentively listened. Going around the house accented by beautiful carved wooden panels and high ceilings, Martha remarked on the family memorabilia that populated walls, table tops, heirloom furniture surfaces, and mantles.
A small feast of savory bites awaited Martha after her brief tour which she similarly tasted with gusto and appreciation.
On the other hand, Martha's hosts, making sure that the trip would be worth it, made sure to surround her with great company and answered all her questions with great detail.
There to watch Martha enjoy all the activities prepared for her was ANC head for programming and operations Rhobee Pilares, a selected representative from the network who made the most out of his once in a lifetime chance of meeting Martha.
We asked him to tell us about his personal encounter with Martha during her trip to the northern Luzon destination, where Martha fulfilled one of her biggest dreams about visiting the Philippines and learned more about Filipinos' way of life.

What activities did you and Martha participate in? What do you think she enjoyed the most?
"In Pampanga, Martha went through a true outside the city experience. First, she experienced songs and dance unique to Pampanga, the bayanihan house-moving, various food and delicacies, and her favorite: planting rice! Then [she went] a tour of the Lazatin ancestral house and [had] a meal from Pampanga's top chefs. Finally, [she went on] a guided walkthrough of the province's top furniture design house and factory, where she saw the artisans themselves do their unique wood pieces."
What was the most surprising thing you learned about Martha, now that you've met her in person and gone on a trip with her?
"How she truly is what you see. Her love for handicrafts, food and drinks, design and style, even animals, is truly her passion, and not a job."
Tell us about some of the exchanges you had about each other's cultures. Is there anything she shared about life in the US that was particularly interesting?
"She seemed to be amazed at the entrepreneurial spirit of the Filipino, something that seemed to be a dying trait in the US."
Tell us some of the highlights of your Pampanga trip with Martha.
"Watching Martha get down and 'dirty' planting rice! She gamely waded through the rice fields. She had confided earlier to me that it's been a longtime dream of hers."
What do you think Martha's takeaways are from her first Philippine visit?
"She talked about everything—the food, designs, handicrafts! Not too much on the history, but in those few times she did, she seemed to have studied at least the basics (Spanish, American rule). She enjoyed the tour of San Agustin, [and asked for] time to walk around inside and take pictures (it wasn't part of the itinerary)."
In what ways did Martha's Filipino tour guides showcase the best of what the Philippines can offer?
"They pulled all stops to bring the best: from the best chefs, to best samples of crafts, native and modern, to architectural designs and culture. They fit everything in given the very limited time she had."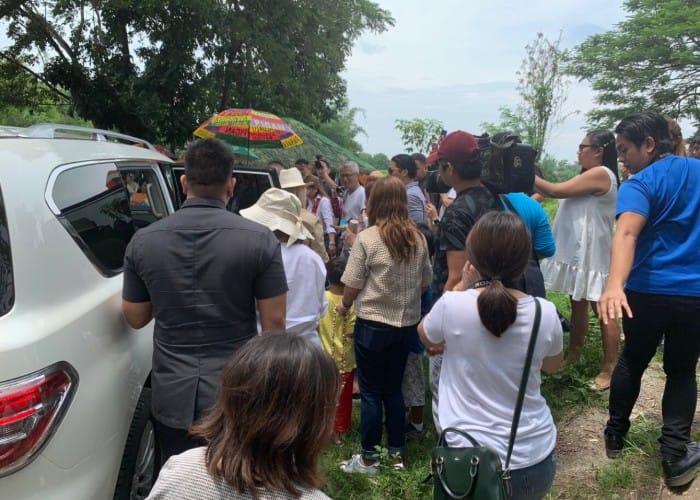 Martha Stewart visits Pampanga
Martha Stewart visits Pampanga
Photos courtesy of Rhobee Pilares and ANC News Channel / Additional images from @marthastewart48 @cesdrilon @alviz_farm