Look! After A Five-Year Engagement, Megan Young And Mikael Daez Marry In Subic
The ceremony was intimate yet elegant, low-key yet sophisticated—a beautiful reflection of this pair of happy newlyweds!
Surprise!
Beauty queen and actress Megan Young is officially a Mrs., and she married none other than actor and vlogger Mikael Daez, her boyfriend of nine years!
They tied the knot on January 25, Saturday, in Megan's hometown of Subic in a private ceremony attended by a select group of friends and family. A little over a hundred guests witnessed the handsome pair become husband and wife, savoring every moment that the deeply personal event made them a part of.
Megan and Mikael, a non-traditional couple in more ways than one, enlisted the help of in-demand event stylist and florist Gideon Hermosa, as well as celebrity favorite La Belle Fete to help materialize their vision for the special day.
According to the bride, her wedding was "full of clay [hues], and very earthy. I told [Gideon] to turn down the opulence because I don't like flowers in general... We gave him creative freedom and I got him for his talent and the way he thinks out of the box. It's going to be fun and very relaxed, because one of the things Mikael and I like to do is lounge around with friends and family. I want that vibe. I don't want them to feel like they have to just sit there and watch a program."
Working closely with the bride to achieve a unique aesthetic for the once in a lifetime occasion, Gideon decided on a "mixture of dried, rare, and fresh flowers for the entourage [and] the overall elements in the venue."
"I super love the dried selections in this wedding, we don't usually use these kind of elements due to the couples preference but I'm glad they really like it!" he continued.
It definitely helped that Megan and Mikael knew exactly what they wanted to project on their wedding day, and who they are as a couple; their decisiveness and clear vision made it a pleasure to work with them, as shared by La Belle Fete's Ycoy Sitchon:
"...Despite their firm vision, they welcomed our ideas, suggestions, and advice with open arms. Most of all, they trusted us with all their hearts. It was so easy to work with them. It didn't feel like we have been planning the whole thing for months as they let us steer the planning, did the inevitable pause and efficiently did the tasks assigned to them. We will surely miss planning with them," she shares.
Altogether, the newlyweds and their suppliers worked together to create a beautiful wedding experience for themselves, as well as guests.
Their wedding location, San Roque Chapel which Megan used to visit as a child, and their reception venue, El Kabayo Stables, were transformed into living embodiments of the relationship being celebrated that day.
"Mikael and Megan wanted a non-cookie cutter type of wedding. 'Go big or go home' and 'more is more' are pretty much the biggest trends in weddings right now. On the other hand, they took the road less traveled. They opted for a low-key celebration but with the most intentional details," Ycoy adds.
The result was definitely something to inspire future brides wanting a different kind of wedding.
An event with broad strokes of bohemian elements incorporated in the design, and a very down to earth, laidback, and approachable atmosphere.
Additionally, "Shots must be candid and not staged; the setup must not be ostentatious and pretentious, and lighting design must be more natural. Mikael and Megan wanted the wedding to be 'a meaningful gathering' rather than a spectacle. To add special touches, we set up a coffee cart (they are extreme coffee lovers!). We also reflected coffee plants in the invitation. Instead of having a tall wedding cake, we prepared all their favorite cakes from different cake stores which the guests could partake [of]," Ycoy describes.
The décor and theme weren't the only things that this wedding did differently; Megan and Mikael did without a same-day edit and had no grand hotel preparations for their after-party.
Megan explained it best and said that she wanted the day to be purely about their union and not the "grandness" that many have come to expect of modern weddings.
The same can be said about her choice of wedding outfits: Patricia Santos designed her fuss-free, understated wedding dress featuring a V-neckline and modest sleeves, while her party outfit by Boom Sason had playful ruffles but was still definitely a piece that prioritized function over fashion.
"My main instruction was no beadwork and shiny stuff, only texture. The Patricia [Santos] one has texture in the veil, and then Boom's is ruffles... Why I didn't want sparkly stuff is because I wear sparkly stuff all the time, and I wanted Mikael to be able to focus on me and what's happening, and not the dress. My focus is not the dress. The main point is the ceremony," reveals Megan.
For more details on the Daez-Young nuptials, her wedding look, and must-know things about their love story, scroll through the gallery below!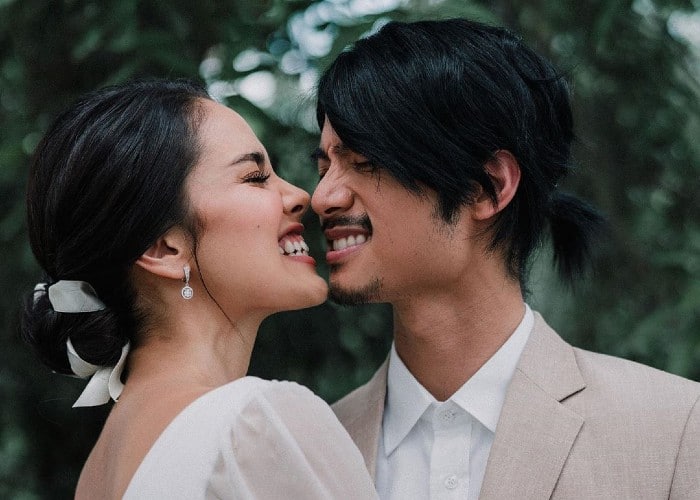 Megan Young and Mikael Daez's wedding ceremony
Megan Young and Mikael Daez's wedding ceremony
Congratulations to the newlyweds!

Photos from @meganbata @mikaeldaez @labellefete @gideonhermosa @mymetrophoto @dmetroman @adrianneconcept @vidanes_cm @renzpangilinan @maicamaic