Metro In Love: Troy Montero Talks About His Wife, Aubrey Miles, And Their Relationship
In this exclusive, newly minted husband Troy Montero chatted with us about finally tying the knot with Aubrey Miles and what their almost two-decade relationship has been like. Plus, see their sultry pre-nup shoot!
It has only been over a month since Aubrey Miles and Troy Montero got married, and these newlyweds are obviously basking in marital bliss. Post-wedding, the two have been sharing photos from their pre-nup shoot, and one layout particularly heated up our social media feeds.
In the post, Aubrey is seen wearing a wrap halter top and string bikini set while Troy is topless and sporting a pair of khaki trousers. She captioned, "We kiss and make out😅"
This is just one of the several layouts Aubrey and Troy did for the pre-nup shoot at The Ranch, a 7-hectare Batangas escape with a modern cabin villa, pool, and full access to their stables & horses. The photography and video documentation of their engagement session was by Niko Gonzales. The other suppliers they worked with were stylists Cath Sobrevega, Gail Ong, and KT Landingin of Weddings by Cath; makeup artist Mariah Santos; hair stylist Arvin Santos; shoot coordination team Events By The Planner; and set design team Ginger Event Styling.
Check out the gallery below for more photos from Aubrey and Troy's pre-nup shoot: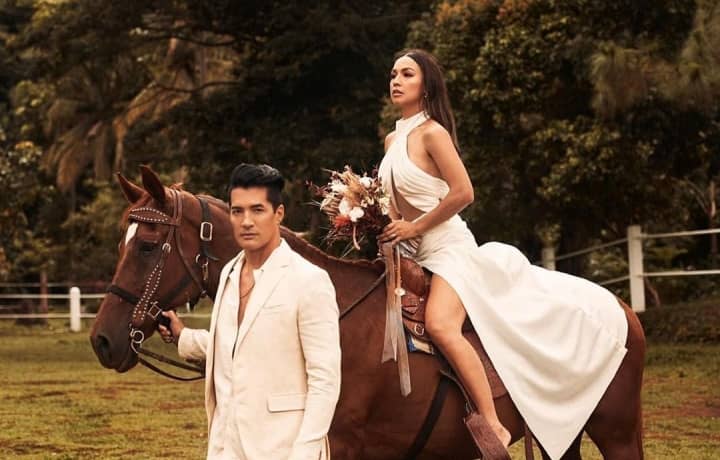 Photo Gallery
SWIPE LEFT OR RIGHT
TO NAVIGATE BETWEEN PAGES
Aubrey and Troy tied the knot last June 9. This marks the pair's over 18 years of relationship which blessed them with son Hunter Cody, 13, and daughter Rocket, 3. John Maurice, Aubrey's son from a previous relationship, completes their family.
While everyone cheered for the long-time couple finally sealing the deal after being together for that long, Troy shared it had been in the works for some time. "Even years and years ago, we always said to ourselves that one day, we will take that next step and basically make everything legal because the way we treat our relationship is as if we are already married. So it was, I hate to make it sound unromantic, almost like a formality for us. We already treat our relationship as if we're married," the actor explains.
Troy disclosed that initial plans to have a private wedding in Batanes in April 2020, but these plans were pushed back by the pandemic and the subsequent lockdowns that happened. Still, he felt the need to do something special and formally proposed to Aubrey in March 2022 during a vacation in Boracay. Since restrictions started to loosen up, the couple decided to give it a go and opted to have a civil wedding on June 9, 2022, followed by a reception at the Manila House Private Members Club.
"It's so funny because when we're having this ceremony, I actually didn't realize it was going to be as it was or how it turned out. Aubrey wanted to make it a very private, which is our plan all along, kind of quiet but also on the side of bongga civil wedding. [Like a] very nice reception with one long table and that's it. I was actually very surprised and overwhelmed in the best way for all the work that she put into it. I actually had no idea. I thought we would go in, sign some papers and little did I know, it is a legit wedding ceremony with vows and all that. It wasn't as stuffy or bland as I thought it was going to be. It was actually quite nice," Troy gushes, praising his wife.
While their love and commitment for each other are integral in their decision to get married, Troy shares that their kids are very much among the special reasons they did it. "The kids were very excited and I think that's another reason why we also decided to push through and finally get married. Now that our kids are old enough, they are able to express how they feel and tell us, 'Gosh, when are you guys going to get married?' and they kind of pushed it. You know it's important to them. That had a lot to do with it. They already carry my last name as well so we've always expected to stay together. They took my last name even before we were married. It's just now pushing through and involving them as well," he smiles, obviously basking in marital happiness.
Naturally, the kids were present at the ceremony and took part in this happy milestone.
"As far as the roles go, my son Hunter was present as the witness for one of the sides. It was very cute. He's all dressed up. My daughter was running around and just kind of getting into little mischief there in the office of the mayor which also made the ceremony quite light so there were some laughs as well," the doting dad shares, adding that Maurice's trip to the US coincided with the Mayor's schedule for the wedding but their son happily urged them to go on with the wedding.
According to Troy, one of the best things about their relationship is how they keep challenging each other. "Our relationship keeps evolving and it keeps growing. We are both always looking to challenge and push each other emotionally, physically, mentally and especially when it has something to do with the kids. I think it's also nice that we're able to trade hats with each other [by taking on] different responsibilities. We take turns and that's really important because it makes you see things from both sides," he says.
The newly minted husband sees the best in his wife Aubrey and celebrates the things he loves about her. "The best thing I like about her is actually seeing her grow and change and that comes from our experience that comes with being together for 18+ years and she knows it. I like that about her. She knows that she's changed and basically for the better. The cream definitely rises to the top so all the best of us is happening now at the top. I do love that about her that she's been able to grow and evolve into a hybrid supermom and super partner and that's something that only comes with time if you have the willingness to take it there," he notes, smiling.
"We took the ocean view drive, the road around the park, we just took it the way we went, very unconventional for most but I think in the end, it's whatever works for whoever you are. Who's to say the right way and the wrong way?"
Lead photos by Niko Gonzales via @milesaubrey