ICYMI: Scenes From Miss Universe Philippines' Thanksgiving Party
The beauty queens welcomed the Christmas season with a fun and meaningful event to celebrate the pageant's success
Miss Universe Philippines held a Thanksgiving dinner party last December 1, officially welcoming the Christmas season with nothing but gratefulness in the hearts of each and every person who made the inaugural Miss Universe Philippines pageant possible.
Despite the challenges that came with the pandemic and the controversies that surrounded the pageant, the Miss U PH was held successfully, introducing to everyone five beautiful, smart, talented, and inspiring beauty queens worth looking up to.
Miss Universe Philippines 2020 Rabiya Mateo, Miss U PH 1st Runner-Up Ysabella Ysmael, Miss U PH 2nd Runner-Up Michele Gumabao, Miss U PH 3rd Runner-Up Pauline Amelinckx, and Miss U PH 4th Runner-Up Billie Hakenson celebrated with Miss U PH's national director Shamcey Supsup-Lee, creative director Jonas Gaffud, and design council head Albert Andrada. Also spotted during the event were fashion show director Robby Carmona, Miss Universe 2014 Top 10 finalist MJ Lastimosa, and Presidential Spokesperson Harry Roque (who was one of the judges at the coronation night).
The event was held at Hilton Manila, with its planning taken care of by Events by Miss P. The venue was dressed up by Gideon Hermosa, enhanced by light and sound effects courtesy of Blackbox Audiosystems. The guests took home souvenirs from Speedster disinfectant solutions and Naked Patisserie. The highlights and fun moments at the event were documented by NicePrint Photo.
Following Miss Universe Philippines' thanksgiving dinner party, the organization announced the official titles of their beauty queens. Miss U PH says, "This group of intelligent and empowered ladies is more than ready to make an impact on causes and programs close to their hearts. The reign of phenomenal women has begun!" Rabiya Mateo is Ambassador for Education, Ysabella Ysmael is Ambassador for Arts and Culture, Michele Gumabao is Ambassador for Health and Fitness, Pauline Amelinckx is Ambassador for Tourism, and Billie Hakenson is Ambassador for Gender Equality.
Check out the gallery below to see the photos from Miss Universe Philippines' Thanksgiving dinner party: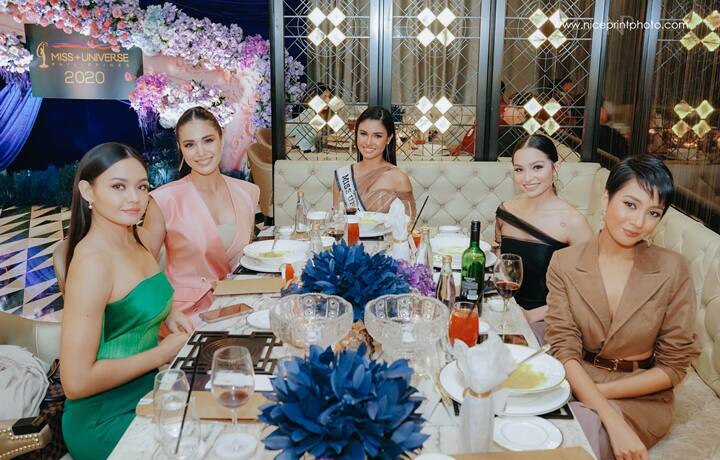 Miss U PH 2020 Thanksgiving Party
Miss U PH 2020 Thanksgiving Party
Photos courtesy of NicePrint Photo
Check out our exclusive video interview with Miss Universe Philippines 2020 Rabiya Mateo below: