The Most Followed Korean Actors On Instagram, Ranked
Consider this your checklist for who to follow (and stalk!) on Instagram, in case you haven't yet
Our fascination with K-Dramas knows no limits! It's not enough that we watch these handsome, versatile, and talented actors or idols-turned-actors in their dramas; we want to have a glimpse of their lives off-cam and get a picture of their personalities, hobbies, and interests as well. Although they are miles away from us and seem so unreachable with their status as Hallyu stars, we're glad that they've at least decided to open up a bit about their private lives through social media (Instagram, specifically).
Are you guilty of turning on the post notifications for your favorite Korean actors? (We are!) Do you like every single one of their posts? (Definitely!) Do you even go as far as commenting on their posts? (Well, you know the drill, and we do too!)
Following these actors on Instagram not only updates us on their latest projects, endorsements, shoots, and other engagements, it also allows us to get to know them better as individuals (many of them are animal lovers and have dogs and cats). In a way, we get to see the world through their eyes as well (a lot of them have to-die-for travel snaps!).
Here, we've listed down the most followed Korean actors on Instagram, plus what you're most likely to find on their IG feeds as well as their must-see K-Dramas. We've only included those with 1 million followers and up, and had lead roles in a drama series.
Check out the gallery below: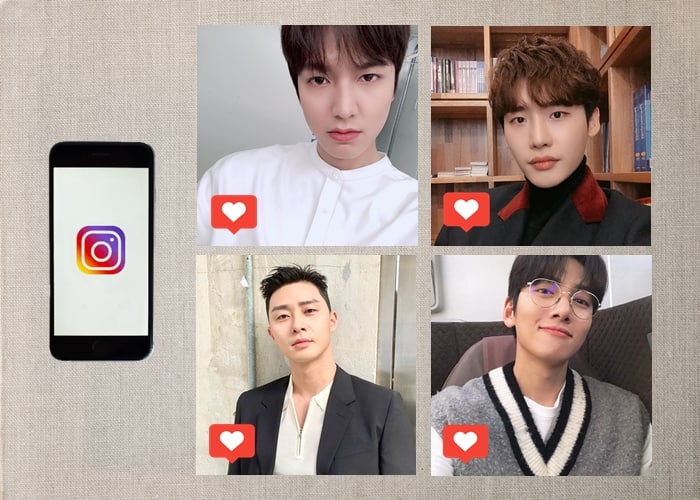 Korean Actors On Instagram
Korean Actors On Instagram
Let us know if we missed any of your Korean actor idols? We'd love to follow them too!
*Figures are as of August 3, 2020
Lead photos from @actorleeminho @jongsuk0206 @bn_sj2013 @jichangwook | Neonbrand on Unsplash and FreePNGImg
Here's a related video of our picks for the most handsome Korean actors. Check it out below: