See Nadine Lustre's "Absolute Madness" Photo Shoot For Her Upcoming Online Concert
Her upcoming online concert is described as "a sonic and visual experience like no other," and this photo shoot was an absolutely stunning teaser for it
Nadine Lustre is holding an online concert this July 3, and we can't wait to see it!
From Wildest Dreams to Absolute Madness! Nadine Lustre is unleashing the superlatives, pushing the creative envelope as an artist despite the challenges that come with the pandemic. Her online concert is described as "a sonic and visual experience like no other" and was conceptualized to conquer "the world of digital and theater stage."
The show will feature songs from her 2020 album, plus some special guests are expected to make a surprise appearance. While virtual concerts may be a different experience, not just for Nadine but also for her fans, it's an exciting and unique way to connect. Viewers can fully engage with Nadine in real-time as they leave her comments or virtual gifts. For some VIP to VVIP ticket purchasers, these fans also have the chance to virtual meet-and-greet Nadine.

The excitement for Nadine Lustre's Absolute Madness concert leveled up with the release of its poster. The photo shoot showed Nadine looking absolutely feisty in outfits that not only showcase her sexy figure but mirror her edgy personality as well.
Check out the gallery below to see Nadine Lustre's photo shoot for Absolute Madness: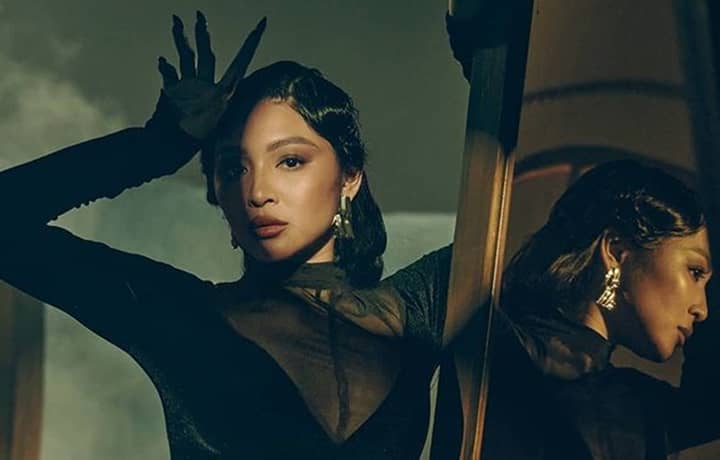 Nadine Lustre for "Absolute Madness"
Nadine Lustre for "Absolute Madness"
In October of last year, Nadine Lustre launched her album Wildest Dreams, her first release as a self-managed artist. Described as a visual album, it delivered a delightful treat that highlighted her introspective songwriting, intimate collaborations, experimental sound, and dreamy visions.
In our exclusive interview with Nadine Lustre for our cover feature last year, she talked to us about having conversations with herself, eventually inspiring and shaping the tracks that would be part of her album. "I sat down with myself during enhanced community quarantine and had conversations with myself and asked who am I, really... I met with myself again and just sat down and had a proper conversation with myself about who am I, really, and what is it that I want to do," Nadine reveals.
Nadine Lustre's Absolute Madness concert under Careless Music was done in partnership with livestreaming app Kumu and Mountain Dew.
Buy tickets for Nadine Lustre's Absolute Madness Online Concert now! Tickets are now available at kumu Live Events, with multiple ticket tier options. General Admission tickets start at P499, going all the way up to VVIP tier at P2999. Perks and privileges per ticket tier are listed in the description.
Lead photos by @bjpascual | Additional gallery images from @lynalumno @so.raffy