EXCLUSIVE: The Five Things That Brought Nadine Lustre Happiness In 2020
It's been a tough year—but according to Nadine, tough doesn't always have to be a bad thing
Hard times can unfold in one of two ways: they can leave a person feeling down in the dumps with no hope ahead, or they can be a powerful springboard for growth, metamorphosis, and lifelong lessons.
Nadine Lustre's fans can confidently say which category she chose to be a part of.
2020 has been tough in so many ways, but here comes Nadine, showing us all how to be tougher—and happy while we're at it.
In an exclusive interview, the singer-songwriter and actress reveals how she got through the year's 10 months, and what she'll continue to do to see its last two months through. Talking about every day in the new normal, big personal breakthroughs, and all the things that make her happy these days, Nadine gets real about what the year has taught her and how it has changed her for the better.
In good company
Everyone knows what to do to protect themselves from getting physically sick. But if there's anything that the COVID-19 crisis has taught us, it's that it's not only a problem for our physical health, but one of the heart and mind, too. The best prevention (and antidote) to pandemic blues and fatigue according to Nadine? Surround yourself with good company—the best company you can find—and they'll be there to ease the loneliness, share with the grief, and and just let you be you, no matter what state you're in at the moment.
"I have a good set of friends, so they're always there to check up on me. That's also one of the most important things, to have a good support group. I'm very lucky to have that and also I just allowed myself to just feel whatever it is that I was feeling. I wasn't really pushing it away and telling myself, 'Wag, you can't feel this way, hindi p'wede,'" Nadine opens up.
Speaking of allowing herself to just feel, she shares a piece advice for everyone: never forget that you're human. You're not expected to be put together, all the time. When waves of sadness, worry, and fear come, it's one hundred percent okay to feel them.
"It's normal for us to feel these emotions and it's healthy for us to actually go through them kasi, how are you supposed to know what these emotions are like and how are you supposed to help other people?" Nadine says.
"...All the things I go through, I really let it simmer. I really go through it talaga. There's really no other way but through it. That's why I really just allow myself to feel everything, everything it is that a person could feel, all these experiences. You know, sadness or all the 'negative emotions,' I don't really see them as negative because in a way, these things that we go through, these emotions help us become a better person," she adds.
Little things can be the big things
Everyday can be special if you make it. Small things can become extraordinary if you let them.
Take Nadine's pleasures of enjoying daily joys that have become one of the best parts of her new normal. Though it's true that she's had to give up a lot of old things to make way for living in a pandemic (haven't we all?), that's not to say that her life has stopped; she had simply transformed it, made it more flexible to roll with the times.
"I learned how to cook steak properly, finally. I was able to make a special sauce, well, it's actually kind of like a mushroom gravy sauce, but there's a little bit of something in it that makes it really good," Nadine smiles. Hamburgers and an assortment of experimental pastas and salads are on the menu, too.
Cooking, hanging out with Cal the corgi, indulging in lots of TV time (Rick and Morty, American Horror Story, Castle Rock, The Fresh Prince of Bel-Air, anyone?), basking in personal reflections, having enough time in the day to do as she pleases, arranging flowers, discovering her songwriting abilities, going back to painting and graphic design, even decoding her dreams the morning after—these are a few of Nadine's (new) favorite things.
Rewiring herself
In the process of figuring out these strange, difficult times, something that Nadine always knew to be true about herself was validated tenfold: "You always just have to trust yourself and know what it is that you really want, and believe in yourself. Other than people believing in you, first, you really must have to believe in yourself, and see if the things that you're doing make you happy or if you feel like you're on the right path," she says.
The thought comes with her embracing a new chapter as a self-managed artist. Her decision, naturally, elicited a mixed bag of responses from the public but in the end, Nadine has always known that what's best for her is never up to anyone else but herself.
"As long as I'm happy and as long as I know that I'm doing the right thing and I'm not stepping on other people's toes then I'm good. It's really hard, you really have to train yourself," she shares.
This is all part and parcel of Nadine figuring out the truest and purest meaning of "self-love." No, it doesn't mean rewarding yourself with expensive things, dining out, getting a makeover—at least, not only those things. Deeper, more mature self-love includes being there for yourself and being kind to yourself—recognizing when you've done well, and telling yourself you can always try again should things not work out the first time around.
"My whole year was about self-love... It's like I had a best friend during quarantine and that best friend is me," she says.
"...Every time I go through an obstacle, I tell myself 'good job.' I pat myself on the back and tell myself 'good job.' This year was really all about me, all about myself, all about self-love and I've never felt that fully until this year," Nadine continues.
Wild possibilities and even wilder dreams
Of course, the highlight of Nadine's year has to be the release of her new album, Wildest Dreams.
The visual album is Nadine's first album as a self-managed artist under Careless Music Manila, and it follows up her self-titled record released in 2014. Finally, Nadine says, she can say that she has come out with songs and sound that are totally her own. For the first time, she picked up a pen and paper and wrote majority of the songs herself—something she'd been utterly insecure about doing until a few months ago.
"I really think because of what I really want to do and what I really want to pursue, it only makes sense that I'm in control of everything, especially with the music," she says.
The album's first single, Wildest Dreams, came out on October 16, and the album drops tomorrow, October 31, just in time for Nadine's 27th birthday.
Expect it to be different, unlike anything Nadine has ever done before. All about introspection, coming to terms with the past while keeping her head high for the future, and honest emotions, Wildest Dreams is an intimate journey of Nadine's redefined personhood.
Here comes the sun
Cloistered at home for months on end, Nadine definitely gets revved up at the idea of getting to travel again. Fresh from a couple of days spent in The Farm at San Benito in Batangas, her eyes are fixed on a potential trip to Palawan next.
"I just want to go to a beach where it's sunny now that we can travel anywhere, medyo okay na ulit 'yung non-essential travel. Kaya lang, it's been raining, so hopefully maybe in November. We'll see if I get to go to Palawan when it's sunny. I just really miss the sun," she says.
Should rainy days persist, Nadine won't feel too bad about it either, she says. That's because that's how she'd like to end her 2020 and begin her 2021—more accepting of change, more welcoming of flexibility and acceptance of things you can't control. It's probably the biggest "gift," if you can call it that, that the year has blessed her with: a new approach to uncertainty and the unknown.
"I've always been the type of person who loves planning, but I'm starting to learn to be okay with uncertainty. There's so many things happening, I'm always planning tapos maka-cancel kasi nga, this happened. I'm trying to just go with the flow. That's one of the things that I'm learning, I'm trying to learn now," she ends.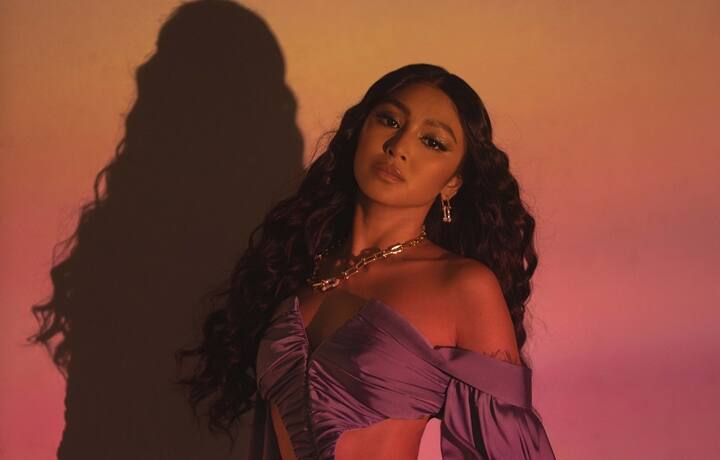 Nadine Lustre's Metro.Style Cover Shoot
Nadine Lustre's Metro.Style Cover Shoot
Check out our exclusive interview with Nadine Lustre below:
The full Wildest Dreams album will be launched on October 31, 2020, 9PM, exclusive on ABS-CBN Entertainment's and Careless Music Manila's YouTube channels.
Produced by Kat Cruz-Villanueva
Creative direction by Chookie Cruz
Photography by Seven Barretto
Makeup by Jelly Eugenio
Hairstyling by Paul Nebres
Styling by Joanna Garcia, associate styling by Bettina Banez
Video edited by Bria Cardenas
Cover layout by Kaye Guevarra
Shoot coordination by Grace Libero-Cruz and Judy Arias
Special thanks to Thei Ordiales, Careless Music Manila, and Macie Chavez