The Ultimate Guide to the New K-Drama Couples to Look Forward to (2021-2022)
Which pairing are you most excited about?
2021 is almost over, and yet K-dramaland still has more exciting pairings in store for fans all over the world. There are already confirmed tandems for next year, too!
This year, K-drama fans were treated to a number of memorable on-screen couples, among them Song Joong-ki and Jeon Yeo-been from Vincenzo, Song Kang and Han So-hee from Nevertheless, and Kim Seon-ho and Shin Min-a from Hometown Cha-Cha-Cha.
We've listed the best K-drama couples this year so far, and now, we're updating you on the Korean actors and actresses who are working on new dramas or are in talks for a new series.
Rowoon and Park Eun-bin's new KBS2 historical romance series, The King's Affection, just dropped on Netflix. In the series, Park Eun-bin is Lee Hwi, the female twin of the crown prince who's been abandoned and thrown out of the palace but later disguises herself as the crown prince when her brother passed away. Rowoon, on the other hand, is Jung Ji-un, a man from a noble family who serves as the crown prince's teacher.
On October 23, the Gianna Jun and Ju Ji-hoon starrer, Jirisan, is set to be released. This mystery/fantasy/action series from tvN follows the story of an experienced national park ranger (Gianna Jun as Seo Yi-Gang) and a rookie ranger (Ju Ji-hoon as Kang Hyun-Jo) as they unveil the secrets of the mountain.
Lee Do-hyun and Im Soo-jung headline tvN's 15th anniversary special offering, Melancholia, which will be released on November 3. In this drama, their characters, math genius Baek Seung-yoo and math teacher Ji Yoon-soo, respectively, will work together in uncovering scandals and corruption in private high schools in Gangnam.
Next to be released this November 5 is tvN's thriller series Happiness with Park Hyung-sik as Jung Yi-Hyun, a detective, and Han Hyo-joo as Yoon Sae-Bom, a member of a special police squad. Together, they face a crisis in a high-rise apartment that's been sealed off.
Ok Taecyeon and Kim Hye-yoon's historical comedy series with tvN, Royal Secret Inspector Joy, is set to be released on November 8. In the series set in the Joseon dynasty, Taecyeon is Ra Yi-eon, a 6th grade public service worker and gourmand-turned-royal secret inspector, while Kim Hye-yoon is Kim Jo-yi, a passionate, realist woman who wants to divorce her mama's boy, gambling addict husband.
SBS' romance K-drama Now, We Are Breaking Up, stars Song Hye-kyo as Ha Young-Eun, the team leader of a fashion company's design department, and Jang Ki-yong as Yoon Jae-Kook, a freelance photographer. It's set to premiere on November 12, and had just revealed a "mood teaser" that makes us look forward to it all the more.
Another much-awaited series is that of Jung Hae-in and BLACKPINK's Jisoo, JTBC's Snowdrop, which mixes genres of satire, melodrama, dark comedy, and romance. It features Jung Hae-in as Im Soo-ho, a college student who was raised in Germany and has a secret, and Jisoo as Eun Young-ro, a college student who falls in love with Soo-ho at first sight. The series, set against the backdrop of the 1987 Democracy Movement, will premiere this December.
Check out the gallery below to read more about the K-drama couples that will (or might!) come our way: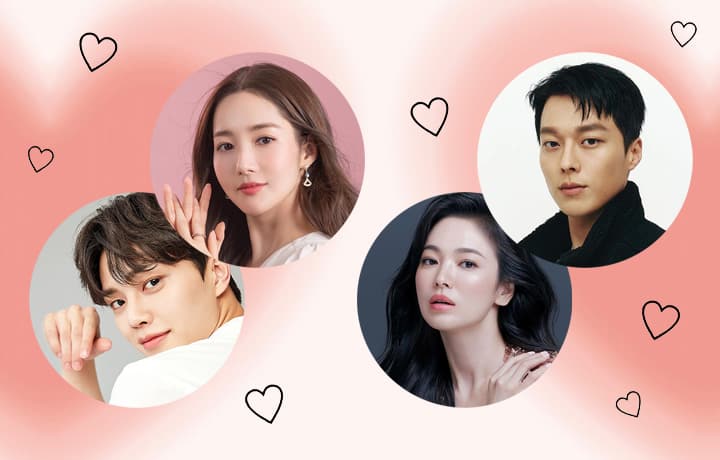 Photo Gallery
SWIPE LEFT OR RIGHT
TO NAVIGATE BETWEEN PAGES
Park Min-young and Song Kang
Photo Credit: @parkminyoungx and @songkang_b
Moon Ga-Young and Yeo Jin-Goo
Photo Credit: Vogue Korea and Girls Planet 999 via @yeojin9oo
Shin Hyun-Been and Song Joong-Ki
Photo Credit: Harper's Bazaar Korea and History D&C
Seohyun and Na In-Woo
Photo Credit: 1st Look and Cube
YoonA and Lee Jong-Suk
Photo Credit: @ymagazine_official via @yoona__lim and @prada via @jongsuk0206
Oh Yeon-Seo and Seo In-Guk
Photo Credit: Allure Korea and @prada
Sooyoung and Ji Chang-Wook
Photo Credit: @sooyoungchoi and Esquire Korea
Chae Soo-bin and Minho
Photo Credit: @soobinms and @choiminho_1209
Kim Ji-Eun and Lee Joon-Gi
Photo Credit: @kj_ieun and @actor_jg
Lee Sung-Kyung and Kim Young-Dae
Photo Credit: Vogue Korea and GQ Korea
Shin Min-A and Lee Byung-Hun
Photo Credit: W Korea and @byunghun0712
Han Ji-Min and Kim Woo-Bin
Photo Credit: Donginbini and Jo Malone
Lee Yoo-Young and Kang Ha-Neul
Photo Credit: @__youyoung__ and Marie Claire Korea
Kim Sejeong and Ahn Hyo-Seop
Photo Credit: @clean_0828 and @imhyoseop
Nam Gyu-Ri and Kim Min-Seok
Photo Credit: @nam_gyuri and @mariachemistry.official via @samuliesword
Im Soo-Hyang and Sung Hoon
Photo Credit: @hellopapa11 and @sunghoon1983
Park Eun-Bin and Kang Tae-Oh
Photo Credit: @eunbining0904 and Singles magazine via @kto940620
Son Ye-Jin and Yeon Woo-Jin
Photo Credit: @yejinhand and @jumpent_official
Jin Ki-Joo and Park Hae-Jin
Photo Credit: @jinkijoo and @parkhaejin_official
Krystal and Kim Jae-Wook
Photo Credit: @vousmevoyez and Esquire
Which among these K-drama couples are you looking forward to the most?
Visit Metro.Style again for more updates on new K-drama couples.
Lead photos from Sooryehan via @parkminyoungx, Pizza Alvolo via @songkang_b, @vitalbeautie_official via @kyo1122, and Calvin Klein via @jangkiyong92