Nikki Valdez: 5 Things That Make Me Happy And Keep Me Inspired These Days
In line with Star Magic's "Love From Home: Lockdown Portraits" campaign, this actress, entrepreneur, and homemaker talks about what keeps her busy while under quarantine
Nikki Valdez is not only an actress by profession, she's also an entrepreneur who runs a successful baking business called Miss Buttercream. When she's not acting in front of the camera or attending to showbiz-related commitments, her hands are full in the kitchen, whipping up one baked goodie after another; other times before, she was selling her products herself in numerous bazaars. Above everything else, she's also a mother and a wife.
For Nikki, as with many people the world over, life pre-pandemic was crazy-busy. It involved a lot of going out, traveling around, socializing, and attending events or gatherings. But no matter how hectic such a life may have seemed, she had no complaints because she was enjoying every bit of it with her family, friends, and colleagues ready to give her her much-needed energy boost (perhaps with hugs and kisses, too!).
But all of a sudden, the COVID-19 global health crisis entered the picture and changed the ways of life as we knew it. People need to be put under quarantine in their own homes, to prevent the virus from further spreading. In case you didn't realize, we're nearing five months under different types of quarantine (CQ, ECQ, GCQ, and now, MECQ).
Many on-the-go individuals will agree with Nikki when she said that the unexpected shift to a life entirely spent within the confines of their homes was such a struggle, culture shock even. It required a lot of thinking, figuring out, and navigating around a new normal work-life balance. She says, "I guess the fear of the unknown was what really hit us. All of a sudden, you wake up thinking, 'What am I supposed to do?' Eh sanay akong on-the-go."
During these challenging times, Nikki finds a silver lining through her passion for baking, and she now has plenty of time to improve and experiment in this craft. She also discovered the joys of cooking savory dishes, as months under quarantine push one to get extra creative with all sorts of recipes.
In this exclusive interview with Nikki, she elaborated on the things that make her happy these days. After all, finding simple joys amidst the uncertain times is what we should all be doing now, to inspire us to power through and cope with the situation at hand.
1. Her baking business is thriving despite the circumstances.
"I was blessed enough to still have clients during the lockdown. And then within our village, we have a marketplace. They put up an online marketplace where you can sell your products to the neighbors dito. Kami kami 'yung mga nagbebenta ng mga products namin," Nikki tells Metro.Style.
Her custom buttercream cakes are a must-have for those who are celebrating special occasions. Although the local event industry is one of the businesses hardest hit by the pandemic, Nikki can't be thankful enough that there are still quarantine-friendly parties and intimate home celebrations being held, where her beautiful cake creations continue to serve as the star of every spread.
With almost everything done online now and home-based food businesses booming, it was such a huge relief and blessing for Nikki that these were no longer uncharted territories for her. "I guess I'm one of the few who already had an online business which is good," Nikki shares. "I'm just glad that kahit papaano na-penetrate na namin 'yung online, and it wasn't hard to know how to start because meron ng ganu'n 'yung Miss Buttercream."
Check out her cake creations throughout the lockdown: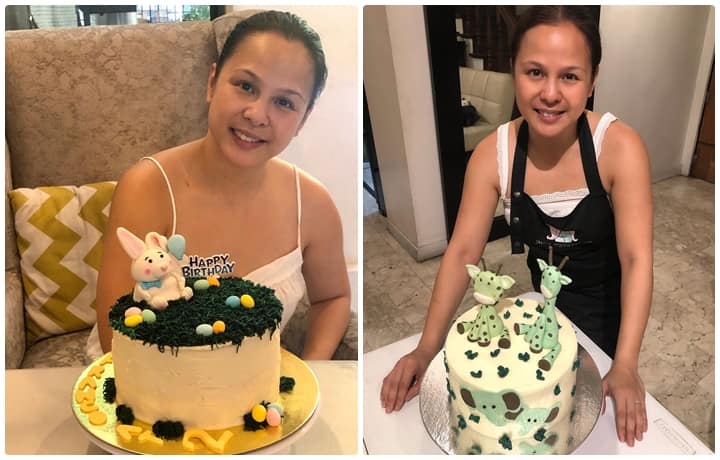 Nikki Valdez's Cake Creations
Nikki Valdez's Cake Creations
2. She gets to experiment more in the kitchen.
"Being in the kitchen makes me happy. I like to cook. I like to eat," Nikki says. She recently launched a new product: Banana Choco Chip Bread. She also documents all the savory dishes she cooked herself, and even shares the recipes on her Instagram account. She has so far whipped up squid pasta in marinara sauce, tomato basil pasta, fried adlai, lemon fusilli pasta, Japanese fried rice, and classic beef lasagna.
3. There are still showbiz-related activities she's more than happy to take on.
As a Star Magic artist, Nikki is a part of the talent management's "Love From Home: Lockdown Portraits" campaign, where the celebrities were given the challenge to do a DIY photo shoot at home. With just a few guidelines on how to execute it, the stars were pretty much given free rein.
Of this unique experience, Nikki shares, "When my handler messaged me about it, sabi ko, challenge accepted. It was a good challenge kasi one of my husband's hobbies is photography. Kaya sabi ko, feeling ko, swerte talaga ako... It was a family bonding para sa aming tatlo ni Olivia, kasi si Olivia 'yung nagshu-shoot ng BTS namin. Ang tagal ko na ring hindi nagme-makeup ng sarili ko ng professional makeup, so hindi pala talaga madali to actually come up with a shoot na ikaw lahat, ikaw mag-iisip." With her as the subject, the makeup artist, the hairstylist, the wardrobe stylist all in one, Nikki was reminded of the importance of each and every person who helps pull off a shoot.
She adds, "It makes you realize up to what extent 'yung kaya mong gawin para sa trabaho mo, and it makes you appreciate more what these people can do. Kaya sabi ko nga, it's not easy to mount a shoot and more so do it all by yourself. Wala talaga akong masabi, hands down talaga ako sa mga nagpa-plan ng ganito."
Another thing Nikki is grateful for is the opportunity to finish a teleserye despite the new normal shoot setup. She was recently in a 21-day lock-in taping for A Soldier's Heart. The series was aired in January of this year, and now the cast is done filming for its finale. Her co-stars are Gerald Anderson, Carlo Aquino, Vin Abrenica, Elmo Magalona, Jerome Ponce, Yves Flores, Nash Aguas, and Sue Ramirez. A Soldier's Heart is airing from Monday to Friday evening on the Kapamilya Channel and Kapamilya Online World.
"Actually, my family didn't want me to go talaga," Nikki reveals. "We were all scared, of course. Hindi mo naman maaalis 'yun but I also spoke with them and I told them na it's a commitment, you know. Our job is a commitment, so it's something that I couldn't just let go of."
4. She now has more time for herself.
Quarantine life is not easy, and it's causing so much stress and anxiety. But if there's a bright side to it, it's the fact that it welcomes lots of opportunity for self-introspection and self-reflection. Self-care has become a buzzword, and we're going through times when taking care of oneself is not deemed selfish.
"Because of the lockdown, mas nagkaroon ako ng time for myself," she points out. "I'm able to workout every day. Dati kasi it was a struggle for me to get up, pero ngayon kasi, you find ways to keep yourself up, to just take away all the distractions. I now enjoy workouts at home. I like to eat. Now, I have time to watch movies at the comfort of my home. It's just basically the simple things... I now enjoy the luxury of sleep."
Her choice of workout is Zumba and running (back when one could freely do so around the village). "Diba sabi nga nila, it's not about the exercise but about finding the right exercise for you. Kasi maraming klase ng exercise pero I am into the kind of exercise where I don't watch the time, 'yung gusto ko tuloy-tuloy lang. Happy ako kahit masakit 'yung katawan ko but I know gumana 'yung exercise," she shares.
5. At the end of the day, she's at her happiest when her husband Luis and her daughter Olivia are with her, safe and sound.
"Ang hirap mag-isa during this period," Nikki says. Being with one's family these days makes things more bearable, although gestures of love now may be limited to what Nikki calls "air hugs." Still, it's the presence that never fails to warm the heart.
"One good thing lang about being under quarantine is that I now have more time with my family. Ang sarap ng may kausap kahit minsan nga kaharap mo lang, magkatabi lang kayong nakaupo, I think it's enough," Nikki shares. "Kasi right now, struggle na rin to even touch somebody, to even give a hug, diba? So I'm just really enjoying the moments of being a homemaker."
Aside from gathering around the dining table to share hearty meals and have meaningful conversations, their family's bonding time these days is spent watching movies and TV series as well. Nikki and Luis spend quality time together by having movie dates at home, while Nikki and Olivia bond over K-Dramas and iconic TV series Meteor Garden (Nikki loves the original version with Barbie Hsu and Jerry Yan, while Olivia prefers the remake with Shen Yue and Dylan Wang).
Catch the "Star Magic Love From Home: Lockdown Portraits" Metro Channel special on August 8, Saturday, 8PM!
Photos from @nikkivaldez_ @missbuttercreambynikkivaldez