Pia Wurtzbach Makes Her Comeback As A Vlogger
This multifaceted beauty queen, host, and actress returned to YouTube with a behind-the-scenes look at her 12-layout photo shoot
Pia Wurtzbach is back to vlogging, and she did so with a bang ("pasaVOGUE," as she calls it).
On August 21, she uploaded a new vlog episode, which showed behind-the-scene clips from her fun photo shoot with the creatives she's been working with for years. The photo shoot was organized as a special feature to celebrate the first anniversary of photographer BJ Pascual's YouTube channel. And, it served as content for Pia's comeback on the video-sharing platform, too!
Pia expressed how much she and the team missed doing shoots like this, so they really went all-out from the concepts, hair and makeup looks, clothes, and production setup. "I love trying different looks, so super game ako," Pia says. "Hindi lang styled 'yung look o damit, pero pati 'yung background."
For this shoot, she and BJ worked with creative director Vince Uy, makeup artist Mickey See, hairstylist Renz Pangilinan, fashion stylist Pam Quiñones, production designer Justine Arcega-Bumanlag, styling associates Leanne Ledesma and Claire Fernando, and videography team Spotlight Creatives. The result of their collaborative effort was a 12-layout photo shoot featured in the YouTube channels of Pia and BJ.
There were different themes per layout. Pia rocked different wigs from pixie and 50s style fringed short 'do to Bettie Paige-inspired and blonde locks. She tried different makeup looks from smoky and cat eyes to nude and Dita Von Teese-esque red lips. Her clothes ranged from oversized and adrogynous suits to sexy pinup-style in corsets and stockings, and more! The set went from plain gray and black backgrounds to dramatic, moody room setups. But, the most notable of all are the layouts that featured Pia's special guests: snakes from Reptilab Exotics!
Check out the gallery below to see the photos from this shoot: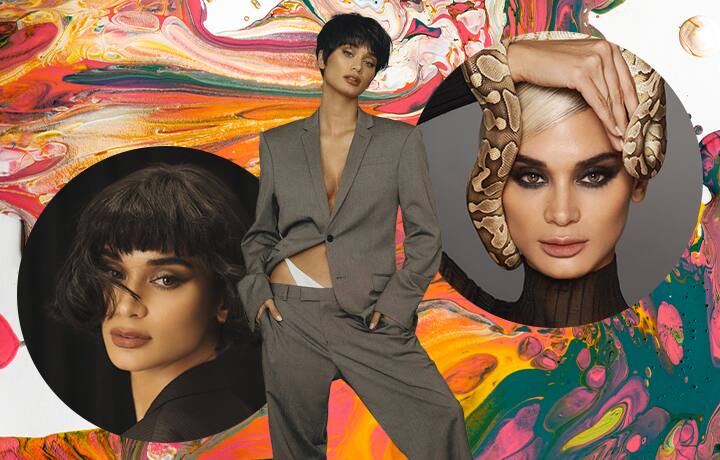 Photo Gallery
SWIPE LEFT OR RIGHT
TO NAVIGATE BETWEEN PAGES
Pia launched her YouTube channel in September 2019; her first-ever vlog was "Getting Ready with Pia," which showed her preparations for the ABS-CBN Ball that year. She followed this up with a birthday vlog in Bali and a room tour in Singapore. After which, the pandemic hit, and Pia immediately dedicated her channel to her COVID-19 relief efforts, advocacies, and her "Queentuhan" show with her friends and fellow beauty queens Bianca Guidotti and Carla Lizardo.
In a previous Metro.Style interview with Pia, she shares, "Actually, that's one of the things that I have been meaning to try, vlogging. I got into it a few years ago and I used to vlog. I used to vlog about my travels. And I stopped nga end of 2019 parang na-busy ako tapos naging iba 'yung focus ko. I focused more on my podcast, sa Between Us Queens. So, nag-break ako for more than a year. I really want to get back into it... It's one of the things that I'm working on. I mean, my Instagram is pretty active; I use that a lot. I'm slowly getting into TikTok and now, I'm slowly bringing my YouTube back to life."
With her new episode now up, Pia says she promises to vlog regularly this time around, especially since she has so much content from all her recent travels with boyfriend Jeremy Jauncey.
Here are behind-the-scene photos from this shoot of Pia:
Photo Gallery
SWIPE LEFT OR RIGHT
TO NAVIGATE BETWEEN PAGES
Photos by @bjpascual via @piawurtzbach, with additional images from @mickeysee @renzpangilinan @pamquinones @justine_arcegabumanlag