9-Member Boy Group DKB Is All Geared Up To Captivate K-Pop Fans Around The World
Meet E-CHAN, TEO, D1, GK, HEECHAN, LUNE, JUNSEO, YUKU, and HARRY-JUNE
Get ready to fall in love with the looks, the sounds, and the moves of DKB (short for Dark Brown Eyes)!
The nine-member K-Pop boy group is fairly new in the music scene, as they only made their debut on February 3, 2020, but they've already earned legions of adoring fans to date. The group's members are E-CHAN (이찬), D1 (디원), TEO (테오), GK (지케이), HEECHAN (희찬), LUNE (룬), JUNSEO (준서), YUKU (유쿠), and HARRY-JUNE (해리준).
DKB is under Brave Entertainment, and is only the second boy group that the company has launched after Big Star; it is also the same agency behind K-Pop girl group Brave Girls. As newcomers, they promise to deliver a refreshing take on the well-loved K-Pop genre, and they definitely don't disappoint. Their upbeat, very danceable songs make for perfect mood boosters, especially during these challenging times when music plays an important role in maintaining positivity.
Considering the short amount of time they've been in the industry so far, the boys of DKB were obviously hard at work in churning out songs that introduce listeners to their own brand of music and showcase their versatility in performing and telling relatable stories through their tracks.
When they debuted, they dropped their EP Youth, featuring the lead single "SORRY, MAMA," which is brimming with youthful enthusiasm and carefree energy lyrics- and sound-wise. That absolutely set the tone for the "new breeze" they set out to send to the airwaves.
Just a little more than three months later in May last year, DKB was making hearts flutter again with the EP Love and its single "STILL," which speaks volumes about yearning for a lost love. Then before closing 2020, they made sure to end the year strong, leaving their fans with the single "WORK HARD" under the Growth EP, which is somehow reflective of the members' go-getting mindset and attitude. The music video for that single, it is worth nothing, has more than 12 million views on YouTube, as of this writing.
Then last March, DKB returned with their first studio album, The Dice is Cast, with the single "ALL IN." Yet again, these boys are treating their listeners to feel-good songs that are impossible to not groove with or bop to.
Of The Dice is Cast, E-CHAN tells Metro.Style, "'The dice is cast' means that the dice have already been thrown. It is an album that conveys the meaning of going to a head-on game in the music industry in earnest. As it is the last story in the four-part series, it contains the story of DKB, who has grown more mature. As we are a group whose performance is our strong point, we created 100% of the performance of the title song 'ALL IN' of this album. In addition, as a group who can produce by itself, this album is also filled with songs that we have participated in writing and composing, so we would appreciate it if you listen to it a lot."
TEO adds that the album tells the stories of DKB in the past year. He says, "It has various musicalities and many stories. I hope that the fans will hear the DKB's mature side."
Another thing that GK pointed out about it is that what he appreciates about their music (and music in general) is its ability to bring comfort to people. And in the face of a pandemic, that aspect truly matters. "Since I was young, I liked music so much. Since I have been comforted by music and raised my dreams by empathizing with music, it will be worthwhile as a singer if someone listens to our music and receives sympathy and comfort," GK shares.
But when it comes to maintaining a group, especially a comparatively bigger one like DKB with nine members, the key to success not only lies in each member's talent to sing, rap, or dance, the teamwork is an extremely important factor as well. And we're thrilled to know about and have come across DKB whose members have established such a strong bond with each other early on, something that is pretty obvious with their onscreen dynamic.
D1 talked about how they bonded when they were trainees, saying, "We have built up teamwork by playing various sports together, such as foot tennis, football, basketball, and so on. It is natural to do anything together, so no matter what we do, one of us has to be together with us."
JUNSEO, on the other hand, pointed out how they're able to have fun through the simplest things. He shares, "We are such a team where you can have fun with even the smallest things. When deciding on a cleaning turn, it is also decided by a game. It's always fun!"
HARRY-JUNE also shared a funny anecdote about "communicating just by looking at our eyes." "When we get tired of practicing, we shout out strong slogans together to strengthen ourselves, and we also strengthen teamwork by jumping rope together," he adds.
With EPs Youth, Love, and Growth, we've gotten a clear grasp of DKB's messages of embracing positivity and youthfulness that truly resonate with not just listeners who are just as young as them but even those who are young at heart.
And now with The Dice is Cast, there's a solid sense of maturity that just proves their huge potential to make it bigger and stay longer in the music scene not just in South Korea but across different parts of the world. After all, they're "ALL IN" and ready to give their all in whatever it is they do today, tomorrow, and in the future.
Check out the gallery below to see more photos of DKB's members: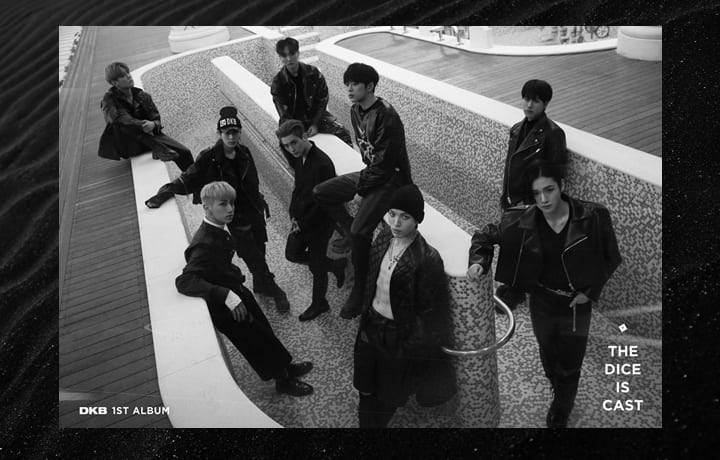 DKB's Members
SWIPE LEFT OR RIGHT
TO NAVIGATE BETWEEN PAGES
Photos and translation courtesy of Brave Entertainment
Coordination: MAXPERIENCE, Will Kim, and Grace Libero-Cruz
Video editing by Pat Buenaobra